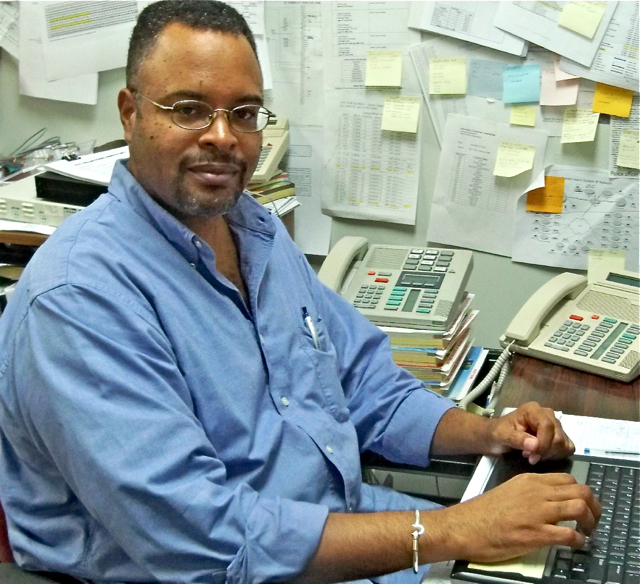 David A. Beck isn't always in the picture, but he is in the background, helping develop what goes on out front – in the Rotary Club of St. Croix, Innovative, and in a dark room.
Late Friday afternoon, as the territory prepared for Tropical Storm Maria, Beck was working in his Innovative office in the gray, windowless Vitelco building in Christiansted, preparing surveys of Innovative sites when the Source caught up with him.
Beck has been with Innovative for 18 years. As a senior central office engineer, he develops, designs and installs equipment that makes land phones work. He points out a cot folded in the corner, and says at one time he had a lot of things he actually did during storms, but now he goes out after the storm and checks sites and equipment.
Beck says his boss at Innovative, Ken Smith, encouraged him to get involved in Rotary. He added he is pleased that Innovative has always allowed him to spend time doing things for the community through Rotary.
Beck is the current and past treasurer of the Rotary Club of St. Croix, board member, past president and a former assistant governor for Rotary District 7020 – one of the largest districts in Rotary, covering 16 island nations.) He is also a certified and qualified Rotary trainer for the Rotary Leadership Training Institutes, and has been a club secretary.
Jim Oliver, a fellow Rotarian, says David definitely goes above and beyond.
"He sees that everything gets done and is willing to take that extra step and the back seat for the good of Rotary and the community," Oliver says. " Last week, I mentioned to David that he should be named Rotarian of the decade – if not longer. But David might disagree."
Beck says the Rotary Club of St. Croix is working on the Bonnie Messer project to build a playground for children with disabilities. He says they could make more of an impact in the community if they had volunteers from outside the Rotary clubs join them in projects.
The service project most near and dear to his heart was the Disney Picture Dictionary distribution his club did for all public school third-grade students.
"For some kids the dictionary may be the only book they have," Beck says. "And to see the look on their face when we say it is theirs is why I do it."
Those feelings are fueled by his passion for reading. He says he enjoys action and thrillers and he can often be seen behind the cover of a book in his spare time or when he is filling time waiting in line.
Beck was born and raised in Christiansted and went St. Dunston's School. He graduated from St. Croix Central High School in 1986. He attended DeVry University in Chicago and earned a bachelor's degree in electronic engineering technology. He is the father of a 12-year-old daughter. He has a black belt in karate which he describes as moving meditation. "I enjoy the mental and physical aspects of karate," Beck says.
He says his parents, Augustine "Tony" and Theresa Beck, told tales about him showing an interest in photography and cameras at the age of three. Professional photographers Diego Conde and Ronald Cox took Beck under their wing when he was young and taught him darkroom developing and photography on all different levels. Beck is often out of the picture and behind a camera shooting Rotary and community events.
He credits his mother with impressing upon him the duty of giving back to the community that nurtured him.