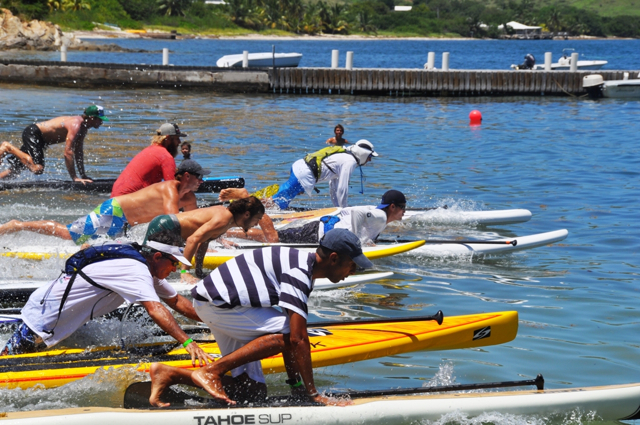 What do you get when you combine an environmental fundraiser with a group of stand-up paddlers? Over a thousand bucks for Friends of the St. Croix East End Marine Park, and a great time for 39 men, women, and children who raced Sunday at the St. Croix Yacht Club.
The fundraiser combined environmental awareness with a green-friendly approach to sporting. Stand-up paddling – SUP – is a fairly new sport to the territory. While St. Thomas has held several races, Sunday's event was the first on St. Croix, and an event that Friends and paddlers alike, hope will become an annual race.
Marija Micuda, who organized the event, thought it would be a great idea to bring paddlers together as a way to raise awareness about the St. Croix East End Marine Park. Micuda is on a fellowship with the National Oceanic Atmosphere Administration and is working at the park to improve sustainable tourism.
"There's been a lot more interest than I thought, and I think it's great way to show people what the park has to offer, and the paddlers love it," she said.
Ann Marie Gibbs, a science teacher at the St. Croix Educational Complex, was there with several of her students, who volunteered in exchange for 10 percent of their final grade.
"I try to facilitate local community groups with community service – usually environmental or wildlife geared," Gibbs said. "I'm just happy to support the East End Marine Park. They are constantly giving their service to help students and I really support them."
At 10 a.m. the first open-race kicked off. Ten women and nine men leashed themselves onto their boards, grabbed their paddles and headed into Teague Bay for a three-mile race in the open water.
After the mile-and-a-half lap, the paddlers came ashore, ran around a flag, grabbed a drink of water, and headed back out to complete the race. Luckily, there were no big waves from Hurricane Katia, which allowed the racers to battle easy waters.
Bill Kraft, who owns Kite St. Croix, was there as a volunteer to provide free board-use and instruction to the racers, as well as cheer on his wife Isabelle Picard, who led the women and came in first in the open race. He also donated a brand new board for the raffle.
"It's a great sport- especially when it's not windy. It's like combining long boarding and kayaking," Kraft said.
SUP is a fast-growing sport in which racers stand straight on top of a surf board and use a long paddle to propel themselves. It's so popular on St. Thomas that seven racers from the Virgin Islands SUP team, who call themselves "Wha'SUPVI," came over to show Crucians how it's done. Their members placed in every race except the kids'.
Picard led both men and women for most of the race, but she was surpassed by Mike Greaves in the last quarter mile. She said she didn't mind, knowing she was only racing against the women, but as a former windsurfing Olympian, the competitor in her was obvious.
"His is a race board, and it probably shouldn't have been used in the open race – my board doesn't surf waves as well as his," Picard said, pointing to Greaves' sleek new board. "But I'm so so happy, I had so much fun, and so many people showed up."
Greaves, who is a lifelong surfer, came in from St. Thomas and was unexpectedly surprised at the win even though he's a member of Wha'SUPVI.
"I knew I wasn't competing against her, because it was two separate races: Men and Women, and stayed behind the whole time, but then I gave it 20 hard paddles," he said.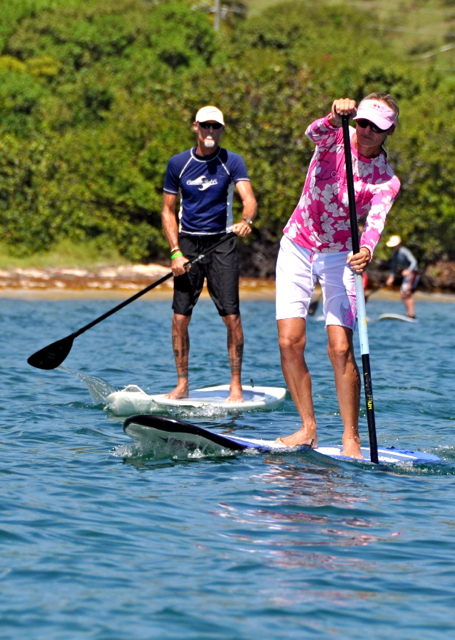 By the time the kids' event started, the sun was beating down heavily, and sweat was dripping off the young entrants' brows as they got lessons from Kraft. They headed straight ahead and back about an eighth of a mile, paddling fiercely to win the top prize.
Eleven-year-old Webster Bozzo was pretty stoked he came in second place. He said the sport is not his favorite, but he still likes it even though he didn't think he was that good.
"Oh man, it's great not losing, but man my arms are hurtin' real bad," Bozzo said, red-faced.
Finally, it was time for the elite race, where most of the ten competitors, and all the winners, came from St. Thomas. The race was a six-mile course, and the paddlers went four times around the course, pausing like the open race, to run around flags and drink water.
Pi Presto, who owns Teres Veho, also provided paddle boards and was there throughout each race cheering people on as they came in for the finish.
"I just have a love and a passion for this sport and am really an advocate for females and youth," Presto said. "I think that getting the youth involved is especially important, it's a great sport and I think they can connect with the environment in a safe way."
After an hour, the first finishers from the elite race started trickling in, while Presto continually cheered each of them on encouragingly, with phrases like "You can do it" "Hurry up," "You're almost there, don't stop!"
After two men came in right after each other, one of two women in the elite race came in third overall, making Presto jump with excitement at the prospect of a female placing.
Gail Vento was also excited that she came in so close to the guys.
"I feel awesome, especially against all the boys!" she said smiling.
Open Race Winners:
(Men)
1) Mike Greaves 47:35
2) Nathan Bishop 51:48
3) Peter Stanton 52:40
(Women)
1) Isabelle Picard 48:20
2) Jennifer Lockwood 58:58
3) Whitney Young 1:08:02
Kids Race Winners:
1) Jon Neuberger Higby 2:40
2) Webster Bozzo 2:57
3) Zachary Bozzo 3:00
Elite Race Winners:
(Men)
1) Colin Butler 1:16:56
2) Erick Walker 1:18:19
3) Terry Stevens 1:25:55
(Women)
1) Gail Vento 1:18:59
2) Adrianne Baird 1:41:11
More information about the resources within the St. Croix East End Marine Park can be found online at www.friendsofstxeemp.org or by contact Micuda at 340-718-3367.
Those on St Croix interested in learning to paddle can contact Kraft at 340-643-5824, Presto at 340-277-0682, or go online at www.kitestcroix.com. On St. Thomas those nterested can go online at http://www.bluewatersupsafaris.com/about.php for more information.