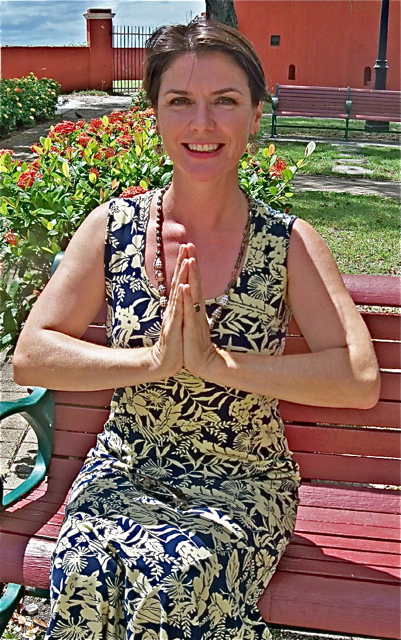 Sydney Solis, a storyteller, mother and yoga teacher, will introduce her Children's Storytime Yoga to St. Croix Sept 13 with classes, workshops and media.
The program features oral storytelling to teach children ages three and up health, literacy and character education through yoga.
Solis says traditional oral storytelling combined with yoga is healing, and a body centered education.
"Our bodies are neglected and we need to get back into healing," Solis explains. "Give children a rich imagination at an early age and teach them to be in their bodies and self-aware. That leads to educational success … If you want to teach your kids to read, teach them to listen and speak first."
Solis founded Storytime Yoga in 2003 after the sudden death of her husband. Solis has more than 500 hours of yoga training with an emphasis on therapy. Her children's yoga DVD, "The Peddler's Dream," appeared on PBS in 2008. She has presented at conferences, libraries, schools and events, including the Yoga Journal conference. She teaches an annual children's yoga camp at Kripalu Center for Yoga and Health in Lenox, Mass.
Solis and her two children moved to St. Croix from Colorado in January.
Looking fit and with a lilting voice, she says introducing traditional storytelling encourages listening. Traditional yoga poses such as the warrior are incorporated in the stories.
In a recent interview, she said the benefits of her program include improved oral and literacy skills; improved imagination, creativity, critical thinking, focus and attention; muscular-skeletal alignment and health, stress release, peace and non-violence skills, improved family connection and relationships.
She offers parents and teachers the opportunity to become oral storytellers and learn to educate children with story, the voice and the body. Her methods are taught through her books, workshops and trainings. She is available for live classes, workshops and teacher trainings at schools as well as an artist-in-residence at schools.
The cost of the programs is available by calling 226-7685 or online at www.StorytimeYoga.com. Upcoming programs include:
• Storytime Yoga preschool classes, 10:30 to 11:45 Tuesdays beginning Sept. 13 at the Kalima Center, 54 King Street in Christiansted. Parents are invited to participate with their child to learn how to implement peace, health and literacy in the home.
• Storytime Yoga Dance and Creative movement for preschool and older, 10:30 to 11:30 p.m. Thursdays beginning Oct. 13 at The Sanctuary, in the Courtyard at No. 5 Company Street, Christiansted. Parents are invited to participate.
• Introduction to Storytime Yoga workshop for Teachers and Parents at Kalima Center begins Sept. 17.
• Online training to learn to be a storyteller and educate with yoga and story begin Sept. 19, with a live apprenticeship on St. Croix in January.
• Body Memoirs – Listening to the Story in the Body begins Oct. 15 at the Sanctuary for ages teen and adult.
• Adult Yoga Classes for Health and Wellness are 9 to 10 a.m. Tuesdays at Kalima Center beginning Sept. 13 and 9:15 to 10:15 a.m. Thursdays at The Sanctuary, starting Oct. 13.
Solis also offers private yoga therapy for children and families using yoga and story by appointment. She says her work is especially beneficial for children and teens with ADHD/ADD, depression and obesity. More storytelling and yoga workshops, including special family yoga and storytelling kirtans, are planned. And Solis has hopes for a storytelling festival in the future.
She is the author of books and albums, including: "Storytime Yoga: Teaching Yoga to Children Through Story," "The Treasure in Your Heart: Yoga and Stories for Peaceful Children," the children's yoga DVD "The Peddler's Dream," and the spoken word audio "The Peddler's Dream – Wisdom Stories from Around the World."
Further information is available online at www.StorytimeYoga.com.