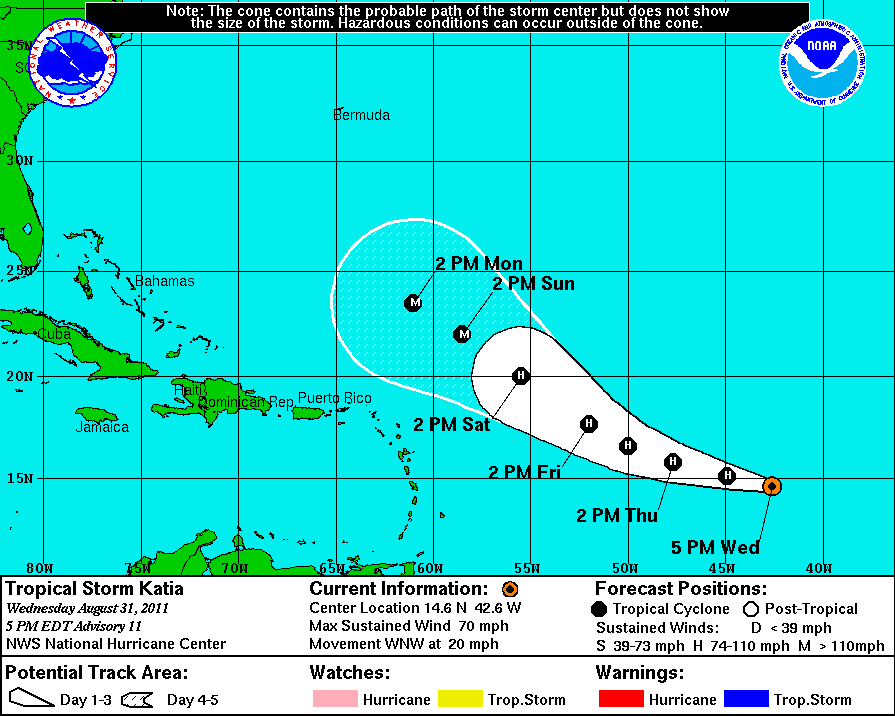 Tropical Storm Katia continued its trek across the Atlantic Ocean Wednesday, but meteorologist Ernesto Morales at the National Weather Service in San Juan said it should pass about 500 miles to the northeast of St. Thomas and St. John Monday morning as a Category 3 hurricane.
"The models are being constant, and you can see on the satellite that it's already taking that track," he said.
Morales expects the territory to get only high surf out of Katia.
However, since the peak of hurricane season in mid-September is approaching, Morales urged residents to keep an eye on the weather.
Katia continues to move toward the west northwest at 20 mph.
The storm continues to strengthen. As of the 5 p.m. update from the National Hurricane Center, Katia had a wind speed of 75 mph, up five miles from the 11 a.m. update. This puts it just four miles shy of hurricane strength, and forecasters expect Katia to become a hurricane later Wednesday. The barometric pressure stands at 990 millibars.
Tropical storm force winds extend outward 125 Miles.
Katia is centered at 14.6 degrees north latitude and 42.6 degrees west longitude. This puts it about about 1,500 miles from the northern Virgin Islands, Morales said.