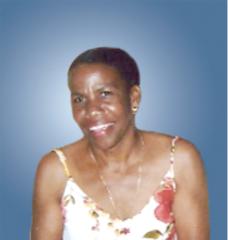 She is survived by her mother, Emma Bruno-Dominica; son, Julie Dupie (Pennsylvania); daughters: Donia Dupie (St./Thomas), Curvelle Larocque (NYC) and Annella Hollsborough (NYC); sisters:
Eulda Prevost (Florida), Elizabeth Underwood (Peterson Underwood) – (St. Thomas) and Augustina Bruno (Desmond Eloi) – (St. Thomas); brother, Hubert Bruno (Merlin Bruno) – (Atlanta); grandsons: Jamie Duprie (Pennsylvania), Julie Dupie Jr. (St. Croix) and Devonte Luke (St. Thomas); and granddaughter, Bernie Juliana Dupie (Antigua).
She is also survived by aunts: Rosema Frederick, Sylma Jno-Baptiste, Nelize Bruno, Magouze Bruno, Inna Cabon, Magareta Bruno, Serela Bruno and Emma Bruno (all of Dominica); nieces: Deborah Underwood – (New York), Janna Prevost – (Florida), Janice Prevost – (Florida), Kedyah Bruno – (Atlanta) and Kimberly Eloi – (St. Thomas); special cousins: Christene Harry; Incla Harry, Maria Massicott, Delia George, Anice John, McPherson Frederick, Olson Frederick; best friends: Marie Renal and Veron George; as well as other friends and relatives too numerous to mention.
There will be a first viewing held from 5-7 p.m. on Wednesday, July 13, at Davis Funeral Home. There will be a second viewing at 8 a.m. followed by a funeral service at 9 a.m. on Thursday, July 14, at Holy Family Church. Interment will be at Eastern Cemetery.
All arrangements are by Davis Funeral Home, 774-1464.