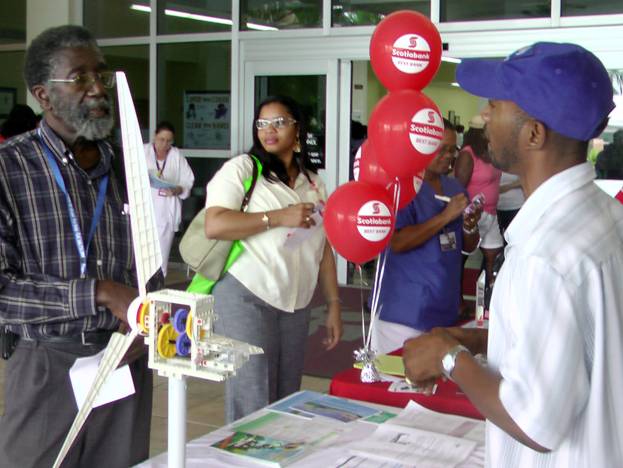 The V.I. Energy Office attended an employee appreciation event at the Roy Lester Schneider
Regional Medical Center
on May 13 to provide information
to employees
on how to save energy. Also in the month of
May, the Energy Office provided energy information to
St. Croix residents at the annual Reef Jam. Pictured above, on right, is Kasim Andrews, Energy Office
p
rogram
m
onitor on St. Thomas.
WAPA Seeking Solar Power
The V.I. Water and Power Authority is requesting proposals for up to 10 megawatts of solar electrical power, preferably split evenly between St. Thomas and St. Croix. The respondent will be responsible for constructing, operating, and maintaining all facets of the project.
Karl Knight, director of the Energy Office, says, "We are pleased to see WAPA embarking on such an important project." He adds that this proposal directly supports Gov. John deJongh Jr.'s goal to reduce fossil fuel consumption by 60 percent by 2025 and with the Renewable Portfolio Standards established by Act 7075.
A pre-bid conference and informational web seminar is scheduled June 13 and site visits for bidders will take place July 1 and 7. Proposals are due Sept. 20. A commercial operation date is set for December 2013. Anyone interested in the complete details of the process can click here.
St. Croix Church Reaches to the Sun for Power
St. Ann's Catholic Church in Barren Spot opened its doors to members of the media to show off its new 6 Kw solar system. The system was made possible by a grant of $50,000 from the V.I. Energy Office utilizing funds from the American Recovery and Reinvestment Act of 2009. To see a video of Channel 2s coverage click here.