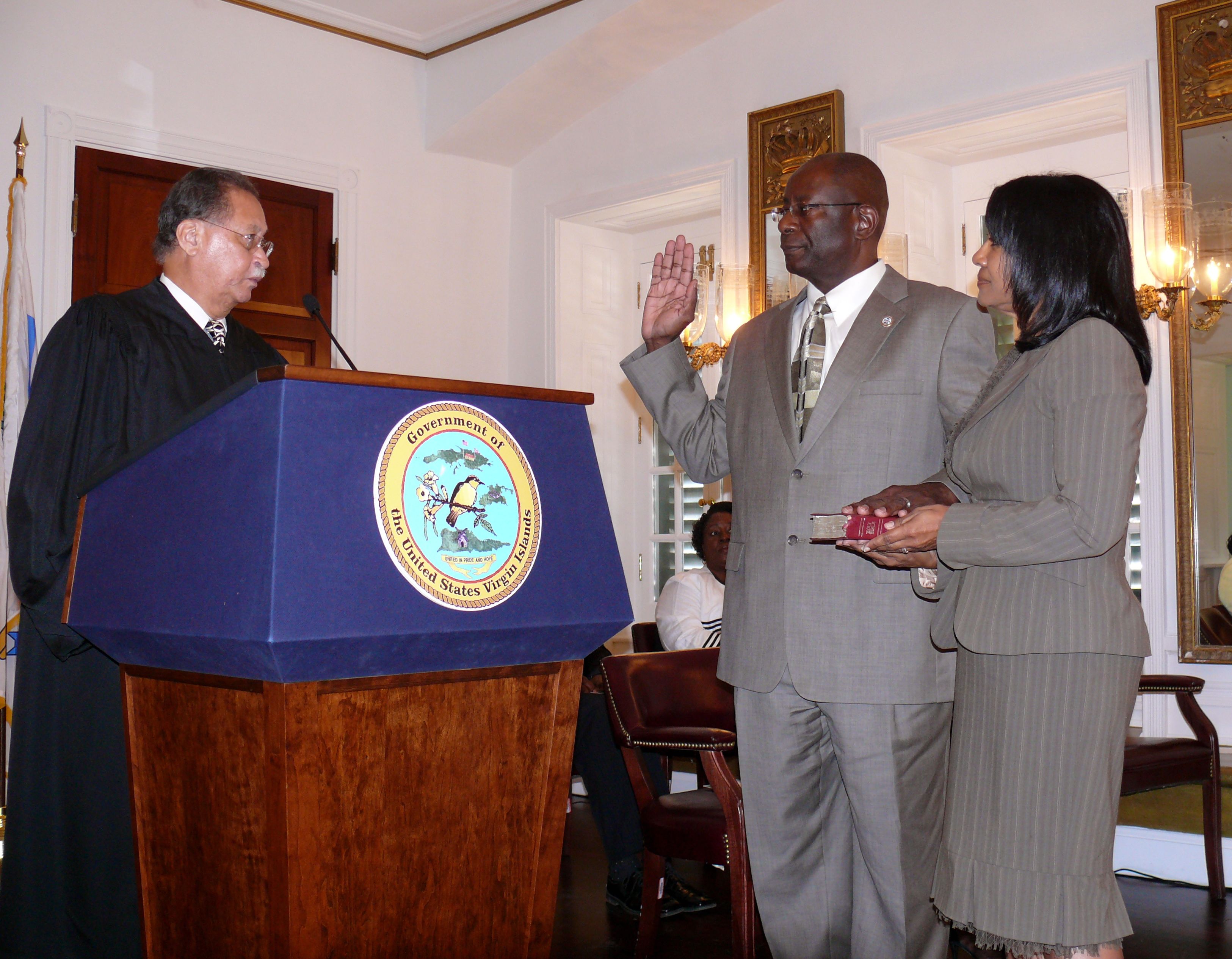 St. Croix's historic Government House was once again the stage for of pomp and ceremony Tuesday morning as Alicia Barnes and Elton Lewis were officially sworn in to their new high government posts.

Barnes, most recently assistant CEO of the V.I. Economic Development Authority, is now Commissioner of Planning and Natural Resources; and Lewis, a former police commissioner, is VITEMA's executive director. Both have been acting directors for some time.
The echoing murmurs of the well-dressed crowd in Government House set an expectant, celebratory tone as painted portraits of historical figures looked down from their gilt frames upon the full ballroom. Ceremonies began with the St. Croix Central High JROTC Color Guard posting the colors, the singing of the national anthem and "V.I. March" by Liz Combie and an invocational prayer from pastor Linus Gittens.
Gov. John deJongh Jr., Lt. Gov. Greg Francis, St. Croix Administrator Dodson James and Senate President Ronald Russell all came to the podium to offer words of praise, encouragement and a few recollections about Barnes and Lewis.
"Ms. Barnes offered us a tremendous chance to take a young person we felt could not just do the job, but nurture others to help them perform their jobs, too," dejongh said. "I felt she brings to the job a breadth of knowledge that stretches across our community."
After citing a passage in the Book of Luke, Barnes spoke of her faith and thanked God and her parents for the success she has had. She said her tenure working at the V.I. Water and Power authority a few years ago "was truly a defining moment" in her life.
"If you entered Mr. Francois' office with a problem and without three solutions, you were unceremoniously dismissed," she recalled. Back then, she had some choice words for both of them, she said. "But in retrospect, thank you for honing my professional skills," she said.
After praising some of Lewis' achievements, James joked Lewis was getting promoted or appointed to something so often someone suggested they put a permanent chair with his name on it for Government House ceremonies. DeJongh said Lewis "was an easy appointment" to head VITEMA and that Lewis was "someone who understands it is not 'if' but 'when' we will have another disaster…"
Before talking about his plans for VITEMA, Lewis said the deJongh administration has rebuilt the agency over the past two years and "today our newly reorganized system meets federal standards for incident management and rivals many in the mainland."
Now, his task is to build on that, he said. "For me, this means engaging and planning through our public and private sector partnerships to ensure we can efficiently and effectively respond when disaster strikes, that we can sustain ourselves for a period of time and that we can quickly return to some semblance of normalcy," Lewis said.
To that end, Lewis said he wants to complete the installation of a territorial tsunami warning system and re-implement the emergency alert system to complement the current V.I. Alert system, among other goals.
Barnes has been acting commissioner since Jan. 18, moving from her prior position with the Economic Development Authority to replace retired DPNR Commissioner Robert Mathes.
She has been awarded "Outstanding Woman of St. Croix" by the Mu Gamma Omega Chapter of the Alpha Kappa Alpha Sorority and been recognized as an "Emerging Leader" by the reform advocacy group Generation Now.
Barnes went to V.I. public schools, graduating from St. Croix Central High School in 1988 as senior class president. She went on to earn a bachelor's degree in marine science and environmental studies from Hampton University in Virginia. In 1997, she earned a master's in public administration from the University of the Virgin Islands.
Professionally, she has been an environmental specialist and environmental affairs and energy resource manager for the V.I. Water and Power Authority; director of the V.I. Energy Office; and most recently as assistant CEO of the V.I. Economic Development Authority.
Barnes was DPNR's assistant commissioner from February 2007 to July 2009 and during that time also served as its chief operating officer. She has two children; Nile and Nia, and said in her remarks that they are her greatest blessings.
Lewis has been acting director of VITEMA since Mark Walters departed the post at the end of January. Prior to taking up the reins at VITEMA, Lewis was V.I. National Guard director of the joint staff. Lewis was also V. I. Police commissioner for four years from 2003 to 2007.
Born in Frederiksted, Lewis graduated from St. Croix Central High School in 1971 He joined the V.I. Police Department in 1973 and the V.I. National Guard in 1976. He rose through police ranks, ultimately holding the top position of commissioner of police. In the Guard, Lewis served as the director of Joint Staff since 2007 and is now assistant adjutant of the Guard, a position he was appointed to in 2005. He has been director of the V.I. National Guard's Joint Force Headquarters from August 2007 to December 2010.
His awards and decorations from more than 30 years of military service include the Meritorious Service Medal, Army Commendation Medal, Army Achievement Medal, National Defense Service Medal, Humanitarian Service Medal, Overseas Service Ribbon and the Army Reserve Component Overseas Training Ribbon.