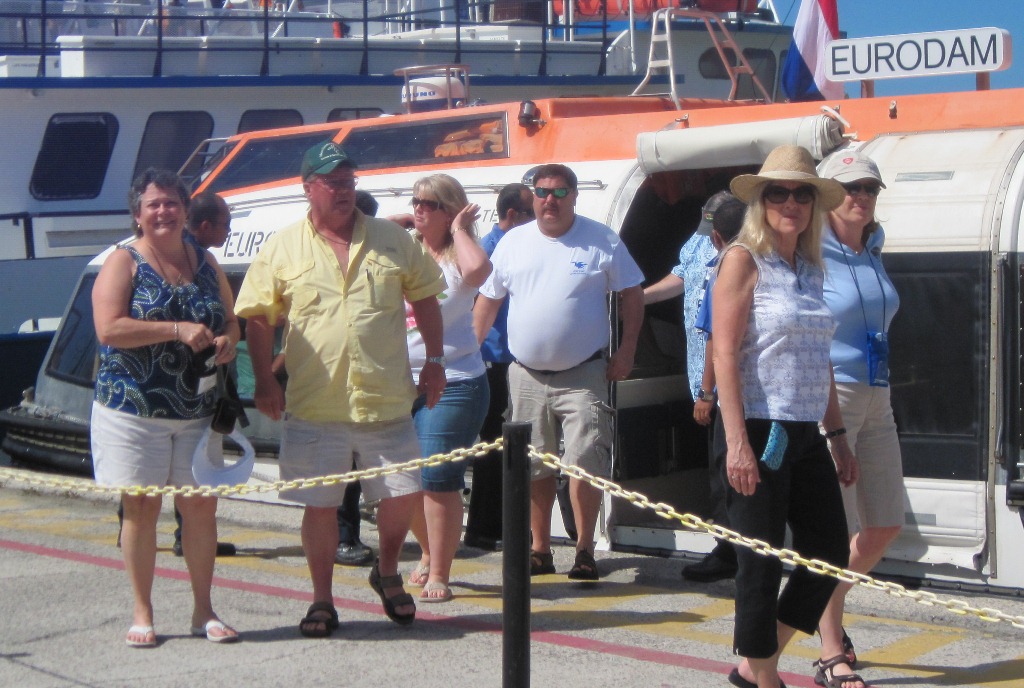 St. John was party central Wednesday as about 2,000 people from the Legendary Rhythm and Blues Cruise came ashore for fun in the sun, as well as more music. The Blues Cruise chartered the cruise ship Eurodam for the weeklong trip through the tropics.
"We're a bunch of wannabes," Doug Schmitt of Vancouver said as he, his wife, and another couple stopped to chat in front of Mongoose Junction Shopping Center.
The four of them play blues in Vancouver, and jumped at the chance to join with like-minded people on the Blues Cruise.
Renee Dellaera of Pittsburg, Penn., called the Blues Cruise an amazing event. This is the third such cruise for she and her husband, John.
"It's the most fun an adult should ever be allowed to have," she said.
Marlin Smith and his wife, Janie, of Poetry, Texas, were heading out for a Cruz Bay pub crawl.
"And we might do a little shopping," Janie Smith said.
In addition to shopping and the usual tours to the beach, there was music all over St. John. Smalls and the Music Makers scratch band from St. Thomas entertained at the Creek bulkhead as the passengers came off the Eurodam tender. The St. John-based Cool Sessions Brass filled Cruz Bay Park with its music, and musicians who played on the cruise entertained at bars around the island and visited schools to share their expertise.
Mocko jumbies strutted their stuff at the Creek, and women dressed in traditional Madras market costumes greeted the visitors.
"When people have a good time, we have a good time," Djoy Francis said, taking a break from welcoming the cruise passengers.
Along the waterfront, vendors sold everything from glass art made at Maho Bay Camps to coconut tarts to soursop fruits. Janice Jones said that she had sold all the ripe soursops, but cruise passengers continued to stop by.
"They're curious. They want to know if they're seedless or do they have a big seed," she said, noting that the protruding nubs were the seeds.
In Cruz Bay Park, Tourism Department workers handed out samples of local foods like pick up salt fish, salmon balls, potato pudding, black cake, and various drinks.
"It's all cultural stuff," Cindy Jurgen said as she helped set up the area.
Jurgen's usual job is for the Public Services Commission, but she, like other local government employees on St. John, were pitching in to help make the day a success.
Assistant Tourism Commissioner Monique Sibilly Hodge said the department encouraged those who visited on the Blues Cruise to return as overnight visitors.
"They've already been asking about hotels," she said.
The Blues Cruise was organized by the Kansas City-based Roger Naber, who ran similar trips to St. Croix.
"Coming here was a natural because Tourism wants more people to see St. John, and we knew there are music-friendly people on the island," he said.