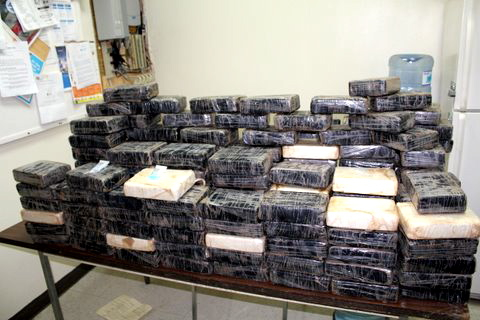 A routine traffic stop Sunday in Christiansted became anything but routine when officers seized a quarter-ton of cocaine, with an estimated street value of roughly $6 million.
Miguel Pascual, a 33-year-old citizen of the Dominican Republic, was arrested by special agents from U.S. Immigration and Customs Enforcement (ICE) after V.I. Police officers discovered the cocaine during a routine traffic stop.
According to a report from the V.I. Police Department, Pascual consented to a search of the vehicle, which revealed seven large bags containing brick-like objects in the cargo area and back seat of the vehicle. The bricks later tested positive as cocaine.
The cocaine shipment was made of of 202 bricks with an estimated total weight of 228 kilograms, or 502 pounds.
V.I. police officers notified special agents from ICE, who responded to the scene, arrested Pascual, and seized the cocaine.
"Through these arrests and seizures we are sending a clear message the U.S. Virgin Islands will not be a safe haven for criminals looking to ship drugs into U.S.V.I. and Puerto Rico," said Roberto Escobar-Vargas, acting special agent in charge of ICE in San Juan.
Pascual, a resident of Puerto Rico, is currently in ICE custody.
U.S. Immigration and Customs Enforcement (ICE) is the largest investigative arm of the Department of Homeland Security, according to the police report.
For further information, visit the ICE website.