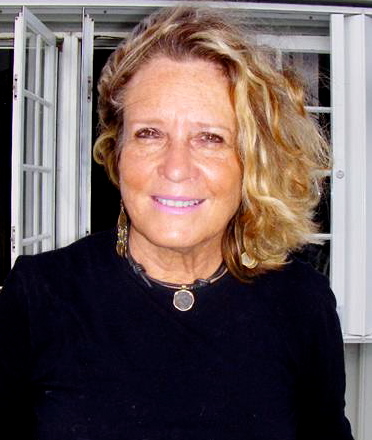 If Barbara Young's goal as a teacher is to make her classes – as she modestly says – "not boring," she has succeeded beyond her wildest dreams.
The 24-year Eudora Kean High School teacher of English and photography thrives on sharing her passions with her students. She has taken them on journeys from the heart of Africa to the heart of photography, the darkroom, the real thing.
As we chat on a recent morning, Young reveals the sense of wonder she brings to her classroom. Her decades of teaching appear to have simply honed her sensitivities.
"Being a teacher is a challenge on many levels," she says "You're mother, psychiatrist, disciplinarian and, occasionally, comedian, if that will get a point across. I talk to my students about my life, and when I'm wrong, I admit it, so that they can trust me. If they don't trust me, they won't learn."
"I'm not really a disciplinarian," she says. "If I see a student is ready to learn, I jump on him or her. I don't care if their uniform isn't perfect that day. It's the opportunity that can't be missed."
Young takes responsibility for her students.
"I consider values, and how I can help in coping, with discussions and readings with a moral point of view. Lots of their values come from places that are not the best sources, from their peers. I hope to reach them on a level that will help them later in life."
In class she shows films that challenge their views.
"Movies that make a moral point," she says. "For instance, we watched 'Supersize Me.' Afterwards, a couple students said they'd never eat another Big Mac. I don't know if they'll hold to that, but it got them thinking."
Young hits on another passion, photography, an art where she teaches the mechanics from scratch. No digital. No "instant gratification."
Young becomes animated explaining the "magic" of the process.
"You take film and bring it to the darkroom – we have probably the only school darkroom on the island," she says. "You work on it, winding it off a spool, you put it in the developing liquid and wait until an image appears. It's your own. It's like building a piece of furniture. It's exciting."
Her classroom is filled with photographs, some by the students, some by professional photographers.
"Gordon Parks is my favorite," she says. "He believed in the power of photography to change the world. He was the first black to infiltrate the all-white aristocracy. He struggled. I love his photography, his studies of people. He has a good message."
Young moved to St. Thomas in 1978. After graduating from the Georgetown University with bachelor's degree in English earning a master's degree in English and teaching from the University of Virginia, she answered an ad in the New York Times for a teacher on St. Thomas at Sts. Peter and Paul Catholic School, where she taught off and on for about six years, with a couple years at Charlotte Amalie High School and a year each in Venezuela and the Canary Islands, entertaining her passion for travel before finding her home at Kean.
In late 2007 a group of students engaged Young as advisor for their World Religion Club, a project which has proved propitious in the lives of those students and others.
Juanita Paul, club president, explained it this way at the time: "We were always arguing about religion. So we decided to make it a weekly discussion club, and we got Miss Young for an advisor. It's really hard to find a teacher who will take the time to spend with you."
The group decided to hold a raffle to sponsor a Rwanda project, which they'd not yet identified, when Young got a call from a friend and photographer, Sonja Melescue, asking for help in sponsoring nine-year-old Victoria Umuhoza, a Rwandan orphan.
Once started, the project snowballed. The group not only raised the money for the girl's continuing education, but became the impetus for the now well established Rwanda Project, with a board including first lady Cecile deJongh and Shaun Pennington, Source publisher. Young is president of the project which now has taken two trips to the war-torn country, helping in the orphanages, with local school students.
Young is still emotional when she speaks about the first Rwanda trip in the summer of 2008, when she and Pennington met the small children at an orphanage.
"We had no real idea how we would be received," she says. "The children, all smiles, gathered around us and sang in English. 'We are happy to meet you.' We were in tears, we just bawled."
The group visited several orphanages, painting and helping with whatever they needed.
"The children are so different there," Young says, "I've traveled in Haiti, I've seen poverty, but Rwanda is different. There's no hopelessness, no sense of defeat. Our students learned so much about what the Rwandan children have. Nothing but joy in the moment, joy in each other. It's so precious."
Young is the mother of Julia and Andrew Casazza, ages 21 and 20. She is married to George Casazza, who recently retired after decades as the physical education teacher at Addelita Cancryn Junior High School.
Related links:
http://rwandaprojectusvi.org/
.