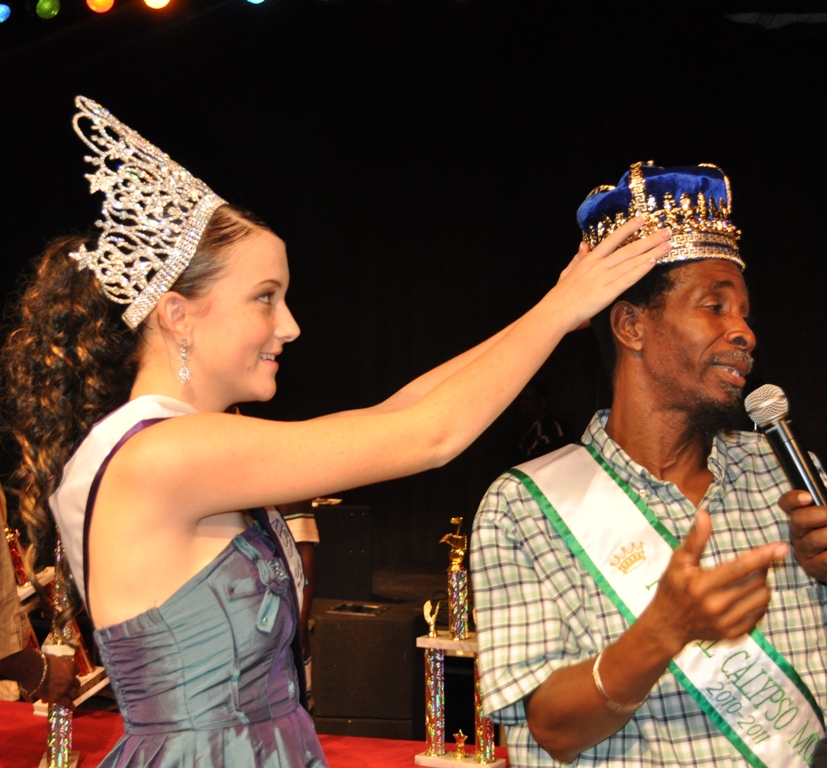 Campbell "King Kan" Barnes amazed the judges Tuesday night and managed to win the crown back after his surprising loss last year to become the St. Croix Calypso Monarch for his third time.
Although Barnes took the lead, the Island Center for the Performing Arts was jam-packed with an energized crowd, which sang along laughingly as the 10 contestants battled it out in the extravagant competition.
The calypsonians commanded the stage with political undertones and a strong mix of current affairs. However, the hilarious comedic acts from the singers, and jokes from host Daren "MC Bogle" Stevens, are what kept the audience in stitches throughout the night.
Laughter began as soon as James P.G. "Moonark" Wakefield, jumped on stage to sing his first song "We Need Love," where he danced erratically, in his bright, yellow track suit as he sang about stopping the violence on the island.
He came back later to crack the audience up with his second song "Gorilla Fantasy," where he came beating his chest and making guttural sounds, as he stomped across stage in a gorilla costume. It was no surprise that he took the "Most Humourous Calypsonian."
Alford "Thunder" Romney, who won "Most Improved Calypsonian", stirred the crowd with his politically motivated song entitled "Reparation" about demanding reimbursement for descendants of slavery.
King Kan then sang his first winning performance, with "Journey to Your Destiny," a deeply religious song about the dangers of straying from the inherent goodness that our "creator" gave us.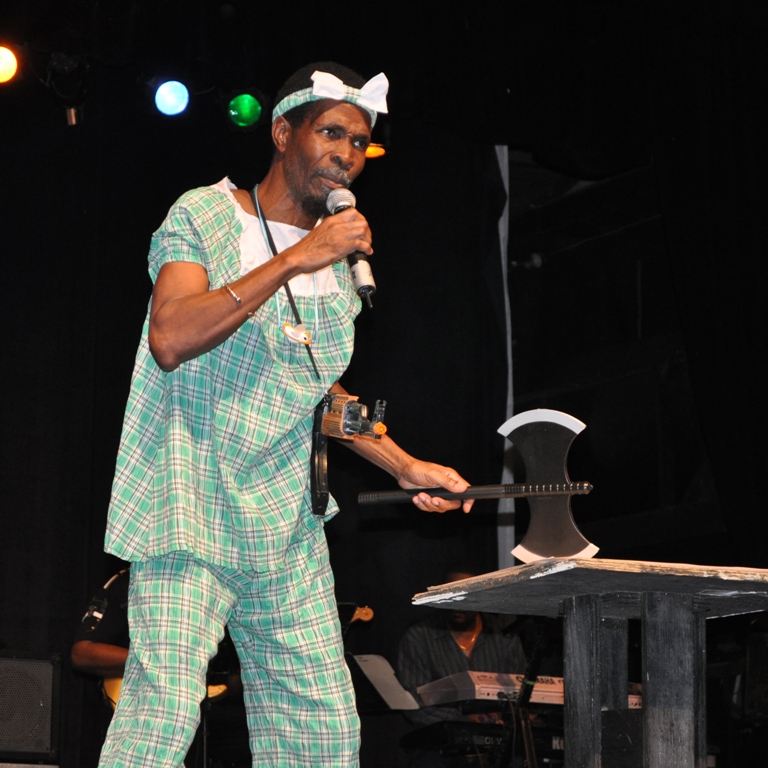 His second song, "Democrazy," poked fun at both political parties and made the crowd nod in fierce agreement as he sang about the ridiculous idea that guns promote freedom, and yet end up in the hands of children. He wore a gun around his neck, and dressed in a baby's outfit to further promote his message.
Also during Tuesday competition, Cedric V. "Spade" Brookes came back to win "Best Social Commentary," as well as first-runner up.
His first song "Paradise Ain't Lost" was a tune about how leaders complain that the islands are losing their paradise and appeal, yet refuse to do anything about it. The second, "It Was You," was a political ditty about the recent gubernatorial election and Kenneth E. Mapp's initial refusal to concede.
Samuel "Mighty Pat" Ferdinand, second runner-up, took the crowd back with his charming performance of "Election Blues," another song about the recent election. Similar in style to the Junior Calypso winning tune "Whootup," he made the crowd laugh as he pounded the ground with a fake baseball bat while poking fun of sore losers.
His second song, "Too Much Vets," was a social commentary on the state of Luis Hospital—noting that doctors there are more dangerous than veterinarians and that Crucians are better off seeking help from an animal shelter.
When asked how Barnes felt about winning the crown, he said "Great," but he mentioned that the art form and keeping it alive is more important to him than winning. He also holds the throne in St. Thomas, where he won again in April.
All the performers were backed by St. Croix's own Xpress band, joined by several backup singers and an ensemble of brass players.
The winners were: 
–
1st Place: Campbell "King Kan" Barnes

1st Runner Up: Cedric V. "Spade" Brookes

2nd Runner Up: Samuel "Mighty Pat" Ferdinand

Most Improved: Lariel "The Teacher" Gerard
Most Humorous: James P.G. "Moonark" Wakefield
Best Social Commentary: Cedric V. "Spade" Brookes