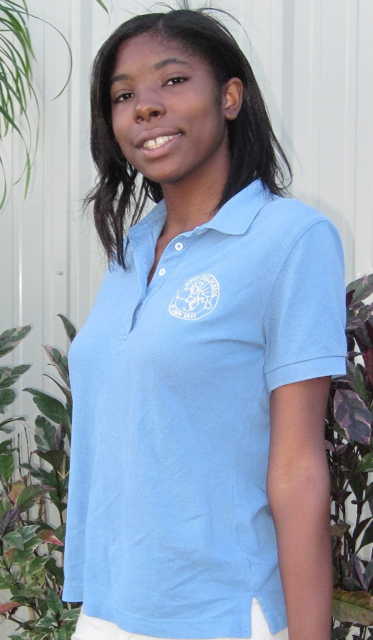 Trichelle Gumbs, 17, has her fingers crossed that she'll get a National Achievement Scholarship, which is part of the National Merit Scholarship program. The scholarship recognizes outstanding black students around the country. The Gifft Hill School student recently learned that she's made it as far as the semifinals.
"It's quite an honor," Head of School Judy Chamberlain said.
Chamberlain said that Gumbs is the most hardworking student she's ever known. Additionally, she said that Gumbs is "so committed to being the best she can be."
Gumbs lives on St. Thomas but commutes daily to St. John to attend school. It makes for a long day, but she still finds plenty of time for additional activities.
"I'm learning Japanese," she said.
As if that wasn't hard enough, she's doing it on her own using books and a language program.
During the summer, she received a scholarship to study Shakespeare at the New England Youth Theater in Brattleboro, Vermont.
"It was great. I can read Shakespeare and understand what he's talking about," she said.
While she occasionally dreams of a career in the theater, she's set her sights on being a lawyer.
"Law is one of the best ways to be tricky with English," she said.
With law school in mind, she'll head off to college next fall to study pre law. Yale University is her first choice of colleges, with Stanford University second and Harvard University third.
When she's done with law school, she said she'd like to return home to set up her own practice.
Meanwhile, she's busy with school – science, literature and history are her favorites. She's been at Gifft Hill School for three years.
"I like it because it's really small. Everybody knows who you are," she said.
The teachers are good, and she said because of the school's small size, she interacts often with Chamberlain.
She also makes time to spend with her family. Her father is St. Thomas resident Terrence Gumbs, and this summer she plans to visit her sister, Angela Gumbs, who is in the U.S. Air Force in Georgia. She also has two step-siblings, Jayden Gumbs, 4, and Nia Gumbs, 3.
Born in Georgia, her family roots are on St. John – her grandfather is Raymond Thomas, who heads Agriculture Department activities on the island. Her mother is the St. John postmistress, Tiffany Thomas, and she said she's very proud of her daughter.
"She just has a knack for school work. She excels at it wonderfully," Thomas said.