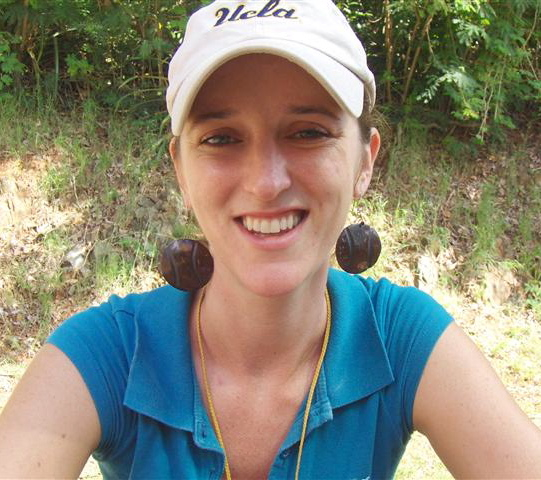 When Diandra Jones, the new arts and physical education teacher at V.I. Montessori School & International Academy, arrived on St. Thomas in August after three years teaching in Ghana, West Africa, she says she instantly felt comforted by the local custom of greeting.
After three years in Ghana, the customs of that country are much closer to her consciousness now than those of her native Chicago, which she left to teach dance and physical education at the IB American International School in Accra, while performing and teaching HIV/AIDS awareness at the Sankofa Center there.
"Some customs are very African," she says. "In Ghana, you absolutely would never walk by another human being without an acknowledgment, a 'good morning or good evening'. It is so respectful, binding. I'm so glad of that commonality."
Jones shared some of her experience with Montessori students last month at the school's 80/20 Lunch, designed to bring home a sobering statistic: 80 percent of the worlds' population consumes 20 percent of the world's food, while 20 percent of the population consumes 80 percent of the world's food.
The students were randomly selected to be one group or the other, with 20 percent of the students dining on lavish fare at tables, while the remainder sat on the floor eating rice and beans with their fingers.
Jones told the students how, after she decided to make Ghana her home, she lived with an extended Muslim family in a compound where they shared rations — rice, beans, ground corn, two small meals a day.
"You would never eat anything without inviting your neighbor to join you. I learned to bathe without running water, how to cook without a stove, how to eat with no silverware, how to live without electricity."
"I learned to take only from this planet what we need," she said., "which the Ghanians taught me is very little – food, water, shelter and love."
Jones expands now on what she told the students.
"In my mind," she says, "I thought I was going there to help, effect positive change, when in fact my life ended up changing forever."
These changes are at the core of what Jones expresses as she talks about coming to St. Thomas and settling into another new culture.
She left Ghana reluctantly, but says, "I decided it was time to leave for a while. I was invited to go back to the States, but I wasn't ready for the culture shock. I was actually hoping to stay in Africa, but I looked on the Internet and found the international jobs listing and the Montessori position in St. Thomas. I've always wanted to learn more about the Caribbean, the African influence."
Jones learned a few lessons when she first arrived on the island. "I'd been told living on St. Thomas was a little 'rustic,' there were power outages. When you've been living without power or running water…." her voice trails off. "Rustic? I have my own apartment, silverware, a laptop, an office."
And the food.
"I actually lost my taste for American food," she says. "I'm so happy to find casava, yams., plantains, hot spices. There's a Dominican food stand near where I live. I got a plate of food there, and began eating with my hands when someone who looked African told me, 'no, we use silverware.'" She laughs, "It feels like home here."
She is enthusiastic about her new job.
"A global consciousness is a central component in teaching at Montessori," she says. "I am so impressed with the students. They love learning. There's lots of room for creativity and freedom. I combine drama, dance and visual arts curriculum, teaching them interdisplinary study, all the arts in relation to one another."
Her students – from grades seven through 10 – are studying how art is used to address social, political, environmental issues.
"We learn how dance and drama are effectively used to communicate."
As an example, Jones told them about her step-dancing in Africa.
"I've been an Irish Step dancer since I was four. In Africa, we'd go to different villages to talk about AIDS prevention. To get the villagers to come out to listen, I'd start doing a step dance, with the Africans drumming along. People would come to see the 'freak show.' They didn't know what to make of it,. but they stayed to listen to us talk about the disease."
For just 31 years old, the slender, comely young woman has accumulated a wealth of experience. She is a world-ranked competitive Irish Step dancer. She received her bachelor's degree in English education and her masters in interdisciplinary arts. In 2003, she founded the first dance program at the Bill and Melinda Gates school, Chicago International Charter School, where she taught dance, physical education, drama, and English for five years.
For all that, Jones' heart is in the present. She tells her students: "Keep in mind not only today, but every day for the rest of your lives, how fortunate we are, and how we are capable of changing the world. You couldn't possibly sit down to a heaping bowl of food, while a small child sits next to you, hungry. Without thinking, you would do the right thing."
Related link: https://stthomassource.com/content/news/local‑news/2010/11/23/montessori‑students‑have‑lunch‑remember