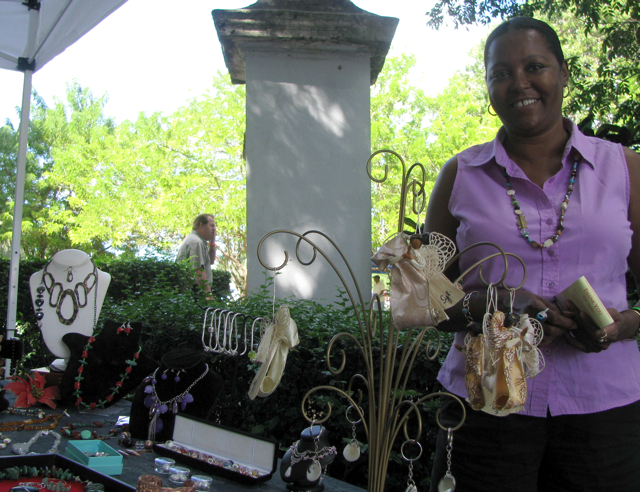 It was starting to feel like Christmas Sunday at the Estate Whim Museum, where the 22nd Starving Artist Sale took place, but it wasn't just about the artist trying to sell their crafts. It was about locals supporting the island community and beyond.
Of the 89 vendors in attendance, a handful were working towards improving the community by raising funds for pets in need, orphaned or abused children and the people of Haiti that struggle with everyday life.
"We are giving local artist and organizations a venue – it's all about community engagement," said Gerville Larsen of St. Croix Landmarks Society. He also mentioned that the winter event draws a larger crowd compared to the spring sale because of the winter visitors and the willingness of people to come out and spend money during the Christmas season.
This year between 800 and 1,000 people came out to support the local artists, according to Sonia Jocobs Dow, executive director of the St. Croix Landmarks Society. Once on the museum grounds the atmosphere was lively with the sounds of live music, student dancers from the Evelyn Williams School and most of all the enticing smells from local food vendors serving all of St. Croix's favorites. With various art and jewelry tables eye stimulation was everywhere for the shoppers.
"We come every year to support the artist and it's the first week of Christmas sales so we have to see if there is anything new," said Sheelagh Fromer, who has lived on the island for 30 years and had just purchased a St. Croix calendar for her daughter in the States. "We are such a small place you have to come out a support everybody."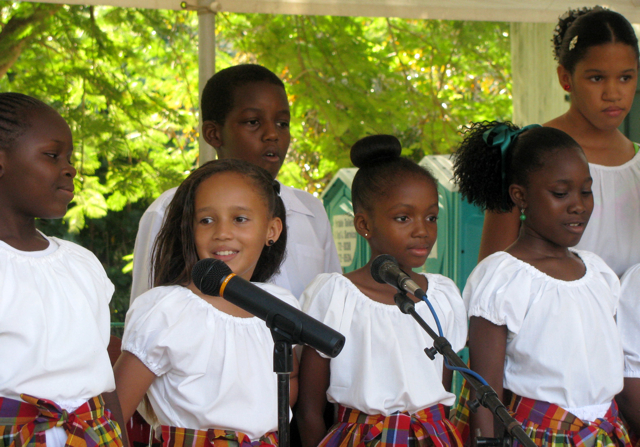 Artist weren't just out for themselves. Laura Press, who works at the Queen Louise Home for Children, was raising money so the kids can go to Disney World next summer. Press works during the night, so while the children are sleeping she makes jewelry to raise money. Currently she helps take care of nine minors that are apart of the community foster care and during the event earned more than $100 for the annual trip.
Another vendor making a difference was the V.I. Humane Learning Center. They collected donations and raised money for their "Love Is In The Air" program. The main goal is to raise awareness for the program according to Donna Cascarelli, who is helping homeless pets from St. Croix travel to partner shelters in the States for a second chance at finding a home. The V.I.H.L.C. was raising money by selling handmade jewelry and quilts, but the organization is really looking for people to donate pet carriers for the transfer of dogs to the United States.
"We have partner shelters in New York, Boston, Minneapolis, Charlotte, Cleveland, Orlando, Philadelphia, Oregon and Los Angeles," said Cascarelli. "So far this year we have saved 200 lives through transfer, which is almost double to the 120 (dogs) we saved last year."
The Court Appointed Special Advocates organization was out selling holiday cards designed by kids on St. Croix and St. Thomas to support the children in child abuse and neglect cases. This is the 11th time these special cards are being sold, according to Gail Shearer, who has been with CASA for 13-years.
"People usually buy some of the cards after they see who made them and where the money goes," said Shearer, who was also selling CD's, mouse pads and T-shirts.
Then there were first-time participant in the Struggling Aritist Day and photographer Sarah Stamper, who set up her table to raise money for people struggling people of Haiti. Stamper was inspired to sell her photographs after one of her friends recently made a documentary on Haiti. When she saw how much of the donated money never reaches the people in need, Stamper decided to sell the photographs while her kids made jewelry and papier mache toy guns to help raise money. Her goal is to donate 50 percent of her profits to either the Oxfam International non-profit organization that fights against poverty and injustice or the Global DIRT (Disaster Immediate Response Team) organization that delivers aid to countries that have suffered disasters.
Many regulars showed up as well. One of the most popular items was the "Island Angels," creations of Sylvia Brady. Brady has been making her seasonal angels for more than 20 years and has sold out at past Starving Artist Days. Making one of these angels is a three-day process, with the only two materials being used, Abaca straw and ribbon. The angels come in small pairs or there is a larger version that is sold alone.
"I always sell out during the winter event because they are great ornaments for Christmas," said Brady.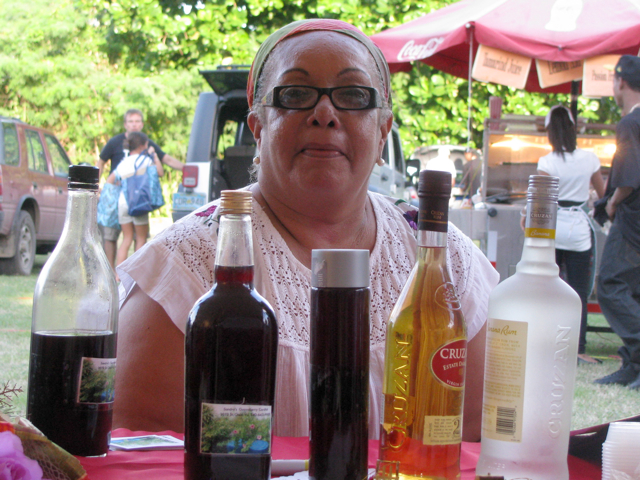 The Fourth annual Guavaberry Competition took place with prestige on the line for three local brewers of the seasonal drink. The three main beverages made from the locally grown berry are liqueur, wine and rum. Attendants were able to taste each version for 50 cents and then cast a vote for the best one. Two former champions – Arlene Abraham and Jane Meyers – were up against newbie Sandra Phaire. The people's choice was Sandra Phaire who won by only two points.
"I'm the new girl on the block, so I feel good about winning," said Phaire, who also won for best table at the event for the second straight year. "It's fun and I will definitely be back next year."
The St. Croix Landmarks Society holds this event twice a year to raise money for its museums, research archives and educational programs.