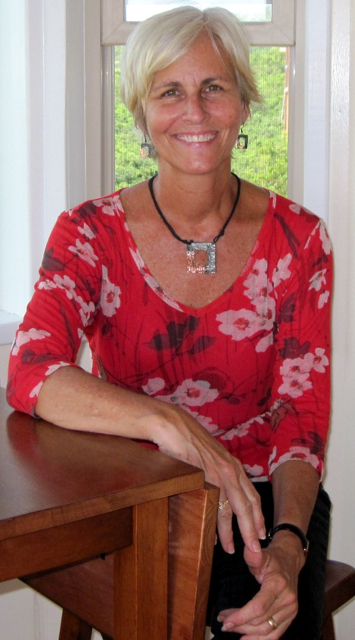 After more than 11 years with Maho Bay Camps and Estate Concordia Preserve properties, Maggie Day, 55, is off to her next adventure, a two-year stint in the Peace Corps.
"I felt it was time for a fresh start," Day said.
Her latest job involved shepherding Concordia's expansion to fruition. That job is almost done and her contract with the company is up in early December, so her departure is perfect timing. Both Maho and Concordia have new, fresh management, her children are all grown, and she wants to try something new before she gets too old.
The South Pacific is the likely candidate, although the Peace Corps hasn't let her know definitely where she'll be posted. She expects to depart in April. And she anticipates that she'll be called on to put her many years of experience in the territory's hospitality industry to good use.
Husband Al Day plans to visit for several months during the first year of her two-year assignment and will turn over the reigns of his charterboat center, Day Marina, to spend the second year with her.
Day bubbles with excitement over her newest challenge. Indeed, it was the quest for adventure that first brought the Days to St. Thomas and then to St. John. On a sabbatical from the Oxford, Ohio, based Miami University, the Ohio-born couple landed in St. Thomas just when the economy was on the rebound from a recession. Day fell into the hospitality industry by chance with a job in reservations at Sapphire Beach Resort on St. Thomas. A job at Caneel Bay Resort on St. John led to an opportunity in the management training program. From there, she had jobs at Point Pleasant Resort on St. Thomas and running a charter boat operation with her husband.
"Then I ran into Stanley and Irma on the ferry," she said, referring to Maho and Concordia owner Stanley Selengut and his wife.
Intrigued by a job at Maho Bay Camps, she became the general manager in 1999, a post she held until 2004. After working 60-hour weeks for all those years and with some of her children still at home, she moved into a job as company vice-president in charge of the Concordia expansion. The post enabled her to work from home, though she still spent many hours on the job.
Day's learned a lot about sustainable development in her days working for Selengut, who has a world-wide reputation in that field. She's quick to point out all the environmentally-friendly features in the new Concordia studio units.
She's continually delighted by the guests who stay at Maho and Concordia, observing that they have an environmental ethic.
Selengut had plenty of good words about Day.
"She has that wonderful ability of combining good business sense with humanity," he said.
He also pointed out that he's now 81, vision impaired and an absentee owner, so it was up to Day to keep operations on an even keel.
With a time-consuming job, Day is a busy woman, but she still has time for her family. Daughter Pierra-Lisa is 35, Brendan is 28, Michael is 25, and Katie is 21.
The Peace Corps post is a hiatus in her life. When she returns to St. John, she said she expects to start working again. She's already had nibbles, but said she can't discuss them. However, she said that her Peace Corps experience will round out her resume.
"It will give me a new perspective," she said.