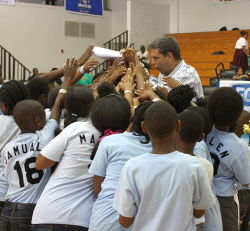 In front of about 50 devoted fans hooting and hollering, Old Dominion University (ODU) was the first team to make it to the winner's division Friday after they defeated Saint Peter's College 59-52 in the opening game of this year's Paradise Jam Basketball Tournament at UVI's Sports and Fitness Center.
ODU was the favorite team coming into the matchup, but after a strong first half from Peacock guard Steven Samuels — who finished the half with 10 points — the ODU Monarchs found themselves in a fight, tied at 20 at the half.
ODU started the second half with a little more energy, both on the offensive and defensive sides of the ball, and at the 14:15 mark, a jumper from junior guard Kent Bazemore gave them a 35-27 score and their largest lead of the night: 8 points.
A jumper in the paint by senior forward Ryan Bacon stopped a stretch of five straight minutes without scoring for the Peacocks, 35-29, and after a time out from their coach John Dunne, the Peacocks came out gunning. A three-pointer from senior guard Nick Leon cut the lead to three, 35-32. The Monarchs followed that with a layup from senior forward Frank Hassell, but back to back layups from Bacon made it a one-point game, 37-36, with about 10 minutes to go.
Senior guard Ben Finney's three-pointer at the 7:52 mark pushed ODU's margin back to four, 40-36. But Leon followed that up with a three-pointer of his own and then a few seconds later, one of two free throws from senior forward Jeron Belin tied the game at 40.
The game went back and forth until the last two minutes, when senior guard Darius James hit a three-pointer to give the Monarchs a seven-point lead, 52-45. ODU held on for the win.
For ODU, Finney led the way with 15 points, followed by Bazemore, who had 14. Hassell finished with six points and 12 rebounds.
For Saint Peter's, Bacon finished with a game-high 16 points, followed by Samuels with 13 and five rebounds. Leon finished with 11 points and six assists.
"The first game of the tournament, both teams showed up, and Saint Peter's was very, very physical and aggressive, and hats off to them for how hard they played — it was 20-20 at half and later 40-40, and you couldn't ask for a much closer game," ODU coach Blaine Taylor said after the game.
"I think both teams made each other look a little sloppy at times because of how hard they played, the kind of defense that was played… but I was just happy that we could find a way," he said. "Their team played an awfully good game and gave themselves a chance to win, and for us to overcome that, I'm proud of and happy with the guys and how they did."
Taylor said in the second half, the Monarchs did a better job of finding and hitting jump shots.
"I think that kind of loosened things up a little bit better," he said. "When we got the lead, what I liked is that we maintained the lead without turning the ball over, and we hit some key shots. It's the kind of team where you kind of have to grind and win because they're going to make you earn it."
Despite the loss, Dunne said he was proud of his team's effort.
"We're known for playing hard in our league and I was proud of our guys," he said. "We were trying to kind of shrink the court, and crowd it in there and make it difficult for them to get it in, and crowd them on their catches — we basically said, your're going to have make perimeter shots to beat us — and then they made a couple in the last 10 minutes of the game."
Game two matched up the Long Beach State 49ers and the Clemson Tigers. Clemson came into the tournament perfect in their first two games, while the 49ers had a 1-1 record.
It was a pretty close game during the opening minutes of the first half, when Tigers' sophomore guard Noel Johnson hit a three-pointer to push the lead to eight, 14-6, with 14:50 to go in the half. Coming out of a timeout, 49er's junior forward T.J. Robinson's jumper made it a six-point game, then a Larry Anderson layup cut the lead to four, 14-10, Clemson.
With about 8:40 to go in the half, two free throws from junior guard Tanner Smith gave the Tigers an eight point lead. A few seconds later, a steal by freshman Cory Stanton led to a layup and then an Andre Young three-pointer gave the Tigers their largest lead in the first half, 27-14, with 7:50 to go in the first half.
A three pointer from senior guard Greg Plater narrowed the margin to four, with about 3:50 to go, 28-24, Clemson. But a jumper from Devon Brooker, followed by a layup by Jerai Grant and two free throws from Smith, pushed the lead back to 10. Right before the half, with one second left on the clock, a Young three-pointer made the margin 13 again, sending Clemson into the half with a 37-24 lead.
Clemson went on to win, 69-55. Smith led all scores with 17 points and six rebounds, followed by Young with 12.
For the 49ers, Anderson finished with 14 points, followed by Robinson, with nine points and eight rebounds.
In the third game of the night, Seton Hall narrowly escaped Alabama, 81-80. Jeremy Hazell led all scores with 25 points, followed by Jeff Robinson with 16.
For Alabama, Senario Hillman and Trevor Releford both finished with 20 points.