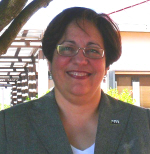 National PTA wants to ensure the U.S. Virgin Islands benefits from its resources and helps its PTSAs bridge the gap between local school concerns and national policy, according to regional service representative Ivelisse Castro, who is touring schools and PTSAs in the territory.
"You might say this trip is to reconnect and reengage," Castro said Friday. "We connect from the local all the way to the national level to speak on behalf of children's education. No other organization does that like the National PTA. And we want to make sure our partners in the Virgin Islands don't miss out on any of the characteristics and resources of PTA."
Getting the entire community involved in making education work is crucial, she said.
"Everyone who has a stake in the community has a stake in how our children do in school," she said. "Not just parents and students themselves, but businesses have a stake too: The better the level of education, the better the employee base, the better businesses will run. So everything is intertwined."
Schools and individual PTSAs can help encourage participation by going out to their way to be welcoming, she said.
"First, we will not have involvement if the atmosphere does not make families feel welcome, " she said.
Creating meaningful two-way communication between school and parents is crucial too.
"When administrators and teachers know what is going on at home, they may be more understanding and more able to help with a student's particular situation,' she said.
The National PTA also advocates for educational resources on both the national and local level, she said. "We are the largest volunteer association speaking for children at the federal level and everywhere we are. … The federal school lunch program and child labor laws both came about thanks to advocacy by the PTA," she said.
The more involved its member organizations are, the stronger and more effective the national organization's efforts will be, she said.
"The resources we need may not be there if we do not speak up to protect education funding and to ensure our teachers are not only well-prepared but well-compensated," she said.
Castro is service representative for four U.S. territories. She is in the territory for a PTSA president's training seminar on St. Thomas at Marriott Frenchman's Reef Saturday, where she will talk to local PTSA leaders about the role of a PTA or PTSA, affiliation with the National PTA, responsibilities of PTA presidents and the collaborative initiatives of the U.S. Virgin Islands Congress of Parents, Teachers, Students Association and the Department of Education.
"We want them to know they do not have to reinvent the wheel," Castro said. "There are more research-based opportunities than ever. We have programs and resources the PTAs here could take advantage of."
Information about those programs can be found at the PTA website, she said. Registration begins at 8 a.m. and the seminar will run from 9 a.m. to 3 p.m. For more information or to obtain registration forms contact Earline Edwards at 514-3336 or via email: maureenstt@hotmail.com or Alvin Bedneau at 277-8117 or email usviptsapres@gmail.com. Registration forms can also be downloaded at the Department of Education website.