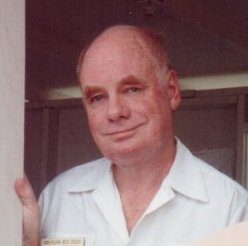 Dr. Adrian V. Rake, who came to Saint Croix in 1989 as part of the relief effort following the devastating Hurricane Hugo, died Saturday morning at Gov. Juan F. Luis Hospital.
Dr. Rake, who was 76, was a researcher and teacher in biology and related disciplines over four decades. Following U.S. Army service, Dr. Rake used the GI Bill to attend Swarthmore College and the University of Pennsylvania, where he received his doctoral degree. In 1975, Dr. Rake was hired at the then-new Biology Department at Wright State University in Dayton, Ohio, where he mentored dozens of undergraduate and graduate students, many of whom have gone on to do important research and medicine around the world. He was a Fellow of the American Association for the Advancement of Science.
Dr. Rake, who received an additional degree and certification as a registered nurse while teaching at Pennsylvania State University in the early 1970s, was a volunteer with the International Red Cross. He and wife, Constance, provided assistance after natural disasters throughout the United States, and Rake also served in the war-torn nation of Chad, in Central Africa, in the 1980s.
Adrian, known as "Dean" to his family, and Constance came to Saint Croix to provide similar medical and social services for the Red Cross after Hurricane Hugo. They immediately fell in love with the Virgin Islands and its people and made Saint Croix their adopted second home. Following the death of Constance in 1997, Dr. Rake relocated permanently to the island.
He re-met and married a high school friend, Felicia Gomes, in 2006, and both of them made their home near Great Pond until Felicia's death late last year. Dr. Rake suffered several medical setbacks this year following Felicia's death. He is survived by his sons: Kirk, who is a Saint Croix resident, and Launce, who lives in Las Vegas, Nev.; daughter, Elizabeth Swedburg, of Tampa, Fla.; three sisters and two brothers.
Tax-deductible contributions in Dr. Rake's name can be made to the Wright State University Foundation, School of Science and Mathematics, at WSU Foundation, 3640 Colonel Glenn Hwy., Dayton, Ohio 45435 or online at

wright.edu/cgi-bin/wsufoundation/gift/give.cgi

.