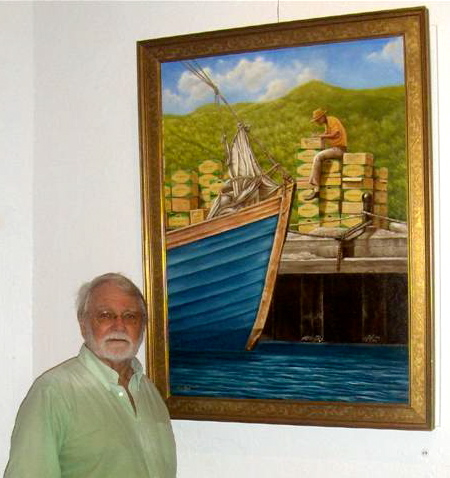 When London artist Ray Miles arrived on St. Thomas in 1961, he found his true home and the island gained a gifted and articulate interpreter.
That home is memorialized in his singular vision and affection in hundreds of paintings and photographs. The images speak of his gift, the ability to bring out the essence of the local life.
Miles' paintings and photographs are filled with nostalgia, tracing a slower, gentler time in the islands, with evocative interpretations.
The paintings span a range of styles, from traditional West Indian oils to surrealist acrylics. Miles is of the generation of local artists active from the sixties, including Erik Winter, with whom he shared a studio and an enduring friendship, Fritz Henle, Ira Smith, Clifton Berry and Karen Bertrand.
When Miles talks about his arrival on St. Thomas, his sense of wonder is still intact.
"It was so different from London where I grew up," he says. "So alive."
He was taken by the intimacy of life in Charlotte Amalie, which he still continues to document with brush and camera.
As a young man Miles studied art in London, where he cut his teeth in photography serving a four-year apprenticeship with the London Air Ministry, and two years as photographer with the Royal Air Force in the foreign climes of Singapore and Malaya.
Adventure firmly in his blood, he set out as a photographer aboard the SS Jerusalem, cruising between New York City and the Virgin Islands. Though he says he thoroughly enjoyed the "stimulating" art scene in New York at the time, his heart was taken by his first taste of the Virgin Islands.
"That attraction and spell cast so many years ago," he says, "still holds true. Despite the prosperity and rampant development," he says, "the colors, the clouds, the waters, the amazing atmospheric effects are alive, they don't change."
Miles has a natural affinity for the island way of life and the people. Walking around the spacious display of his paintings at the many-roomed Johansen House is an adventure in local history. The paintings are the Virgin Islands.
Miles points to a large oil of a man astride a tall pile of Heineken cases in front of a wooden sloop tied up on the waterfront, bent slightly, writing. The man's posture, his leg dangling over the side of the stack, tells the story.
He says, "I call him the Talleyman."
He says of his work, "Balance is important. Space and color. Background is as important as the subject to bring out a whole."
Miles has been an integral part of the art community since he stepped ashore fifty years ago.
As a first step in making the island his home, he set up shop with his Hasselblad cameras and opened Studio Five Photographic Studio on Back Street along with his then wife, Jayne Miles. She was a dancer, and they opened Studio Five School of Dance.
"I was struck by the quiet simplicity of the islands, and the proud elegance of the people," he says.
He leafs through bins filled with matted black and white prints, each telling a story. He pulls out a portrait of three local women, one pregnant, all proudly marching along the waterfront with buckets of water on their heads.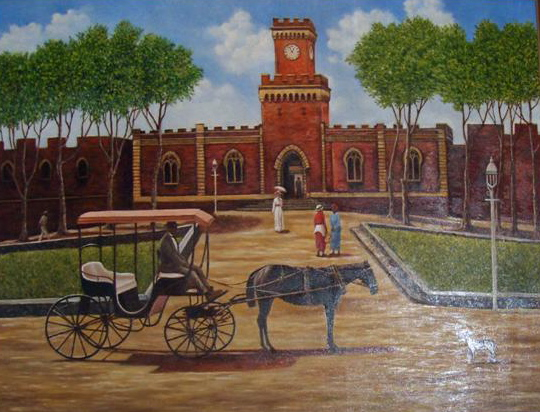 Miles glimpses of the island long ago bring immediate pleasure, along with a tinge of melancholy. He pulls out a photograph of the old Apothecary Hall in the afternoon shadows of Main Street. There is a bicycle pulled up in front of the shop.
"This fellow would come here at four every afternoon," Miles says, "park his bicycle, and go inside for his rum and coke."
A recent painting of Fort Christian looms majestically over one wall. It's the fort as Miles pictured it long ago, a carriage rolling by in front.
"I like to imagine what has gone before, the historical elegance of the building with carriage," he says.
Miles' photographs are almost exclusively black and white.
"I prefer that because of the image, the power of abstract dramatization," he says.
Each of the photos, many of which have become collector's pieces, is hand printed and signed by Miles, "to ensure a lasting beauty," he says.
His work is widely recognized. He was awarded the Governor of the V.I. Excellence in Arts award in 1999. The murals depicting local scenes on the walls of Tutu Park Mall are Miles' interpretations. .
Fifty of Miles' photographs hang in the spacious Johansen House, where his annual art show is scheduled Nov. 20 from 10 a.m. to 6 p.m. and Nov. 21 from 10 a.m. to 2 p.m.
Johansen House is on the Weymouth Rhyme Highway between PriceSmart and Edith William school. Further information can be obtained by calling 998-7145.