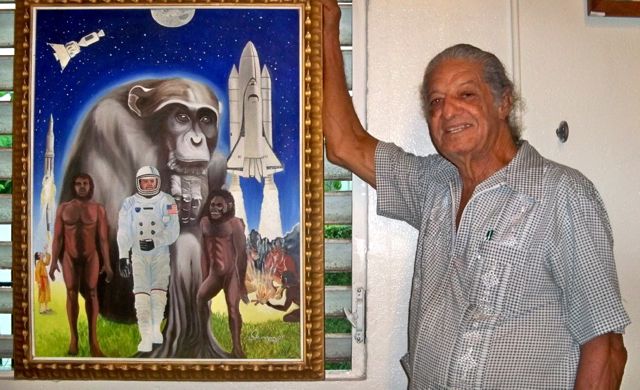 George Stevan wasn't about to be a starving artist on his native island of Jamaica. So, he followed his mother's wishes and trained as an accountant. But he loved art so much that in his spare time he taught himself to paint and did become an artist.
"My parents said I would starve to death," Stevan says. "My mother told me to do something to make money."
But ever since he was a child he wanted to be an artist, he said. He recalls drawing with pencils and crayons, sitting at his mothers' knee while she sewed.
Stevan, born in 1929, said in a recent interview that he studied and read every book on art he could get his hands on while growing up in Jamaica.
At the age of 20 he began his art career hand-painting skirts, scarves and T-shirts and sold them to tourists in Kingston.
"That got me going," Stevan says. "I made a little bit of money, left the accounting field and opened a little shop of my own."
Today, 62 years later, he looks just like one would picture an older artist, with curly salt and pepper hair tied back in a pony tail. At the age of 82 he still stands straight and tall and has a charming accent.
He said he gradually drifted into sign painting and graphic design. He eventually moved to Montego Bay and opened a commercial art studio. He said the studio, called Amalgamedia, was a place where poor kids would stand at the door and watch him work. He would invite them in and share his knowledge and also employ them.
Because of political upheavals in Jamaica in 1978 he moved his family to Brooklyn, N.Y.
"I was quite happy doing business in Jamaica but politically things got bad," Stevan says. "As a father the best thing to do was to move my family to the states."
He opened a graphic design studio on Long Island and continued to paint for his own pleasure.
In 1991, Stevan retired and returned to his beloved Jamaica where he had time to devote to painting. The island was an inspiration for him – he painted acrylic and oil beach scenes, flora and fauna.
But it wasn't long before frustration set in when he wasn't able to get his painting supplies.
In 1993 he returned to the states and settled in South Carolina, seriously getting into his art. In 1997 he had his first show at Benedict College. He later moved to West Palm Beach, Fla., and exhibited his works at several galleries there.
Stevan was invited to do a one man show at the Reichold Center on St. Thomas in 2002 at the "Queen of Salsa" show. His works were then moved to a display at Tillett Gallery.
During this time he made numerous trips to the U.S. Virgin Islands and fell in love with St. Croix. He made St. Croix his permanent residence in 2006 and is working to establish himself as a local artist, creating art works once again inspired by an island paradise. He has had his works on display at Whim Museum and the St. George Village Botanical Garden.
At this point in his life he is still learning different art forms, such as computerized graphic art design that his youngest daughter, herself an artist, turned him on to. He recently showed off a program he designed for the grand opening of his church, Island Baptist Church.
"I believe my talent is God given because nobody said George this is how you do it," Stevan says.
He sells his realism, abstract and modern art at Cultural Creations of the Virgin Islands at 12A
La Grande Princesse. Millie Calvin, owner of Cultural Creations, said she met Stevan and fell in love with his painting.
"He is awesome," Calvin says. "I just love him and his work."