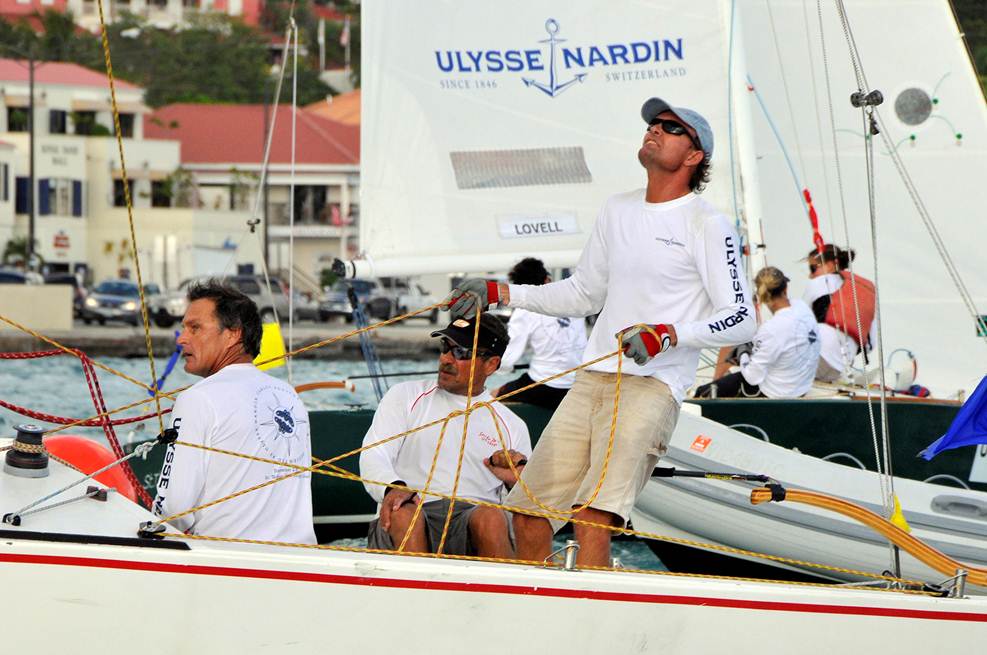 Some of the world's best match racers will face-off in the natural amphitheater of Charlotte Amalie harbor in Inter-Club (IC)-24s, where international visitors and locals alike can enjoy a front row seat. Presented by Ulysse Nardin/Trident Jewels & Time, the Carlos Aguilar Match Race (CAMR), an Official World Tour Qualifier for the 2011 World Match Racing Tour (

worldmatchracingtour.com

), is set for Dec. 2-5. The Women's and Open Division winners inthisInternational Sailing Federation (ISAF) Grade Two event will receive an Ulysse Nardin Lady Diver or Ulysse Nardin Maxi Marine Diver precision timepiece. The Open Division winner also receives an invitation to the Stena Match Cup Sweden in Marstrand, July 4-10, 2011.
Skippers to watch in the Women's Divisionare Great Britain's Lucy MacGregor, 2010 Women's Match Racing World Champion and currently ranked two in the ISAF women's match race standings; the United States' (USA) Sally Barkow, two-time Women's Match Race World Champion and ninth ranked women match racer; and the USA's Genny Tulloch 2008 Women's Division winner of the CAMR and ranked 12th

.

Other ranked sailors include Brazil's Julianna Senft (19th), the Netherland's Klaartje Zuiderbaan (41st), Brazil's Renata Decnop (42nd), the USA's Sandy Hayes (109th), and St. Thomas' Kelly O'Brien. Each skipper will sail with a crew of three.
Headlining the Open Division, St. Thomas-born Peter Holmberg, America's Cup-winning helmsman for Alinghi, will defend his 2009 CAMR title against four-time America's Cup veteran, two-time Whitbread Round the World competitor, and winner of the grueling Sidney-to-Hobart Race, New Zealand's Gavin Brady has been replaced (see explanation at end of article). These veterans take on Portugal's Alvaro Marinho (14th), St. Thomas' native and Boston College All-American, Taylor Canfield (27th), the USA's Dave Perry (28th), New Zealand's Laurie Jury (39th), the USA's Chris Van Tol and the British Virgin Islands' Colin Rathbun.
The St. Thomas Yacht Club and the V.I. Sailing Association are organizing authorities for the CAMR, namesake for the late Carlos Aguilar, who was an avid sailor and match racer.
Match racing pits one identical boat against another on a short course,oftentimes near to shore. On-the-water umpires make instant calls and enforce the rules. The result is very exciting racing up and down the Charlotte Amalie waterfront where spectators can enjoy tented bleacher seating. The event will feature live commentary on the waterfront provided by America's Cup-sailor-turned commentator Geordie Shaver, and a live Web cast on

carlosmatchrace.com

where a global audience is expected to follow the nautical fencing match. Racing starts at 9 a.m. (GMT – 4 hrs.) daily.
Supporting sponsors of the CAMR are the U.S. Virgin Islands Department of Tourism, Frenchman's Reef and Morning Star Marriott's Beach Resort, Heineken Beer, distributed in the U.S. Virgin Islands by Bellows International Ltd., Budget Marine, Yacht Haven Grande and St. Thomas Yacht Club. Satish Alwani, co-owner of Trident Jewels & Time, the exclusive Ulysse Nardin dealer on St. Thomas, said, "We welcome the competitors to St. Thomas. We are proud to make this event possible and look forward to some great racing."
In just three years,said Bill Canfield, principal race officer, "We have created two great match racing events within a single event. The women's division brings together some of the world's best match racers while the open division focuses on interesting match-ups putting America's Cup skippers against a new pack of young guns."
***Poland's Marek Stanczyk will replace New Zealand's Gavin Brady in the Open Division at the Carlos Aguilar Match Race. He is an Official World Tour Qualifier (WTQ) for the 2011 World Match Racing Tour
.

"Stanczyk and his team requested an invite earlier this fall to attend," said regatta director Verian Aguilar. "We were very happy to extend them the invitation and have them accept at this late date. We all feel that we have a very exciting field of match racers in the Open Division making this a solid Grade 2 event."