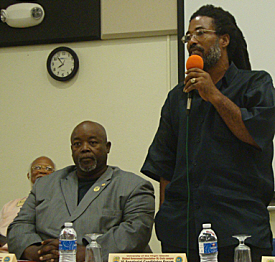 With the November election just days away, 20 of the 21 candidates for St. Croix's seven senate seats gathered Thursday at the University of the Virgin Islands for a forum that seemed nostalgic at times, volatile at others – but the sheer size of the field muted its impact.
For some it was almost like a last reunion. After months of campaigning, often at the same events, they were, in racing parlance, making the last turn and hitting the home stretch. For others it was a last chance to separate themselves from the pack and make voters notice them.
At about 7:15 p.m., moderator Simon B. Jones-Hendrickson, UVI economics professor, started the proceedings by giving each candidate three minutes for opening remarks, starting alphabetically with Myron Allick. More than an hour later, it was finally James Weber III's turn to rise.
In between there had been some passion, some humor, some almost inspired rhetoric, a few actual policy suggestions and a few elbows thrown.
Weber probably summed up the situation best when noting that "for the next five days I'll be doing my best to beat you," but the moment the results are announced Tuesday night the winners will be buddies, trying to organize a majority.
"Our form of government is over 40 years old and we should be proud of that," he said. "But it has to respond to changing times, it has to evolve."
A system in which senators were elected to represent specific districts would break the stampede of 21 candidates vying en masse for seven spots, and allow the two or three running for an individual seat to square off and really debate issues instead of being one face in a crowded field.
The time it took to make it all the way through the candidate field made it difficult for the hopefuls to interact. When they did, it was almost as if it was happening in slow motion.
For instance, in her opening remarks former Sen. Alicia "Chucky" Hansen touted her years in the Senate and suggested that some people were afraid to see her succeed. Then, more than 10 minutes later, Sen. Nellie Rivera-O'Reilly began speaking passionately about the lack of mammography equipment at the Gov. Juan F. Luis Hospital and how the only recourse women had was to go to a private practitioner. If they lacked insurance or couldn't afford the treatment, Rivera-O'Reilly said, her voice rising, they had to do without the potentially life-saving test.
And the reason was because of a Senate action that had occurred 10 years ago, she added.
Hansen, who had been in the Senate at that time, took that personally, but it was more than an hour before she had the mike again. When she did, she said darkly that the event was a forum, not a debate, but if anyone wanted to debate her she was ready.
The cap to the interchange came more than an hour after that when candidate Diane Capehart rose for her closing remarks. She reminded the audience that voters are choosing a team of senators who have to work together.
"I may not be boisterous or loud, but I'm professional," Capehart said as Hansen, who had already made her closing remarks, stared daggers at her.
Afterwards Rivera-O'Reilly said there had been nothing personal in the exchange. The candidates are all feeling the effects of a long campaign, she said, and passions run high. She also said, as Weber had, that it was part of the problem of having the seven candidates elected at large from the field. Electing senators by district would allow her to face off against a specific challenger and address the issues directly.
But the senator added that she actually enjoyed the experience and has learned from each of her opponents.
"Everybody has something to offer," she said.
After the opening remarks, it took another hour for the slate to answer the first question – from a UVI student asking about cuts the university had received in the last budget cycle.
If the student had been expecting sympathy or pledges of unfettered support in the future, she was disappointed. Almost everyone pointed out that UVI hadn't been singled out, that across-the-board budget cuts had been imposed on every department due to the continued economic slump.
And by then it was 9 p.m., the advertised end of the forum. Jones-Hendrickson held the session open for another 15 minutes, accepting another two questions aimed at specific candidates, then gave each candidate one more minute for closing statements.
Comments from the candidates included:
Myron Allick touted his business experience, and called for the Water and Power Authority to switch from petroleum fuel to coal, which is less expensive, he said, as a way to lower the widely hated Levelized Energy Adjustment Clause, or LEAC. (WAPA Director Hugo Hodge Jr. reported as recently as last month in a speech to the Rotary Club that coal, while cheaper, is not suitable for small systems because it is not easily scalable.)
Diane Capehart said she felt compelled as a Virgin Islander to offer her service. Having worked in both the public and private sectors, she said she has the experience for the Senate. "It is my time to run," she said.
Samuel Fleming said "it is shameful" that the clinic in Frederiksted is still closed after more than three years, the residents of Williams Delight have waited too long for needed infrastructure repairs in their neighborhood, and he called for construction of senior housing. He also strongly urged that children be taught reading "by syllables."
Judi Fricks recounted her experience as director of Crime Stoppers VI, which has given her a "firsthand look at how the system works, and sometimes doesn't work." That experience convinced her to run for office to try to correct it, she said.
Hansen said there are plenty of people who don't want her to succeed, but she won't back down. "It takes courage. I've battled with the issues for 16 years … There is a thing called going beyond the call of duty. It's about service and servant."
Neville James took the floor in a testy mood. Throughout the election season the incumbent senator said he has heard challengers calling for bold new leadership and criticizing actions taken by present lawmakers, and generally acting as if the candidates have just discovered problems no one has noticed before. "I take offense at the notion we're not doing anything in the Legislature," he said. He also reminded the audience he was an early opponent of the Diageo deal, which he called "a financial fiasco."
Wayne James recited the litany of his family history, starting with a woman in Africa and proceeding across the ocean in slavery in a direct line to him. The island is his home, he said, and "I'm not going anywhere." He said he had specific goals when elected two years ago including education reform, cultural preservation and youth employment and he said he has had success in all of them.
Naomi Joseph focused on education. As a police officer for 25 years she said she has seen too many young people in trouble, people who have graduated from local schools with a diploma but who still can't read anything except "You have the right to remain silent." "Something's wrong with that," she said, her voice rising passionately. "We can't keep doing the same thing and not expecting the same results." She said charter schools would be one thing that might help.
George Moore said the territory's environment is in serious trouble and pledged to be an environmental watchdog. He also said that $250,000 annually that will go to Diageo "should have gone to UVI instead." (Although the territory is only getting the increased rum cover-over money because the liquor giant is coming here. Without Diageo and Fortune Brands – the owner of Cruzan Rum which is expanding under a similar deal – there wouldn't be any increased cover-over.)
Sen. Terrence "Positive" Nelson said the territory isn't facing a shortage of revenues, it's how the money is spent. "There is nothing innovative or creative about borrowing," he said, a reference to the administration's borrowing money against future rum cover-over revenues to continue government operations near current levels.
Rivera-O'Reilly said she will continue to push for passage of her Virgin Islands Transparency Act, which if enacted into law would put every government expenditure from every department online where people can track what the government is doing with their money.
Wayne "Bully" Petersen, a longtime community activist, said the Legislature ceded its fiduciary control by accepting a lump sum budget instead of a line item budget. The current system was adopted after Hurricane Hugo, he said, when emergency measures were necessary. But by approving a lump sum budget, the senators set a spending limit but gives the executive branch the authority over where the money is spent. "We need a line item budget," he said.
Kendall Petersen said St. Croix's industrial, energy, transportation and social infrastructures are crumbling and need to be replaced. By building an agriculture industry, we would keep on the island the millions of dollars now spent each year to import food. St. Croix could again be "the breadbasket of the Caribbean," Petersen said.
Sen. Usie Richards touted his organizational skills, honed by years in a variety of positions in the public and private sectors, including serving as president of the 27th Senate. "Experience is a device you can use to get over obstacles," he said.
Ronald Russell has a plan for lowering the LEAC by having the federal government return some of the excise taxes paid on fuel refined by Hovensa to the territory. Money from the federal government could offset the utility bills of Virgin Islanders, he said, and would be a fair recompense for the health, environmental and social costs of sharing a small island with one of the largest refineries in the Western Hemisphere.
Sen. Sammuel Sanes called himself a "humble servant" with a strong work ethic. He lacks the gift of gab, he said, but added, "I don't talk the talk, I walk the walk." He singled out his colleagues by name, saying, "There is no such thing as Superman – we all have to work together."
Lee Seward said serving in the Senate "should be an honor, not a career," and if people are satisfied with the territory's schools, crime and infrastructure they shouldn't vote for him, because he's not satisfied. A businessman, he called for completion of a major resort hotel before the 100th anniversary of Transfer Day in 2017.
Norman Jn Baptiste called for an urgent care medical facility in Frederiksted, and supported a water park family recreation center on St. Croix, which he said would make the island a target destination throughout the Caribbean.
Michael Thurland touted his work for passage of a bill to build a new Central High School campus. Construction is slated to begin in 2013.