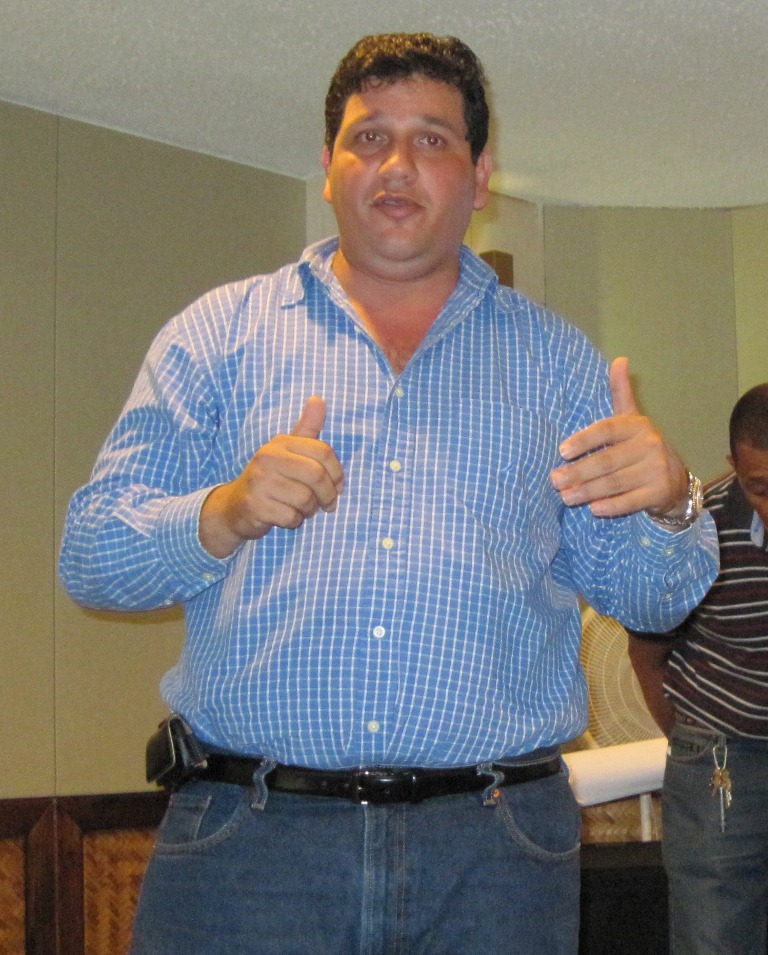 Tuesday's informational meeting on a proposed 24-hour gas station and convenience store on St. John was contentious from the beginning.
More than a dozen people showed up at the Westin Resort and Villas for the scheduled 10 a.m. start, but gas station owner Nedal Salem, his engineer Francisco Nadal and presenter Keith Smith, as well as Planning and Natural Resources Department officials, were delayed until 10:30 a.m. because the barge from St. Thomas left late.
Those who had waited were already annoyed over the late start, but St. John resident and E&C gas station manager Myrtle Barry laid it on the line.
"You are meeting in the day when residents impacted cannot attend and no one called to say you'd be a half-hour late," she said.
After a hallway consultation between Salem and Planning officials, Planning Attorney Dawn Henry returned to announce that the meeting would go forward as planned but a second one would be held from 5 to 6 p.m. Sunday adjacent to the proposed gas station and convenience store site.
Salem, whose family owns Racetrack gas station and Tire Kingdom on St. Thomas, plans to build the gas station on .43 acres along South Side Road. The property is sandwiched between the road into Power Boyd Plantation and the shopping center that houses St. John Market. Salem said after the meeting that he bought the property specifically to build a gas station.
The property is zoned B-3, business scattered, and a gas station is allowed under that zoning. Salem, who is doing business as Chocolate Hole Estate LLC, needs to get a permit from Planning to build above-ground tanks to store the fuel. Planning will hold a hearing on the gas tank permit at a later date.
At issue for those at the meeting was the fact that the proposed gas station and convenience store's location is adjacent to an existing grocery store and that E&C gas station is about one-quarter of a mile away.
Salem and his brother Nael Salem got into a shouting match with Nael Ahmed, who owns the adjacent St. John Gourmet Market and Dolphin Market in Cruz Bay. At one point the issue became who was born where and who owned their property versus leasing it.
"This man has a grocery store and you'll be cutting him down," Jehad Shalhout said, setting off the fray.
Shalhout owns Pine Peace Market, located near E&C gas station.
Additionally, many of those who attended the meeting said they worried about the safety of driving fuel trucks up the extremely steep Jacob's Ladder to get to the proposed gas station. Pam Gaffin pointed out that many trucks have slid on Jacob's Ladder, particularly when it's wet. Salem responded that the fuel truck drivers wouldn't attempt Jacob's Ladder when it's raining, but Barry pointed out that regulations do not allow fuel trucks drivers to park their full trucks. She said they have to keep moving once they leave the depot.
Near the end of the two-hour-plus meeting, several residents said that while no one would argue that St. John needs another gas station – it currently has only E&C operating – the proposed location was not suitable.
"We learned the hard way that you cannot come to St. John and tell St. John what they need," Guilderoy Sprauve added.
Sprauve held a similar meeting Aug. 15 to discuss his request for a rezoning so he can build a gas station on Centerline Road in Estate Adrian.