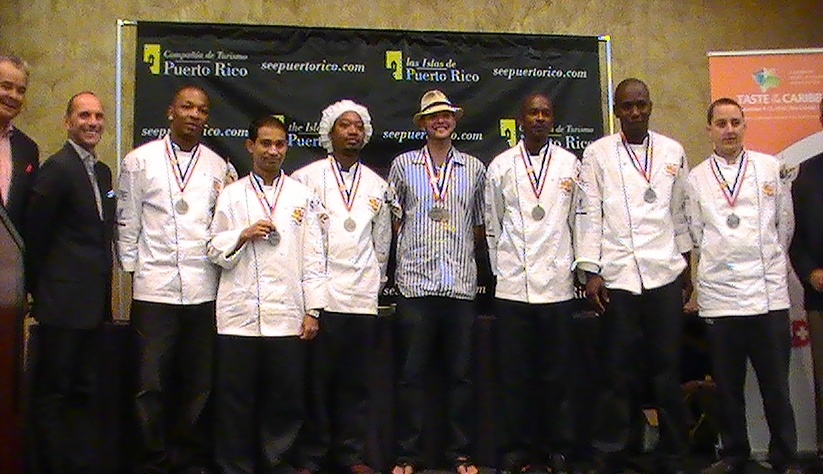 The V.I. Culinary Team has returned from the Taste of the Caribbean Competition with team and bartender medals as well as special recognition for its pastry chef. The competition, sponsored by the Caribbean Hotel & Tourism Association, was held Sept. 9-12 in Puerto Rico and featured teams from around the region.
Bartender Josh King won "Most Creative Vodka Drink" for his strawberry, basil and hibiscus-infused vodka with blueberry balsamic foam (a gold medal) and a bronze medal in the final "Bartender of the Year" competition. The six-member team brought home a silver medal, and pastry chef Kunal Chakrabarti won the Albert Uster Imports "Best Use of Chocolate" honor. He also earned a perfect score, the first in the history of the competition, for his dessert: a dark chocolate cayenne silk cake, ripe plantain V.I. rum ice cream, warm white chocolate ginger mousse and strawberry pearls. Ethan Wyatt of the St. Croix Educational Complex received an honorable mention in the Junior Chef competition.
"This year's team did an amazing job of showing the caliber of talented professionals available in the USVI," said Lisa Hamilton, President of the Hotel & Tourism Association. "These guys are serious and determined and are already thinking about next year's competition."
Members of the 2010 Culinary Team include: Ashley Allen (Ken's Food Mobile); David Benjamin (team manager-The Ritz Carlton); Kunal Chakrabarti (pastry chef-The Ritz Carlton); Josh King (bartender-The Cellars/East End Café); Josh Vilain (Bacchus-St. Croix); and Dennis Vanterpool (Marriott's Frenchman's Reef Hotel). Negust Kaza of Tuttu Bene was an alternate on the team.
The 2011 Taste of the Caribbean Competition will be held June 22-26 in Miami, Florida.