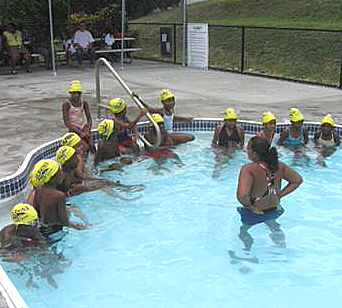 The St. Croix Dolphins swim team has been working with local public schools for the past four years teaching children how to swim, but thanks to a grant from Innovative Communications, this year they are doubling their classes.
Each week, 10 third-grade classrooms from the Eulalie Rivera, Ricardo Richards, Charles H. Emmanuel and Pearl B. Larsen schools visit the Dolphin Pool at Country Day School to learn how to be safe and comfortable in the water, according to a statement from the Dolphins. There is no cost to the children or schools involved. The St. Croix Country Day School donates the use of their pool and facilities and the St. Croix Dolphins staff and teachers are volunteers.
"Teaching these swimmers is such a joy," said Kie Ransom, who directs the Dolphins' swimming instruction program. "From the time we pick them up in our Dolphins van at their school to the time we bring them back the kids are always having fun," she said.
The time in the pool has been productive as well as fun. Numerous swimmers who were new to the water can now swim a length of the teaching pool using the freestyle stroke, she said.
"We work on teaching life saving techniques and our philosophy is paying off," she said. "More importantly, the kids feel proud of their achievements and feel great about them."
Students say the program has given them more confidence in the water, according to the Dolphins' statement.
"I like to learn to swim so that when I go to the beach I can go by myself without my parents help and I won't drown," said Salsabeal Abdullah, a third-grader at Pearl B. Larsen elementary school.
"I can save my brother's life if he started to drown," said Bryana Ferguson of Eulalie Rivera Elementary.
Since November of last year, 150 swimmers have taken swimming lessons. The focus of the classes is to teach floating, water safety and the competitive strokes of freestyle and backstroke.
"We are here to serve the community and make sure that everyone is safe in the water on St. Croix," said Rich Carter, president of the Dolphins Board of Directors. "We also want to encourage kids to consider joining our swim team. Swimming teaches kids responsibility, caring, honesty, teamwork and respect in a safe atmosphere where you can learn to be a successful human being in life," he said. The team travels all over the Caribbean, seeing many different cultures he said. There is financial assistance and the practice schedule is flexible. Anyone interested in the program or looking for information about the Dolphins team or lessons, please call the Dolphins office at 719-7946 or email Coach Kie Ransom at stxdolphins@islands.vi . Check their web site www.dolphinsvi.org for cost, days and times of lessons.