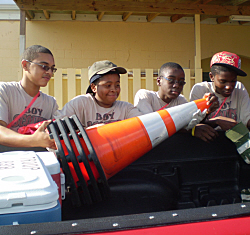 Boy Scouts from Troop 898 were up and at it early Saturday, working at island beautification on the South Shore Road in the first Crucian Litter Elimination Action Now campaign.
It was a day for cleaning up across St. Croix, as volunteers joined either the CLEAN campaign or the annual west end cleanup, which drew scores of volunteers to Rhythms' on Rainbow Beach for an observance of Earth Day.
CLEAN aimed to put a tidy face on the island for visitors coming for the May 2 St. Croix Ironman Triathlon. The St. Croix Environmental Association and V.I. Waste Management Authority teamed up to clean 56 miles of roadside on the running and bicycling route for the triathlon, which draws competitors and visitors from around the world.
Lynnea Roberts, SEA's Environmental Education coordinator, said the goals was to promote environmental stewardship, ensure that the beauty of the island stands out to visiting athletes and spectators, and facilitate an opportunity for community service and unity amongst St. Croix residents.
About 300 volunteers bagged litter from 8 to 11 a.m. Saturday and were scheduled to come back and finish the job Sunday. Volunteers left the bags by the roadside, and Bates Trucking Service was scheduled to pick them up Sunday. The volunteers found tires, foam plastic containers, plastic bags, beer bottles and lots more.
Scoutmaster Enrique Santos hauled the bags the scouts cleaned from six miles of roadway to the Peters Rest refuse bins. He said it made no sense for the bags to sit out where dogs can get in them and strew the garbage back across the roadside. The scouts were working off two community cleanup days required for a grant funded by the St. Croix Community Foundation to attend camp this summer in New Jersey.
"Just because I didn't throw the trash down doesn't mean it should stay there," said 14 year-old, Maleek Matthew. "We don't want to live in trash. We want a clean environment."
Many of the volunteers were students from St. Croix Career and Technical Education Center, Kingshill, Country Day, Good Hope and Manor Schools.
Roberts said she was very happy to see so many young people taking part.
"I hope this continues with them becoming good stewards of the island," she said.
Also helping in the campaign were members of homeowners associations, churches, St. Paul's Steel Orchestra, CRABS, other scouts, service clubs, businesses, and more.
To cover a section in three hours or less organizers suggested that coordinators recruit 15 to 20 volunteers to pick up the litter of their "adopted" section. One couple, Bob Sifniades and Jamila Hammad, worked four hours by themselves at Salt River. Hammad admitted she was tired but it was something that had to be done.
Volunteers were given gloves and bright orange plastic tape to tie around their torsos as a safety measure. They put down orange road cones at the beginning and end of their routes.
Roberts said by participating in the cleanup, groups can partner in WMA's Preserving Paradise Campaign, the mission of which is to "Preserve Paradise" by participating in one or more of its programs.
The business partnership encourages business to join with WMA toward improving the environment and working together on joint programs or projects.
The community aspect targets neighborhoods and homeowners associations to clean and beautify those areas. The residents are also asked to be the "eyes and ears" of the WMA by letting them know when there are solid waste or wastewater issues in their neighborhoods.
The kids program teaches students how to keep their schools, playgrounds, neighborhoods and beaches clean by having them take a pledge to encourage their family and friends to support their efforts.
On the west end, scores of volunteers gathered at Rainbow Beach to clean a stretch of Route 63. Starting at Hamm's Bluff and working in groups of from two to eight volunteers, they scoured the roadside that runs through La Grange behind the ballfields and past the Queen Louise Home down to Queen Mary Highway.
Sponsors, including Cost-U-Less, Premier Distributors and Chris's Landscaping provided all the necessary tools and equipment, along with cold water and snacks.