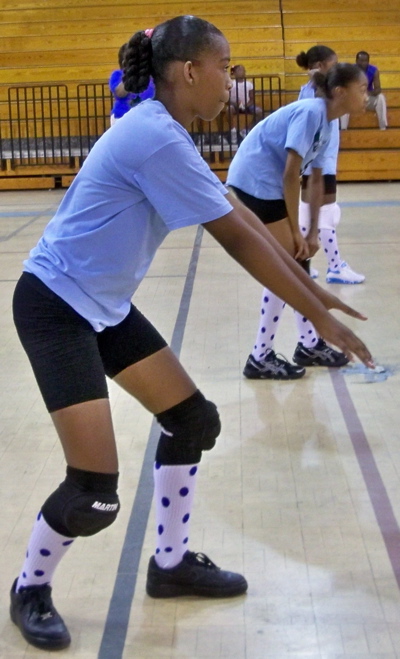 Volleyball can be beneficial to many people in many different ways. For the youngster it can be a fun way to get exercise and might even lead to a full ride to college. For adults it can be a fun way to stay fit with friends.
The High Performance Volleyball Club Inc., under the St. Croix Volleyball League, is one way to connect with a team for physical activity and fun.
A core group of 10 started the High Performance Volleyball Club Inc. in 2008. They had played college volleyball and hope local students will become skilled players who continue to play and get scholarships.
"I definitely see this as a way to get a scholarship to college," said 14-year-old Sjhona Petersen as her team, under the coaching of Elisa Sanchez, wrapped up a game Saturday. Sanchez, president of the club, said she went to college on a full scholarship.
"The opportunity is there for the students to go to college and have it paid for," Sanchez said. All students have to have passing grades to play, she said. "The younger ones love it so much they want to practice more and more."
The Youth Team, aged 7 to 13, is taught the history, basic skills, and techniques of the game. The Junior Team, ages 13 to 17, gets physical activity and learns discipline and rules. Sanchez said they don't develop the mental part until college.
The games and practices are held at St. Croix Educational Complex gymnasium after school and weekends. Club members play one game a week and practice two times a week through June. Sanchez said they play in the gym since it is air conditioned. She said playing on sand is different than indoors, but they are working on a plan for beach play.
There are 60 students in the club and more than 50 adult members. Some of the older students play with the adults too. There are about 40 teams in the St. Croix Volleyball League.
Some parents put their kids in on a trial basis to see if they like the sport and others for exercise. And other youngsters just naturally love the sport.
"I love this sport so much," said J-Meka Lindquist as she warmed up for a Junior's game Saturday. "I am very sports minded and I feel energized by playing volleyball."
There is a fee to cover the crazy socks the kids wear, uniforms, equipment and volleyball camps.
Further information about the club can be obtained by calling 643-7048.
Sanchez said the club encourage people to participate, whether they play or not.
"You don't have to be an active expert player," she said. "One can help with fundraising, grant writing, web design and as spectators."