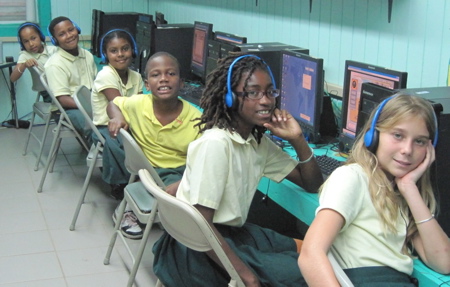 A group of 75 Guy Benjamin School students are beefing up their academic abilities and expanding their horizons thanks to a Monday through Thursday afterschool program called the World Around Us.
The program started Feb.16 and will run through May 27.
"It's fun and it's not boring," Ayana Coleman-Dixon said.
The 11-year-old youth explained in great detail all she was learning as she explored the computer reading program. For starters, she talked about noise levels.
"A whisper is about 20 decibels," she began.
Nearby, Rae/Shaw Frazer, 7, was busy with the math computer program.
"It's telling me about time tables and it's helping me to be a better student," he explained.
Ruby Cioppa, 10, was also studying math but her's was very advanced; her explanation involved zeros and whole numbers.
"I used to have a C and now I have a B or A," she said.
Lion'Ess Bruce, 9, was also doing math, a program that she said was helping her to improve her skills.
"It tells me about pluses and minus in thousands and hundreds of millions," she said.
Reading and math are the nuts and bolts of the program, with the first 45 minutes devoted to these basics.
"It comes on the heels of No Child Left Behind," Betsey Melnik, who heads the program, said.
After they're done with reading, math and a snack, the children move into such programs as yoga, cheerleading, art, and drumming. Some of these programs are done in conjunction with the St. John School of the Arts. Others are led by volunteers.
In fact, Melnik said she is looking for volunteers to help for the program's next go round.
The program employs the school's regular teachers. It also provides transportation at the end of the day.
The program receives $100,000 a year through the U.S. Department of Education's 21st Century Community Learning Center Program with the anticipation that the grant will be renewed for five years. Guy Benjamin School and the Coral Bay Community Council applied for the funding.
The program serves 75 of the school's almost 100 students in kindergarten through sixth grade. School Principal Dionne Wells said the students were selected by the order in which they applied.