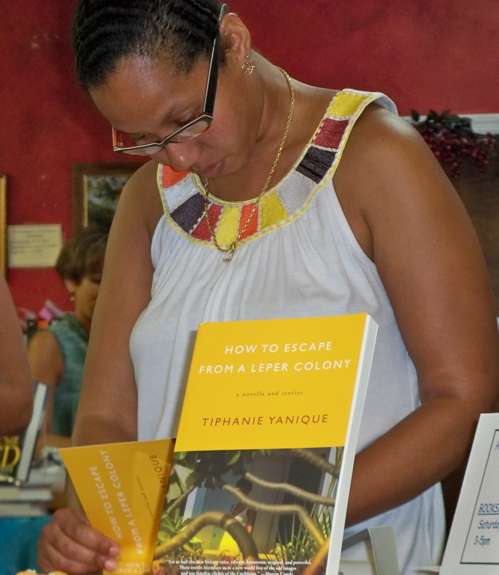 "What you love?" "My mother." "And who she?"
Tiphanie Yanique, who Saturday signed copies of her book "How to Escape From a Leper Colony" at Undercover Books & Gifts in Gallows Bay, knows island dialect.
However, it is a statement just down the page from the above dialogue in the title story of her short story collection that really identifies her work. A character says about his mother, "She tells me a island could be like a world."
Yanique's writing is not to just be enjoyed because it is island writing; it is writing that encompasses the feelings of people who live anywhere on this earth.
"You don't have to be a Virgin Islander to appreciate this book. It is for everyone," said Kathy Bennett, owner of Undercover Books, as she introduced Yanique at the bookstore.
Yanique, who grew up in the Hospital Ground neighborhood of St Thomas and was raised by her grandmother, Beulah Harrigan, the former head of the Children's Library, and the late Delvin Harrigan, a fireman, said she was gratified by Bennett's remark. She said writers know the more specialized their writing is the more people they can reach.
"The more you go deep inside, the more readers will see themselves in what you wrote," Yanique said.
About two dozen people showed up for the reading and signing by Yanique on Saturday. An even larger attended her reading and publication party Friday at Dockside Books on St. Thomas.
"It was amazing – three times the number of people showed up for the books we had. It was standing room only," Yanique said.
Her work is getting noticed outside the Virgin Islands. A short article appears in this month's edition of Oprah Winfrey's magazine "O." The magazine calls the collection a "haunting and vibrant debut."
A review in "Harper's Magazine" said, "Yanique's skill lies in taking quick glimpses of people and situations and progressively deepening the relief in which they are portrayed."
Still, Virgin Islanders are likely to get more out her book than others will. Most of the stories are set in the Virgin Islands and several vignettes imagine a bridge between the islands. She said she was inspired for the idea about the bridge when a friend told her, "It would be so much simpler if you Virgin Islanders had a bridge."
She thought about the statement for a long time and concluded that for the most rewarding connection Virgin Islanders would have to develop something more than the physical connection of a bridge, but a bridge makes a very good symbol.
Virgin Islanders will probably feel the resonance in this statement of a St. Thomas resident describing St. Croix as a place "where the land was flat and there were no hills to walk up or down. Where people had to face each other on level ground."
When speaking about her effort to get the island dialect correct, she said she wanted to "validate the way islanders speak." Most islanders should feel blessed, she said, because they are actually bilingual.
Yanique, who is an assistant professor of Creative Writing and Caribbean Literature with Drew University, got good news while she was at the St. Croix book signing.
Bennett told her that the collection "How to Escape from a Leper Colony" would be the next book under discussion in the Undercover Book Club. Elizabeth Rezender, a teacher at the University of Virgin Islands, said Yanique's fiction would soon be studied in UVI's world literature course.
Yanique, who generally visits the islands a couple of times a year, was scheduled to return Sunday to New York.