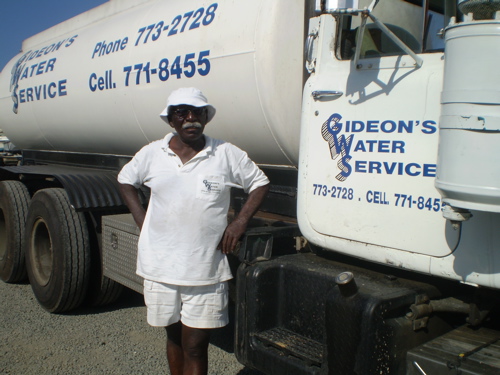 Gideon A. Small has been busy hauling water to homes on St. Croix year round for almost 30 years, which gives him a good vantage pojnt to observe what to him seems a shift in weather patterns.
Small says the dry season has been popping up during different months over the past few years.
Small, owner of Gideon's Water Service, says over the years his busiest season typically has been the summer months June, July and August. But last year his best month was January and this year since January it has been raining off and on.
The St. Croix Environmental Information Repository website says dry season is January to June and rainy season is September to November. The east end gets 20 to 30 inches of rain annually and the northwest gets more than 50 inches.
Even with the front that came through two weekends ago, filling cisterns with rain water, he keeps busy, he says. He has regularly scheduled customers who need water for things such as landscaping sprinklers.
Small and his wife of 30 years, Carla, run the operation by themselves. Gideon says Carla is a secretary; and she quips she is a manger, accountant, receptionist, service rep and more. Originally from Iowa, Carla says it's interesting working together. Gideon, from St. Vincent, does the deliveries in his EPA-inspected white tank truck that hauls 3,300 gallons of water. He doesn't deliver less than a full truck because it can make the truck off balance.
"It's a rough job, hauling water," Gideon says. "But it is something I really enjoy doing. There are good days and bad days."
Making a delivery at a hard-to-access home up in the hills on a narrow, rocky driveway, or going down steep hills, are rough parts of the business.
He gets water for systems like the sprinklers from different EPA inspected wells all over the island. Since we are surrounded by the sea, the well water can be a bit brackish, he says. People shouldn't drink it and Gideon recommends not using it for showers.
He suggests people get the desalinated water he buys from the Water and Power Authority, which has been chlorinated.
"WAPA water is ready to go and ready to drink," Gideon says. The price is just a little more for WAPA water.
He says people are generally conservative on water usage because it costs them money. "It's not free so people try not to waste it and watch for leaks."
He does cistern cleaning that involves pumping it out first, then sterilizing and inspecting for leaks and cracks. Then he puts on a protective sealant.
He recommends people use low-flow shower heads and low-flush toilets to conserve.
Small feels there isn't a shortage of water even with the climate change that may be affecting his business. He says if the desalinization plant has a breakdown or the demand goes way up WAPA will ration water.
Mention Gideon's Water and people say "Is he the man who wears the white hat?" He also is seen wearing his signature white bucket hat working at H & H Tire and Battery, where he says he does just about everything and anything.
Smalls has his own jingle "Gideon is my name, pulling water is my game. You call and we haul – 773-2728 we're coming straight."