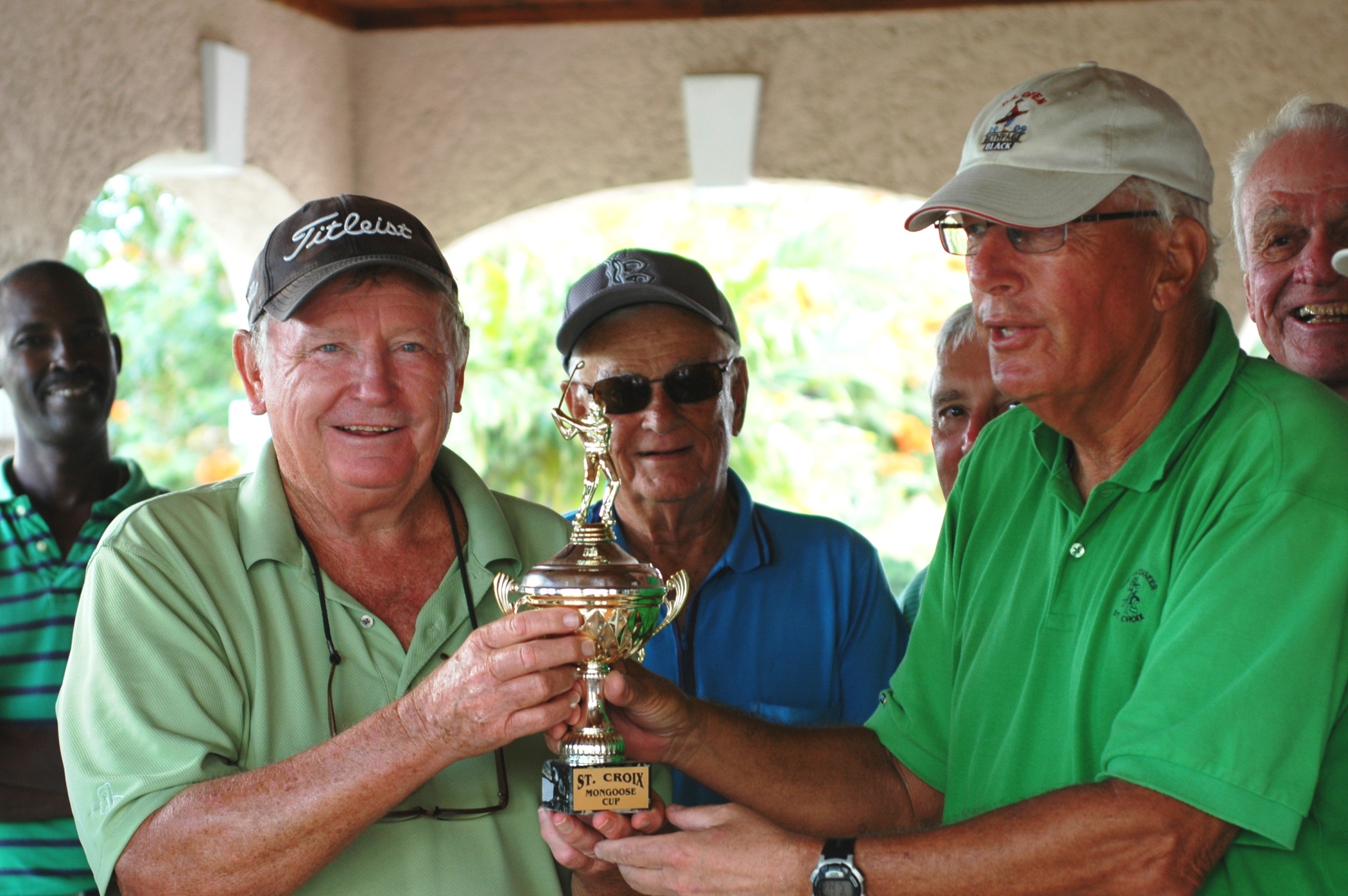 The Little Boys of the Carambola Golf and Country Club continued its dominance in the annual Mongoose Cup by beating Dem Boys from the Buccaneer Golf Club and Resort for the third consecutive year. The final score this year was another lopsided victory for the Little Boys, 6 ½ to 3 ½.
This year's tournament, which commenced on Friday on the Little Boys' home course at Carambola, had Dem Boys riding high and feeling good about their chances this year at the end of the day as they halved the match—2 ½ to 2 ½ heading to their home course at the Buccaneer on Saturday.
However, things went badly from the start for most of the local boys and all but one of the Dem Boys twosome trailed after nine holes.
One match that must be mentioned was the one that featured the team of Eustace Davis/ Ray Harley vs. Doug Nelthrop/Bob Leroux of the Little Boys. Davis/ Harley found themselves down by three holes at the turn, made a huge run on the back nine that saw them enjoy a one-hole lead heading to the 17. This, however, was where Nelthrop and Leroux made their move. Leroux would win the seventeenth for his team to draw even going to the final hole. On the 18th was where this match was decided when probably the best 80-year old golfer in the territory, Nelthrop, sank an eight-footer to win his match one up.
The only win on the day for Dem Boys came from the team of Brad Thomas and Tyrone Seales who defeated Gary Surdyke and Tony Dizon, one up, to avoid a shutout on their home course.
For Little Boy captain Frank Lange, it was another great victory for his squad. "All of the guys went to church and ate fish before the final leg of the competition. I know it was tough out there, and the heat took a lot out of the boys, but they were able to sweat it out and pull out the victory". For Dem Boys captain Max Blum, it was the same for three years now: "Just wait until next year"!
Saturday's overall Match play results:
–John Beagles/ Rich Thompson (Little Boys) beat Keith Krilow /Rafa Bonnet (Dem Boys)
— Doug Nelthrop /Bob Leroux (Little Boys) beat Eustace Davis /Ray Harley (Dem Boys)
— Frank Lange / Bob Goldman (Little Boys) beat Rich Carey/ Max Blum(Dem Boys)
— Jim Kasin/ Jose Manibo (Little Boys) beat Ken Croney/ Ed Lavarini
— Brad Thomas/ Tyrone Seales (Dem Boys) beat Gary SurDyke /Tony Dizon