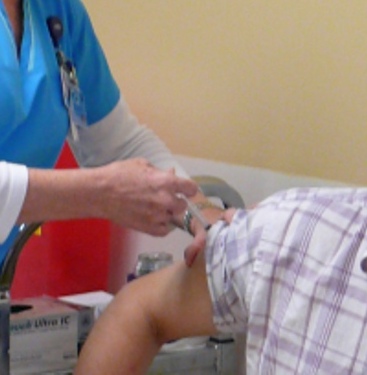 President Barack Obama declared the rising number of cases of H1N1 flu a national emergency Saturday, allowing the Secretary of Health and Human Services freer rein to fight the disease so long as the pandemic is considered an emergency.
"The rates of illness continue to rise rapidly within many communities across the nation, and the potential exists for the pandemic to overburden health care resources in some localities," Obama said in the declaration. Temporarily allowing the waiver of some requirements of Medicare, Medicaid and other federal health insurance programs is meant to make it easier for local health organizations to address a rising tide of influenza hospitalizations.
As of Thursday, there had been one confirmed death attributable to H1N1 in the U.S. Virgin Islands, which occurred in the second week of August on St. Croix. The total number of cases is not known, but influenza is on the rise in the territory. While the new H1N1 flu, also called swine flu, virus is widespread and has occasionally been lethal, so far it has only been dangerous in a minute percentage of cases. Most of the time, a sufferer simply has severe flu symptoms for a number of days and recovers. But the virus appears to somewhat more dangerous than regular influenza for children and pregnant women, which is why these groups are among those who will receive vaccinations first.
Following the lead of the Centers for Disease Control and Prevention, Health stopped counting confirmed cases back in August, at which time 80 cases were confirmed, with the majority of them on St. Thomas.
"The CDC had told states and territories to expect to see an increase in flu activity this fall," Health Department Public Information Officer Eunice Bedminster said Thursday. "As a result, anyone with influenza-like symptoms – fever over 100, cough, body ache, etc. – we are treating it as if it were H1N1."
During the week of October 11-17, 2009, influenza activity continued to increase in the U.S., according to the CDC. Flu activity is now widespread in 46 states. Nationwide, visits to doctors for influenza-like-illness are increasing steeply and are now higher than what is seen at the peak of many regular flu seasons. In addition, flu-related hospitalizations and deaths continue to go up nation-wide and are above what is expected for this time of year.
An initial round of the vaccine has been shipped to each state and most territories, but the supply is not growing as fast as the CDC would prefer. CDC officials have said the virus that is grown, then killed to make the vaccine, simply is not growing quickly in the lab.
Mass vaccinations began for priority groups began Oct. 17 in the Virgin Islands.
"I was heartened to see that so many children were brought in by their parents, which meant that they recognize that vaccination is the best option against the H1N1 virus," Health Commissioner Julia Sheen said Thursday about the first round of vaccinations.
There will be vaccinations for priority groups again Oct. 26, 7:30 a.m. to 6 p.m. at Sunshine Mall on St. Croix and Oct. 29 at the University of the Virgin Islands Sports and Fitness Center, St. Thomas, 7:30 a.m. to 6 p.m. and St. Ursula's Senior Center, St. John, 8 a.m. to 4 p.m.
The Centers for Disease Control and Prevention recommends that the first round of vaccines be given to the following priority populations due to the limited doses of H1N1 vaccines available to states and territories:
pregnant women;
people who live with or care for children younger than six months;
health care and emergency medical services personnel with direct patient care;
children, ages six months to four years;
children, ages five through 18, who have chronic medical conditions.
"Once we've taken care of the priority groups, we will release dates where residents who do not fall in the priority groups can take the vaccination," Bedminster said.
The most common side effects following flu vaccinations are mild and include soreness, redness, tenderness or swelling where the shot was given.
The H1N1 vaccine comes in both nasal sprays and injections and vaccination is voluntary, Health Commissioner Julia Sheen said in the vaccination announcement. As of Oct. 21, 3,000 doses of the vaccine had been shipped to the U.S. Virgin Islands, according to the CDC, putting the territory at the low-end of the number of doses per resident. Delaware has less per capita, with 15,700 doses for 875,000 residents. Samoa has not received any yet.
"We expect that the H1N1 vaccine will be made available in larger quantities so that more persons will be vaccinated," Sheen said. "It is important for residents to know that the seasonal flu vaccine will not protect against H1N1, so we recommend that they take both the seasonal flu and H1N1 vaccine."
The symptoms of swine flu mirror that of the seasonal flu and include high fever, headache, runny nose, sore throat, cough, and body ache or fatigue. If you have these symptoms, do not go to work or school until the symptoms have been gone 24 hours.
Influenza viruses spread in tiny droplets by coughing and sneezing and spread from person to person so to reduce its spread, wash hands or use hand sanitizer frequently, cough or sneeze into sleeves and not into the hands to limit the spread of any influenza virus. Whenever possible, disposable tissues should be used in place of handkerchiefs and hands should be cleaned after the tissue is thrown away.
Pregnant women are especially vulnerable to this flu, so it is especially important for this group to be vaccinated. Also, mothers who are breastfeeding can and should continue to nurse their babies while being treated for the flu, as a mother's milk is made to fight diseases in her baby, according to the CDC.
If you do get the flu, be careful not to cough or sneeze in the baby's face and wash your hands often with soap and water. Your doctor might ask you to wear a mask to keep from spreading this new virus to your baby. If you are too sick to breastfeed, pump and have someone give the expressed milk to your baby.
The Department of Health will notify the public on future H1N1 vaccine site locations. For more information call (340) 773-1311, ext. 3240 or visit www.flu.gov.