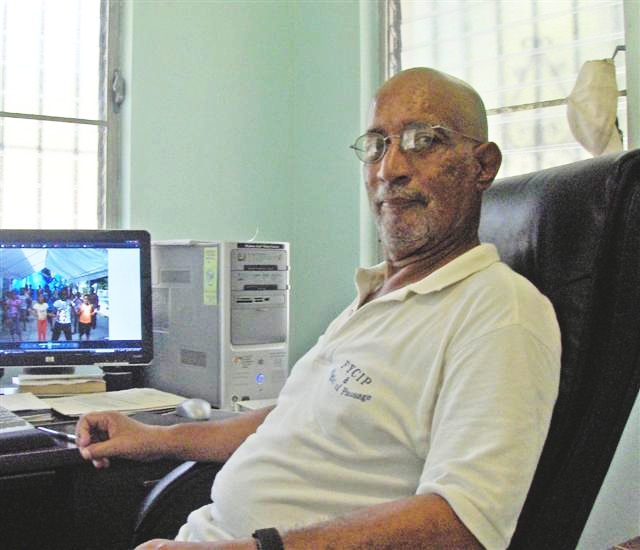 It's a welcoming living room, where anyone might drop in for a chat. There's wicker furniture, a comfortable couch covered in a blue-and-white print, a coffee table. The first clue that it's something more is the sign over the front door: "Have respect. Don't slam door."
The building at No. 1 Second St., once doctors' offices, now houses the Family and Youth Crisis Intervention Program, run by director Greg McGriff, who has guided it since its inception in 2005.
It operates under the Family Resource Center's Family and Youth Crisis Intervention Program. The services are free, funded by a federal grant from the Department of Human Services.
Wearing a polo shirt bearing the "Rites of Passage" logo, McGriff explains the program's mission.
"We want to help the whole family, youngsters and adults," he says."We realize there are many issues in the territory that affect the lives of families every day in a negative way. We believe that timely intervention can help."
The youth programs are aimed at helping redirect potentially harmful behavior before it blossoms into adult habit.
The program has several components. The "Rite of Passage" for boys nine to 12 years old runs Saturdays from Sept. 5 through Dec.12 from 9:30 a..m. to 2:30 p.m. The girls' program in the same age group runs six weeks, Monday through Friday, 8:30 to 3:30, beginning in June.
An adolescent anger-management class for boys and girls ages 14 to 17 runs for six weeks from September through October at 4:30 p.m. Parenting classes run from September through December once a week on Tuesdays from 6:30 to 8:30 p.m.
The youngsters get a wide range of attention, with instructors from several disciplines, all geared toward helping the young men come to understand and respect themselves and others.
The office is located right across the street from Charlotte Amalie High School. The students come from CAHS, Ivanna Eudora Kean High School and Addelita Cancryn and Bertha C. Boschulte junior high schools.
"We have students who come here directly after school to wait until classes start," he says. "They want a safe haven away from school, where they can study."
The crucial issue in the schools right now is gang violence, McGriff says.
"I've said for a long time that gangs were in the schools, and nobody would believe me," he says. "Now, they do."
He shakes his head. He says a police officer will come once to each class to talk about the dangers of gangs, drugs and street violence.
Of the parenting classes, McGriff says, "Often the parents were so young when they had children, that they had no knowledge of how to raise a child themselves."
The parenting classes have been successful. Young people learn skills for listening, resolving conflicts, exploring alternatives. On the other hand, McGriff says, two referral parents sent their sons to mainland schools to remove them from the gang influence.
"They feared for their sons' lives," he says.
However, McGriff is upbeat as he talks about the classes in the Rites of Passage, which he says do well. They include ecological art, social development skills, computer training and cultural literacy, as well as classes in Tai Chi. The latter has multiple benefits, he says.
"They learn to relax, get in touch with good energy, get rid of the bad," McGriff says. "And they enjoy it."
He leads a tour of the clean, well-lighted rooms, in which he takes obvious pride. One room I the kitchen.
"They have lunch here Saturdays," he says. "St. Andrews Episcopal Church provides meal for the summer girls' program, while we provide lunch for the other programs. They learn social skills sitting down at table, using the proper utensils."
The computer room is outfitted with six computers, where "they learn how to look up information as opposed to playing games."
He takes a special enjoyment in the girls' summer program, presenting a video chronicle of last summer's class, where 20 girls graduated as young ladies, learning modeling and dancing in addition to the regular curriculum.
McGriff, who has a doctorate in psychology, is a patient man, fatherly in demeanor. He says about 200 youngsters have graduated from the programs.
"Sometimes they will come back to take another course," he says, "and sometimes they come back just to say 'thank you.'"
For parents to register their children, or for themselves, call McGriff at 776-9085. He stresses registering early, as space is limited.