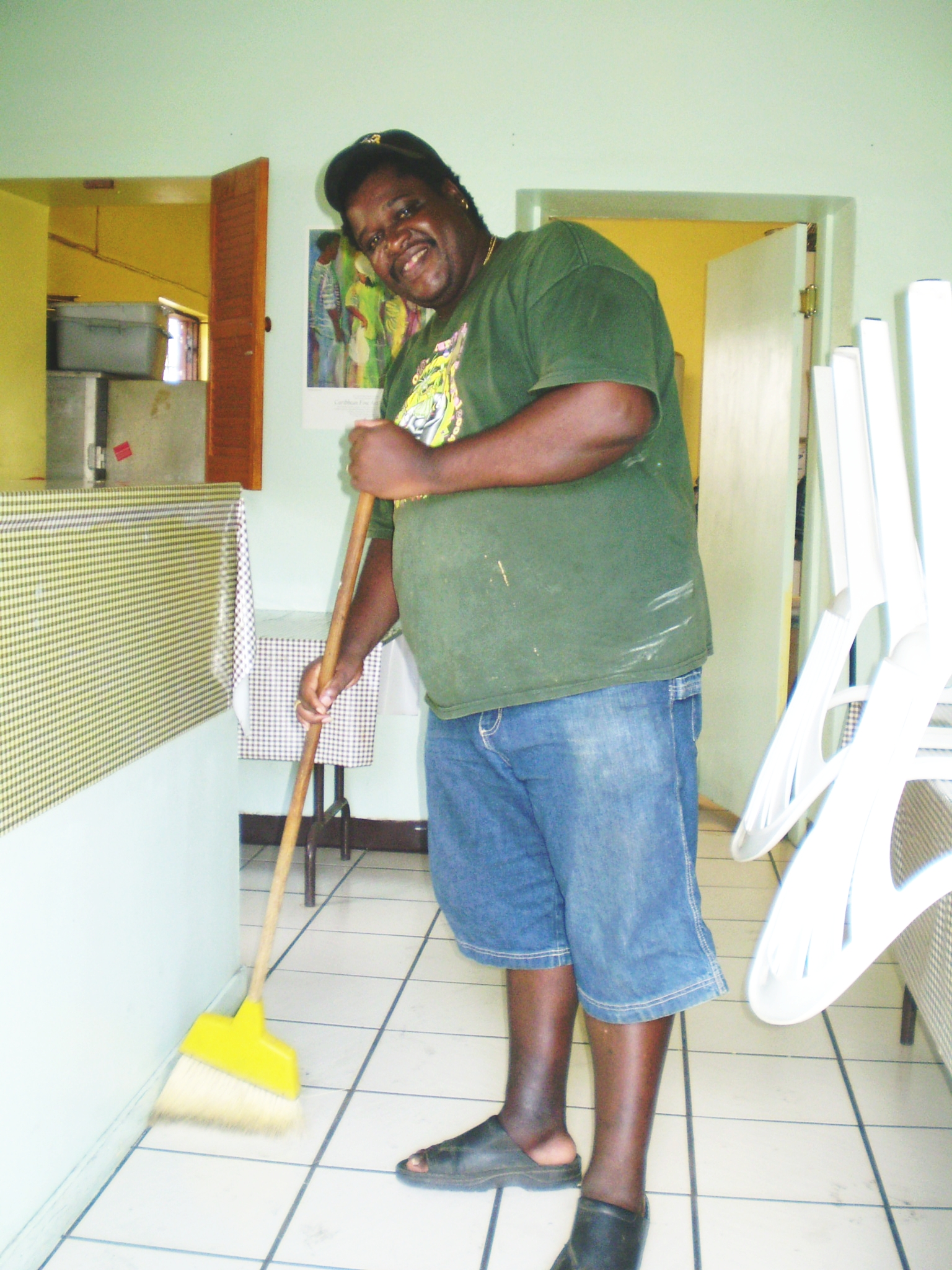 My Brother's Table soup kitchen in Frederiksted is a gathering place for lunch where hungry folks can sit a spell, get a cold drink, chat with acquaintances and get waited on. The purpose of MBT is for people to feel good and be treated well for a portion of their day.
The 35 to 55 daily dinners may be homeless, hungry or down on their luck, but they know they can get a free healthy meal at MBT Monday through Friday from noon to 1 p.m.
"On the street they live a pretty tough life," said Mike Mongeau, four-year volunteer. "They look forward to lunch here – it is a safe, consistent place to sit down and eat."
This year MBT expects to feed more than 15,000 meals. Last year they served 14,250.
To feed that many, MBT continually needs assistance, says Rod Koopmans, pastor at St. Croix Reformed Church and executive director of MBT since 2000.
Koopmans said there are many bills. There is building upkeep, small salaries to be paid and vendors such as Merchant Market.
There are three factors for the increased need for donations at this time, Koopmans said. The high cost of food is a factor. With the economic downturn, there is an increased need to feed more people.
"Everybody is feeling the pinch and can't contribute as much now," Koopmans said. "We have relied on the generous support of the community since opening in 1991. We appreciate all the support to fulfill the need in the community."
People give boxes of mangoes, plaintains, carambola or whatever there may be a seasonal surplus of. Rose Carty, the cook at MBT for the past 14 years, can come up with numerous ways to use a big box of provisions. Carty, who has cooked at well-known local restaurants, serves all sorts of entrees and sides. The meal always starts with a salad. She makes spaghetti, meatloaf, tuna sandwiches and more, depending on what's on hand. Sometimes there is cheesecake for dessert.
"I love to cook," Carty says. "I feel good helping people."
Hyicynth George is her assistant.
The soup kitchen is in a small house painted dark green called the Viola Otis Stienmann Community Center. What was once the front room living area is now the dinning area. What may have been a bedroom is also a dining room now. The brown-and-white-check oilcloth table covers on the eight folding tables are spotless, and the white resin chairs are given a wipe down everyday. Some days a diner brings flowers for table centerpieces.
A mother and her two adult daughters, who wanted to remain anonymous, said the food is good and they like to come every day. One of the daughters was seven months pregnant.
This reporter serves on Tuesday at MBT and feels it puts life into a more sober perspective seeing the patrons at MBT, who are gratified just to be treated like human beings for an hour.
Donations may be mailed to My Brother's Table, P.O. BOX 3194, Frederiksted 00841.