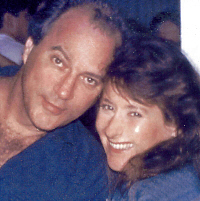 Papi Skrivanof went down to his restaurant, The Pickled Greek in Estate St. Peter, and sat outside by the entrance Thursday.
A wreath of flowers hung on the door, and there were other flowers and notes, expressing grief or condolences about the tragic shooting late Tuesday night that took the life of popular St. Croix musician Peter Des Jardins, a friend of Skrivanof's for some 10 years.
"I must have sat there an hour. I laughed, I cried, I laughed, I cried," Skrivanof said.
"Then I heard Peter's voice saying, 'Get up, you dumbass, you've got a business to run.'"
The restaurant was closed Wednesday and Thursday. Skrivanof walked in Friday to reopen, flipped on the lights, and said, "Good morning, Peter!"
The murder of Des Jardin launched a firestorm of angry recriminations and finger-pointing on talk radio and many online forums, but to family and friends right now that's all beside the point.
They aren't focusing on what happened Tuesday night. They're focused on what they, and the Virgin Islands in general, lost when it happened, and what they can do to keep going.
Some on St. Croix plan to form a human chain Sunday from Christiansted to Frederiksted to show solidarity and a rejection of violence. With the motto "all of we are more den dem," the goal is to show public unity against the rising tide of violence.
They plan to start at 2 p.m. Sunday in Christiansted at Government House and in Frederiksted at Fort Frederik.
"We imagine the chain going from Christiansted along Company Street going towards Pueblo at Golden Rock, from there passing Bassin Triangle until La Reine and then connecting along Centerline Road," said Heike Nilgen, one of the people planning the march or vigil. From Fort Frederik, the idea is to go down Strand Street , up past the post office, towards Centerline road. Hopefully, by 4 p.m., the two chains will connect, Nilgen said.
Des Jardin was apparently an innocent bystander to a robbery attempt gone horribly wrong. A musician and entertainment columnist for the St. Croix Avis, he had been sitting at the restaurant along with a table-full of friends, laughing and talking into the night. His fiancé, Tonya Swinnea, had left the restaurant right around 11:30 p.m. Just 11 minutes later, the island's 911 center recorded the call of shots being fired.
For his ex-wife, Eileen Des Jardins, the hardest thing she has ever had to do in her life came a few hours later. That's when she had to pick up the phone and call their two children, now living stateside, to tell them that their father had been killed.
Eileen had met Peter when he first came to the island in 1977 to play for a few months at The Outrigger and other clubs around the island. While he returned to the states after the gig, he belonged to the Virgin Islands and moved back. He and Eileen married in 1980, and remained so for 12 years. Even when they had gone their separate ways they were close. Eileen's husband, Charles, often referred to himself as "re-Pete."
"Peter was a beautiful, gentle, spiritual man," she said Thursday, echoing other comments offered by those who knew him.
Peter's children, son Nick who now lives in Brooklyn and daughter Ruby of Chicago, immediately flew to Washington, D.C., to be with his parents, now both in their 90s. They were scheduled to fly to St. Croix Friday.
Dennie McMurrey was a bandmate, the drummer in Peter's band Trailer Trash With an Ocean View. Friday he was still trying to deal with the loss.
"What happened to Pete shouldn't have happened to anyone. But it really shouldn't have happened to Pete," he said. "He was the kind of guy who was always smiling, always joking. He had no enemies as far as I know. Peter has always been the kind of guy who'd give you the shirt off his back."
The band was scheduled to play Saturday at Mahi's, the restaurant-bar at Chenay Bay. They're going to keep that appointment, McMurrey said, and a lot of other musicians will be there as well.
It's not anything as formal as a memorial service or a tribute. But in the insular musical world of a small island, most of the musicians have played together at one time or another. By word of mouth they got the message, and Saturday beginning around 9 p.m. as many of them as possible will show up to jam and to remember their friend.
Jack Krayniak, owner of Mahi's, emphasized this is not something the restaurant is organizing. He doesn't want anyone to think he's trying to cash in on the tragedy. Saturday's gathering is something the musicians are doing, something they have to do.
"He was just a great all-around person, and a great musician," Kravniak said.
Friday at the Pickled Greek, the first day the restaurant was open for business, more than 50 customers had come in to show support, to hug, to cry, to remember,.
"People are bringing flowers left and right," Skrivanof said.
Des Jardin had a gift, the restaurateur said, one that is sorely needed now.
"He always had a sense of humor, even when there were troubles," Skrivanof said. "He could make you laugh."