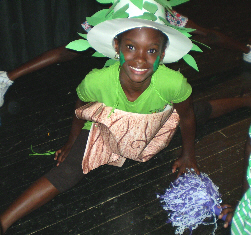 The 4-H Summer Academy let out all the stops Thursday at St. Croix Educational Complex with singing and dancing trees and seeds, a rocket launch, a signed song tribute to Michael Jackson, Power Point demos, and a fashion show as over 150 youngsters showcased their accomplishments.
The show was the closing event for the academy, sponsored by the University of the Virgin Islands Cooperative Extension Service.
"This is a strategic balancing act over the six weeks," said Lois Sanders, assistant director for 4-H Family Consumer Science. "We teach creative new ideas and make it fun." She said it isn't a babysitting service — the children are actively engaged in educational programs and having fun.
The kids, aged 5 to 14, who joined this year's camp focused their skills and talents celebrating the theme "4-H Makes You #1 in One Big World." The camps were held at Sunny Isles Baptist Christian School and the UVI campus.
As they have for more than 20 years, day campers received instruction in nutrition, writing, environment, sign language, cooking and sewing/cultural wear, and computer technology.
On displays around the auditorium were stunning cloth and papier-mache mocko jumbies made by 6 to 8 year olds under the direction of Clinton Ferris. There were cookbooks with covers of glitter and beads with recipes kids followed in camp. Shoeboxes held themed dioramas of the sea and agriculture. Pillows and embellished towels sewn in class were on display. This year, Science Olympiad was introduced to the UVI campers who also focused on mathematics.
Live performances included a successful live rocket launch and a colorful fashion show by eight girls in the Young Scholars sewing class. On stage the tiny tykes stole the show with their antics. The singing and dancing included a quadrille performance and "Vice Versa Love" by Barrington Levy, also sung in sign language by 13 Young Scholars. As a tribute to Michael Jackson the youths signed and sang Jackson's "Will You Be There."
Six campers who displayed enthusiasm, active participation, and exemplary behavior were named "Camper of the Year." They were Naziyah Navarro, Ty'Ron Mills, K'maia Clouden, Chayanna Lee, Reynisha Illarraza, and Britta Hurtault.
"I liked learning the sign language," said camper Vaughn Arthurton. "Camp kept me busy too."
For more information on the 4-H Summer Academy and other programs, contact Sanders at 692-4096.