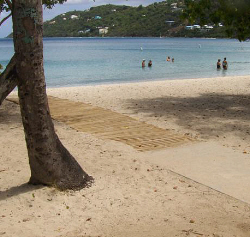 The Magens Bay Authority recently completed a wheelchair access ramp at the popular beach. The ramp, along with a new road, are part of the authority's projects to enhance the beach's safety and comfort.
"It has been really inconvenient for people trying to get to the beach in wheelchairs," said Magens Bay Authority General Manager Hubert Brumant. "Now we can tell everyone it's no problem. Everyone can enjoy the beach."
The ramp is just after the bridge. It is cement most of the way, with wooden planks leading almost to the water's edge. Brumant said a handicap parking area will allow vehicles to discharge passengers. The $13,000 project was completely funded by the authority, Brumant said.
The new road, which will be farther back from the beach, is expected to be completed "in the next couple weeks," Brumant said Tuesday.
The road, financed by a $200,000 Senate appropriation, has been on the books for a long time, Brumant noted. The present road in front of the sheds presents a danger to those, especially children, who need to cross to get to the beach. A gate to prohibit all but emergency vehicles will be built across the entrance to the old road, which now will be exclusively for joggers, and bikers.
Also, new parking areas will be designated. "They will be between the sheds and the trees, well marked areas," Brumant said. "No trees will be affected, " he emphasized. "The road will run around them."
Though the area of available parking will not change, Brumant said it will be more orderly.