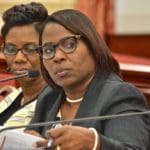 Gov. Kenneth Mapp's plans for almost $2 million in renovations to executive offices on all three islands raised a small amount of concern for some senators during budget hearings Tuesday.
On Monday, the U.S. Supreme Court denied a petition to review a lower court's decision denying birthright citizenship in U.S. territories. As a result, the lower court's decision stands as the law.
A Directory of Contact Information for Legislators, Legislative and Central Staff Developed by the Office of the Executive Director Legislature's Website: www.legvi.org Innovative Cable TV: Ch. 17 STT & Ch. 5 STX Local Radio: WIUJ 102.9 & WVSE 91.9
The U.S. House of Representatives approved a bill to address Puerto Rico's debt crisis Thursday, after removing a provision that would have allowed the USVI to seek similar protection.
The Rules and Judiciary Committee voted Friday to send on to the full Senate floor for a final up or down vote the nomination of Stephen Anthony Reames to serve on the Banking Board.
The governor's administration projects a $110 million budget deficit for Fiscal Year 2017, which they hope to fill with $55 million in new borrowing and $55 million from refinancing existing debt.
Gov. Kenneth Mapp vetoed recent legislation to subsidize casino renovations with tax dollars and decried the Senate's override of his veto giving the Casino Control Commission power to waive investment requirements.
The Rules and Judiciary Committee moved forward to the full Senate a Superior Court nominee, a board appointee and a bill reorganizing the Judiciary, but held back one nominee for a conflict.
Michelle Davis, regional health administrator for the U.S. Department of Health and Human Services Region 2, was approved by the V.I. Senate Rules and Judiciary committee as Health commissioner Friday.
The Legislature should legalize locally grown marijuana and should license growers and sellers, restricting it to traditional family farms, defined like local fishing, in the USVI.