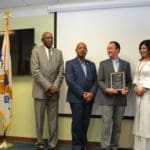 The Puerto Rico/Virgin Islands District office of the U.S. Small Business Administration has presented the V.I. Small Business Person of the Year Award to Kevin J. Schnell and Maya Matthews of St. John.
The co-CEOs of Lockhart Companies Inc. (LCI) have announced the retirement of a valued, long serving senior officer, and the promotion of two relatively new senior officers.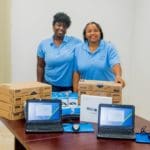 The Virgin Islands Next Generation Network Inc. has announced its latest initiative with the addition of the Mobile Public Computer Center (PCC) Lab, which will help to enhance public computer access for residents to the viNGN network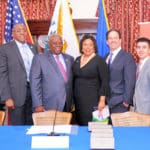 The V.I. Government and Airbnb have signed an agreement in the Caribbean that will allow the platform to collect the 12.5 percent Hotel Room Occupancy Tax on behalf of hosts and remit the funds to the BIR.
The U. S. Small Business Administration has kicked-off the first Emerging Leaders Training Series in the V.I., and it has announced the companies selected to participate in the Class of 2017.
The 13D Competition is designed to eliminate the obstacle of financing for UVI student entrepreneurs who have developed potentially profitable businesses but have no access to start-up capital.
Beginning May 1, Morris Caribbean Publications will host and manage the USVIHTA consumer and member Web sites as well as its social media presence and targeted digital marketing.
The V.I, Bureau of Internal Revenue informs all timeshare owners and timeshare plan managers that a new environmental/infrastructure impact fee will be imposed in the territory.
The U.S. Small Business Administration (SBA) approved $4.9 million in loans to Virgin Islands small businesses during the first six months of fiscal year 2017.
Innovative and Choice Wireless, the largest telecommunications provider in the U.S. Virgin Islands, is entering a new era with a new brand: Viya.