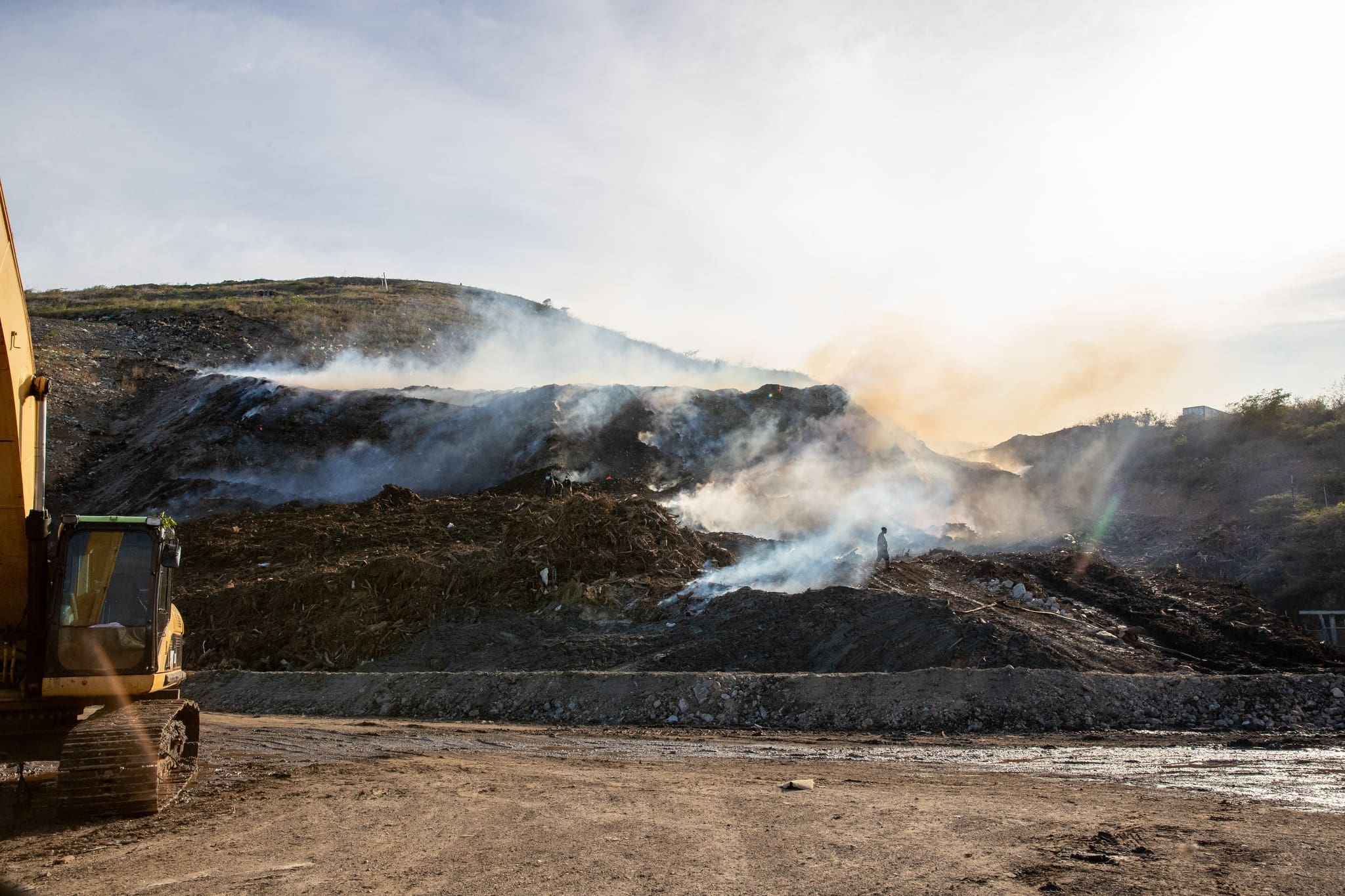 The firefight at the Bovoni landfill continues, with first responders from St. Thomas and St. Croix battling the blaze in extreme heat for 11 days — since it was first reported Sept. 14, Government House announced in a press release Sunday.
The intensity of the fire and smoke conditions prompted Gov. Albert Bryan Jr. to declare a State of Emergency on Sept. 18.
Over the weekend, the V.I. Waste Management Authority coordinated a team of water hauler trucks that pumped water into a cavern created by the fire burning deep inside the landfill's vegetative debris pile, according to the release.
V.I. Fire and Emergency Medical Services Director Daryl George called the fire "a menace" and the most aggressive Bovoni landfill fire he has witnessed in 30 years. He predicted the fire will continue to burn for at least another week, the press release stated.
"Our personnel continue to battle each day, with critical support from St. Croix suppression teams," George said. "Firefighter shift and apparatus maintenance rotations are taking place."
V.I. Health Department mobile vans remain on site to provide first responders with air conditioning, hydration and medical assistance, as necessary. Community groups and businesses have been contributing drinks and meals to those on site, the release stated.
"VIFEMS is overwhelmingly grateful for all of the public and private contributions every day," George said. "To ensure the safety of all, we ask that all future donations be delivered to the Omar Brown Sr. Fire Station across from Barbel Plaza."
As winds shifted Saturday, the smoke from the landfill could be seen on the island's south shore going west from Water Island to the Cyril E. King Airport. The smoke from the vegetative debris pile at the landfill consists of organic material — trees, shrubs, bushes and the like — which were deposited at the landfill after the hurricanes in 2017. On Sunday afternoon, the winds shifted again and heavy smoke began impacting the Bovoni and Nadir neighborhoods, according to the release.
The landfill will be open for permitted solid waste haulers on Monday from 5 a.m. to noon. Staff will be on-site to assist if needed, according to the V.I. Waste Management Authority.
Call 844-WMA-USVI (844-962-8784) to report any emergencies, illegal dumping, sewage overflow or service interruptions. For more information, contact the Division of Education and Communications Management at 340-513-4171 or email communications@viwma.org.