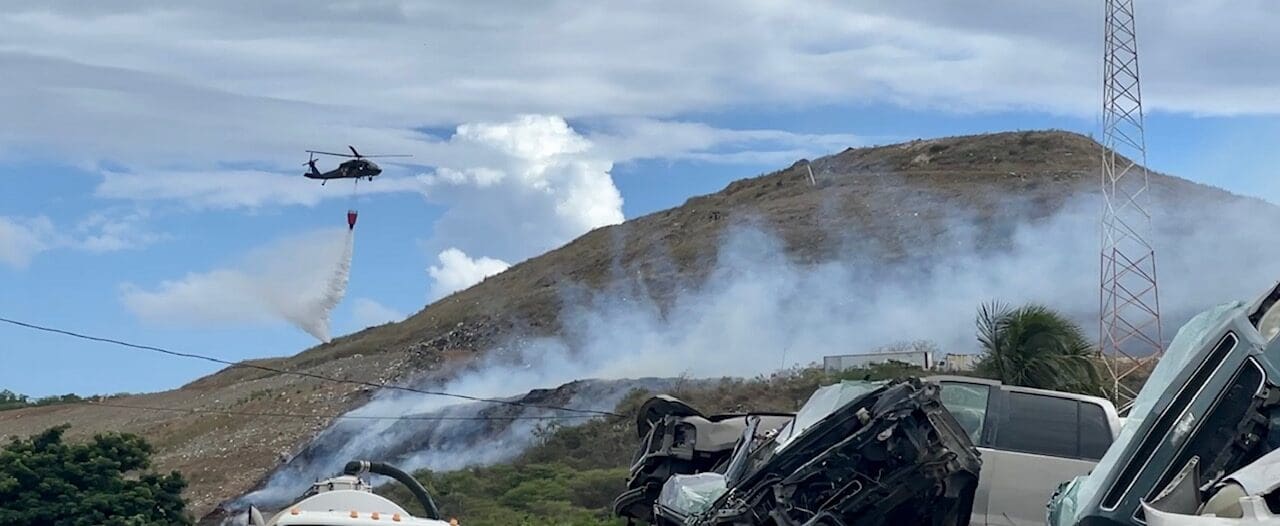 Coordinated response efforts at the Bovoni landfill on St. Thomas include a series of aerial water drops, which began Wednesday afternoon and will continue over the next two days in hopes of fully extinguishing the blaze that started last week but has continued to smolder and reignite.
Gov. Albert Bryan Jr. declared a State of Emergency Wednesday night that triggered more assistance coming from both local and regional sources. In the past week, local water and trucking companies have assembled, along with V.I. Fire and Emergency Management Services, the Waste Management Authority, St. Thomas Rescue and the V.I. Waste Management Authority, but the around-the-clock effort has been met with setbacks as high winds and heat have exacerbated the situation.
"The fire is not sustainably contained and external assistance is required to extinguish the flames below the surface of the green waste area of the Bovoni landfill," according to the Executive Order accompanying the State of Emergency declaration. "Immediate action must be taken to secure the necessary support to extinguish the fire, including coordination of firefighting assistance through the Emergency Management Assistance Compact."
The compact, which is law in all 50 states and the nation's territories, offers assistance during governor-declared states of emergency or disaster through a system that allows states to send personnel, equipment, and commodities to assist with response and recovery efforts in other states, according to the EMAC website.
The water drops were subsequently added to the effort and the landfill closed Wednesday to allow for the area to be cleared as flyovers commenced. Meanwhile, personnel, trucks and other equipment were positioned above the fire so that as the water flows down, excavators and other heavy machinery can move in, dig up the piles of vegetative debris that sparked the fire and separate them so that the flames underneath can be extinguished, according to VIFEMS spokeswoman Jonelle-Alexis Jackson.
The fire is contained in a large pile of green waste that was moved from the former Addelita Cancryn Junior High School campus after hurricanes Irma and Maria in 2017. V.I. Waste Management Authority spokeswoman Lorna Nichols-Minkoff said Wednesday that while attempts have been made to cut up pieces of the pile to sell as mulch, a large chunk still remains, which continues to retain heat as temperatures rise.
With the landfill prone to underground methane fires that have erupted over the years, the pile was monitored, but no smoke has been seen in recent years, according to VIFEMS officials. With record-high temperatures this summer, however, the additional heat caused the debris to combust, responders said.
The drops will be made in regular intervals and while they're hoped to yield results quickly, it is possible it will take a full two days, Jackson said, as responders try to work safely but also effectively.