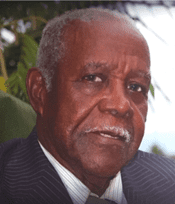 Roy H. Oliver of Estate Whim (known on St. Croix as "Sarge" and on St. Thomas as "Bloody") died at the blessed age of 94 on Feb. 22. He passed away peacefully in his sleep at the home of his beloved son Mark H. Oliver in Fort Washington, Md.
Dear Respected Members of the Virgin Islands Inner Circle,
The Memorial Service for Roy H. Oliver, which was initially planned to take place on St. Croix, USVI, on Sept. 15, has been canceled. Instead, a private ceremony will commemorate our father's memory at a future date and time.
We express heartfelt appreciation for your immense kindness and steadfast support, which will remain a cherished part of our memories. To every one of you, we extend our sincerest gratitude.
The Oliver Family
He was predeceased by his wife, Ena Marie Petrus Oliver.
Sons: Mark H. Oliver (Maryland), Kevin A. Oliver (Louisiana), and Roy H. Oliver Jr. (N.Y. – Deceased)
Daughter: Dr. Denise Bennerson (Virgin Islands)
Mother: Camella Cruse (St. Thomas, Deceased)
Father: Richard E. Oliver (St. Croix – Deceased)
Grandfathers:  Theophilus Oliver (St. Croix, VI – Deceased)/Mark Anthony Cruse (St. Thomas, VI – Deceased)/
Grandmothers: Sarah "Sarah Puck" Oliver (St. Croix – Deceased)/ Rebeca Hengar (St. Thomas, VI – Deceased)
Brothers:  Lionel Oliver (N.Y.), Alexander Oliver (N.Y.), Lloyd Oliver (Fla. – Deceased), and Ivan Oliver (St. Croix – Deceased)
Sisters: Julianna Oliver (N.Y. – Deceased), Amelia Oliver (N.Y. – Deceased); Pauline Jacobs (NY – Deceased); Cecelia C. Benjamin (St. Croix – Deceased); Norma L. Benjamin (N.Y. – Deceased)
Grandchildren: Troy Wynn, Roderick Taylor, Cedric Oliver and Ebony Oliver
Great-grandchildren: Maciah Taylor, Teysean Taylor, Devin Oliver and Shayna Oliver
Sisters-in-law: Irene Mason, Julia Pankey, Dale Oliver and Sharon Oliver
Brother-in-law: Walter Pankey
Daughter-in-law: Stephanie Oliver
Nieces and Nephews:  Edgar Simmons, Augustin Mason, Malcolm Mason, Mary Mason, Frederick Pankey, Joan Weeks, James Weeks, Qualdo "Butch" Jacobs, Richard Jacobs, Helen Jacobs, Cheryl Smart, Emmoline Edwards, Izorie Petrus, Iyieachia Petrus, Lenore Rodgers, Roy Rodgers, James I. Rodgers, Leonard A. Rodgers, Jr., Melvin Petrus, James Marvin Clark, Jeffrey Petrus, Lionel W. Oliver II, Lamar F. Oliver, Paulette Oliver, Ivan Oliver, Theodore Oliver, Dr. Sandra Oliver-Harrigan, Denise Oliver-Green, Barbara Ottley-Petrus, Edwin Petrus, Hans Petrus and Sandra Petrus-Campbell.
Special Mention:
James T. Glover, Ingrid Bough, Stanley Dillard, Tersea Gainey, Robin McKelvey, Oneca Glasgow, Rosalind Frink, Dr. Ronald Harrigan, Harold "Butch" Brathwaite, Maria Wilson, Phyllis Rheubottom, Jean Oliver, Robert Bohannon, Patricia Vogel, Jerome Buntin, including the Springer (Frederiksted), O'Reilly (Christiansted), Doward (St. Croix), Adams (Estate Whim) and Cruse (St. Thomas) families.
Special Tribute and thanks to:
The Virgin Islands National Guard; The American Legion (St. Croix); Virgin Island Bureau of Corrections; The Kmart Family (St. Croix); Southern Maryland Hospital, Clinton, Maryland; Hospice of The Chesapeake, Prince George County, Maryland; Veterans Administration, Washington, D.C., Food and Friends, Washington, D.C.; Mom's Meals; and the U.S. Department of the Interior (Washington, D.C.).
And other family and friends too numerous to mention.
The Memorial Service will be held at St. Paul's Episcopal Church, 27-28 Prince St., Frederiksted, St. Croix, VI at 11 a.m., September 15, with the repast at the Frederiksted's American Legion Hall, 535 Prince Street, Frederiksted, St. Croix, following the service.  Cremation services were entrusted to Maryland Cremation, Millersville, Md.