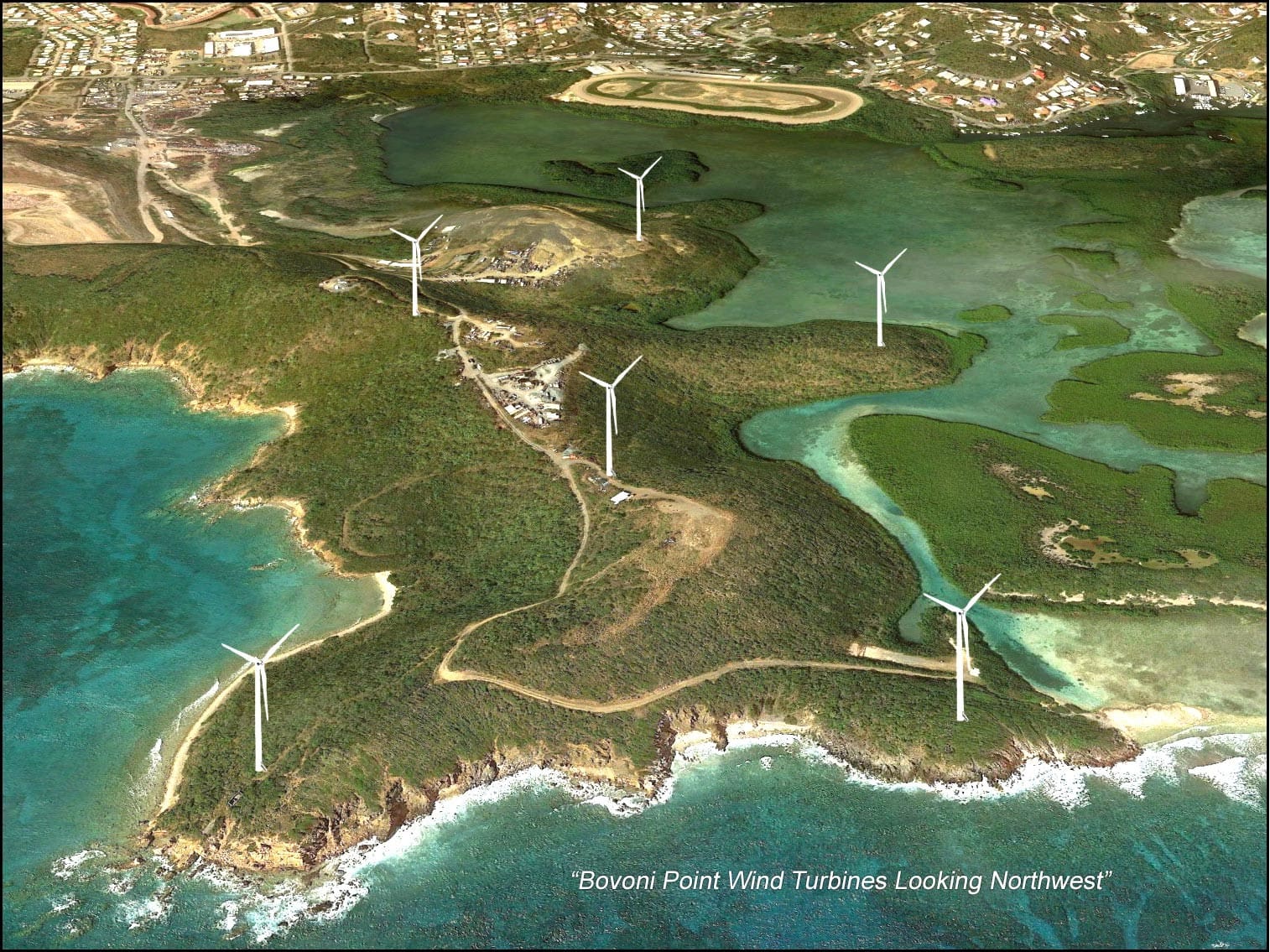 Editor's Note: This article is the third in a four-part series looking at the the V.I. Water and Power Authority, its past failures and challenges, and its more recent efforts to build a more affordable, reliable and modern grid. Read Part 1 here, and Part 2 here.
There is reason to feel optimistic after the V.I. Water and Power Authority signed
five purchase agreements
with St. Croix Wind and Bovoni Wind at the end of March. However, if history repeats itself, it will be months and maybe years before Virgin Islanders see any renewable energy and therefore will continue to pay exorbitant bills.
Over the last two decades, governors, the V.I. Legislature, WAPA and others have attempted to diversify the territory with renewable energy to increase efficiency and reduce costs for customers. After all was said and done, most projects ultimately failed.
Most the efforts have not been successful for several reasons and the territory remains dependent on WAPA, an autonomous agency, to decide what is best for us. Sometimes it appeared the deal was turned down for political reasons. Other times, it seemed the decision-makers did not have or gather enough knowledge to vote on the complicated technical processes with confidence. In most cases, help from trained and objective consultants could have saved time and money.
In October 1998, Southern Energy Inc., an oil and gas producer, approached the V.I. government with an offer to buy 80 percent of the utility for almost $77 million. The government would retain 20 percent ownership.
At the time, then Gov. Charles Turnbull said the government was facing financial problems, including a possible $39 million shortfall in December and a potential lay-off of up to 2,500 employees. He also said the Southern Energy bid came in unsolicited.
In March 2000, Southern Energy released a poll indicating the public was in favor of the "partnership." Overall, 77 percent of respondents said yes, including 86 percent of those working in the private sector and 74 percent of government workers, the company said. People believed rates would stay level for two years and decrease according to inflation.
In July 2000, some WAPA employees indicated they wanted to explore buying the authority rather than selling to Southern Energy. They talked about an employee stock-ownership plan, restructuring WAPA as a government entity, or developing an employee cooperative. Nothing came of that plan.
Southern Energy offered the territory $144 million along with forgiveness of $31 million that government agencies owed WAPA. The 25-year deal stipulated Southern would pay $105 million up front and $12.6 million in fuel, property and gross receipts taxes. Additionally, they would fund $37 million in income taxes beginning in the 10th year. There also was to be $2 million set up for economic development and $41.4 million in dividends from the government's 20 percent stake in the partnership, and they would take over WAPA's bonded debt.
Despite the poll by Southern Energy, the deal was debated loudly in the community. Then Lt. Gov. Gerard Luz James II said he was opposed and that there should be a referendum, so residents could vote on the matter. One negative issue was that any structure built by the company, a private corporation, would likely not be eligible for FEMA funding should it be destroyed by a hurricane.
After a long debate in August, and a Saturday morning vote, the Legislature killed the project with a vote of 9-6. Afterwards, Southern Energy said it would not come back with another proposal.
After losing the deal, public opinion held that WAPA still needed to do something different.
A year later after the Southern Energy offer, in 1999, lawmakers and WAPA officials began a dialogue that lasted more than five years with Caribe Waste Technologies. Gov. Charles Turnbull selected CWT to build and operate a $180 million system to process solid waste.
WAPA was to buy the electricity produced by gasification at an estimated $10 to $12 million a year for 30 years.
But in 2001, the WAPA board voted against Caribe Waste because the technology was not proven commercially, even though it is in use in Germany and Japan, the authority maintained. They also said the company's finances were questionable and that WAPA didn't need the extra power anyway.
Then, in 2002, the Public Services Commission certified CWT as a small power supplier and proclaimed that the company was qualified to be considered by WAPA as a power generator. The company had a fixed address, met federal guidelines for distances between energy plants and met the standards for production capacity. That was good enough for the PSC.
Again, WAPA balked at dealing with the company, complaining that CWT didn't own waste disposal or generating equipment, owned no land and had insufficient finances. The WAPA board also contended they weren't required to meet with CWT just because the PSC certified the company.
In 2004, CWT sued WAPA for breach of contract, after they refused to negotiate for three years. There were other grievances. WAPA, in turn, sued the PSC for trying to force them to buy energy WAPA doesn't need. WAPA also issued a new round of Requests for Proposals.
In 2005, WAPA, which had anticipated receiving as many as 30 bids, opened the only four that were submitted. The Renaissance Group was the only company certified by the PSC.
Caribe Waste did not even enter the competition.
In 2005, the V.I. Legislature tied job creation to awarding a contract for renewable energy, to which Turnbull added changes.
The Job Creation Act of 2005 made it more difficult for WAPA to find potential small power suppliers. Originally, the bill required investors to create 400 jobs and invest $150 million in the community.
WAPA's executive director at the time, Alberto Bruno-Vega, said the Senate should revise the conditions in the Job Creation Act and allow the authority to use its normal RFP process He also said WAPA would request the U.S. Department of the Interior to define an energy strategy for the territory.
A few months later, Turnbull signed amendments to the Job Creation Act that required: 90 percent of the workforce be V.I. residents; the investment was $20 million instead of $150 million; and, the small power providers no longer had to be certified by the PSC before negotiations with WAPA. (The successful bidder had to be certified before the contact was signed, however.)
Then in 2006, Innoventor Technologies was chosen, out of four bidders, by WAPA to build wind turbines to power the territory. After back and forth negotiating for months, the Senate imposed a 60-day deadline to complete the contract. Innoventor didn't meet the deadline and WAPA ended the negotiations in May 2006.
WAPA also blamed "organizational issues" for ending negotiations with Innoventor. According to Bruno-Vega, each time the company's structure changed, the terms and conditions to the power purchase agreement changed. Innoventor's owner said the deal failed because the two entities couldn't agree.
In August 2008, WAPA signed a power purchase agreement with Alpine Energy Group for facilities on St. Thomas and St. Croix. The V.I. Waste Management Authority would use the same facilities to help reduce waste in the territory.
In October, the PSC approved the power purchase and interconnection agreements between WAPA and Alpine. The 20-year agreement called for Alpine to invest $280 million on St. Thomas and $160 million on St. Croix to construct facilities.
WAPA was to build the interconnect grid infrastructure and Alpine would reimburse up to $15 million for the construction, per island. WAPA would also spend $6 to $8 million on bond protection.
The infrastructure would convert to fuel 146,000 tons of municipal solid waste, every year. Thirty-three megawatts of energy would be produced on St. Thomas and 16 megawatts on St. Croix — about 32-33 percent of the peak-generation load.
Citizens voiced opposition to the project, mainly because the company planned to use petroleum coke to convert waste.
Sen. Craig Barshinger changed his mind and was against it but then he missed the vote. Sen. Nellie (Nereida) Rivera-O'Reilly said she would never vote in favor of the project. She was against the dust by-product produced in the process, she said.
In 2010, two months after the Senate killed the project, Alpine Energy, which spent two years and almost $5 million on its proposal, came out with a new proposal to process waste to energy, without pet coke. The $120 million for the project was to be funded by AEG. Electricity would cost 10 to 15 cents per kilowatt hour, it said.
The plant would only produce a fraction of the territory's energy needs, so cost savings would not be great. But the plant would reduce oil consumption so any rise in oil prices would increase savings for consumers, but not eliminate them.
The St. Croix Environmental Association came out in favor of the project after it eliminated the use of pet coke.
In 2012, the Legislature again voted against AEG's trash processing plant on St. Thomas. It would send trash to the fuel burning plant on St. Croix.
The V.I. Energy Office reported that a similar process was being used in stateside facilities and in 600 European and Asian countries. There were as many as 100 facilities on the mainland, according to a former official who did not want to be identified.
Crucians did not seem to want to receive St. Thomas's waste, even if it was to produce energy. But did they consider the creation of jobs that would be available for Virgin Islanders?
This was the second time the AEG lease came before the V.I. Legislature for consideration. WAPA and VIWMA signed agreements with AEG Bovoni in 2009 to build trash processing facilities on St. Croix and St. Thomas. AEG would also make refuse-derived-fuel (RDF) pellets to feed trash-to-energy plants, built on St. Croix and St. Thomas.
Reasons for voting against, this time, included suspicions that AEG might ask for credit so that the V.I. government would have to make up the difference between cash and revenue from the trash power plant to be able to purchase fuel. It could make the government liable for as much as $20 million a year, people conjectured. No one knew for sure since the credit support bill had not been sent to the Senate yet. Several senators said they did not have enough information about the project. At least three senators had their own unique reasons for voting against it. Only two senators voted in favor of the bill.
Also in 2012, WAPA approved a conversion to liquid natural and liquid petroleum gas (LPG), or propane, partly in response to the announced closure of the HOVENSA refinery on St. Croix. Thirteen potential suppliers responded to the requests for bid qualifications.
Then in 2013, WAPA signed a seven-year year deal with the Vitol Group, a Dutch-owned multinational energy and commodity trading company, to convert seven of WAPA's gas generators into propane generators with the hope of reducing fuel costs by 30 percent — and greenhouse gas emissions by 20 percent.
Vitol took delivery on propane tanks in July 2014. At the end of the year, WAPA announced a rate decrease — the first time in many residents' memories.
In the meantime, upfront costs doubled for the conversion. The original contract was for $87 million but that November, the board voted to raise the budget to $150 million.
In 2016, the WAPA board authorized another $10 million for the conversion, which was projected to take three times longer than first thought.
The first propane-burning generator was commissioned on St. Croix in 2016 and the island was fully converted by November. With a $10 million payment for propane conversion, the total Vitol bill would be $160 million — more than twice the original contract amount.
In 2018, WAPA owed Vitol $24 million and Vitol cut the supply of fuel. Both islands had less than three weeks of fuel on hand. A WAPA spokesperson said it would take $85 million to reach "generation stability."
By 2019, WAPA needed to be bailed out by the V.I. government for $6 million in past-due payments to Vitol. The authority had switched to more expensive diesel when Vitol cut it off after it didn't pay for propane.
In July 2019, WAPA blamed its $160 million debt on cost overruns on the VITOL project, non-payment of bills by government agencies, solar customers, an ailing generating system and the challenges of getting the new system running. Additionally, CEO Kupfer said there was a 16 percent decrease in sales.
A report by the V.I. Inspector General in 2021 found several other problems with the original deal. At that time, only three of the original eight generating units burned propane. Three units were not able to be converted, another one was damaged during conversion, and another failed to work after conversion. So, WAPA rented generating units at an additional cost.
Now in 2023, WAPA is being bailed out again by the V.I. government to the tune of $150 million. A new agreement apparently is in place to settle the debt and end the agreement with Vitol to purchase fuel.
"The finalization of this settlement will enable WAPA to effectively manage fuel supply, remove some risk and lower the cost of fuel," Andrew Smith, WAPA chief executive officer, said at a recent WAPA board meeting.
Sen. Kenneth Gittens said, in a Senate session, that "the heart of all WAPA's problems, financial and otherwise, is mismanagement and a lack of accountability."
Perhaps some of the problems in these attempts to use renewable energy began before the deal was struck. Perhaps senators, government officials and even WAPA do not gather and absorb enough scientific and technical knowledge before making decisions. Additionally, politics may play a bigger part in who is awarded contracts.