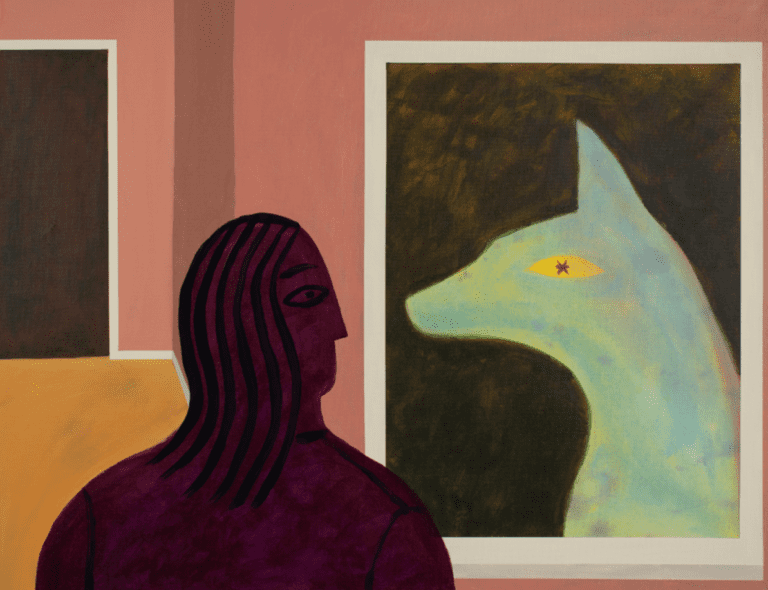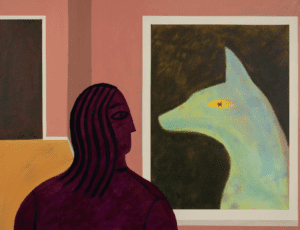 Show Description
"Out There And In Here" allows viewers to discover places they always wanted to go, places they've already been, and places washed from consciousness ages ago that have returned to memory — obscure and enigmatic but with purpose. A fever dream of buildings, human interactions, shadowy realms. These friendly yet haunting pieces describe the half-remembered images or feelings of an imagination working closely through the poetic process of recognition, safety and construction (of all things). Symbols and ritualistic patterns dot the borders of buildings — or the mind — as animals and plants sit, as though in observation of their mysterious human figure counterparts.
This summer exhibition by Brooklyn-based Mancini is pertinent and oddly encouraging; it gives life to the shadows within us, asks questions, and trusts viewers to provide their answers – all of which will surely be true. -The Curators, 81C
Artist Statement
("For how hard it is to understand the landscape as you pass in a train from here to there, and mutely it watches you vanish." — W. G. Sebald '1964').
"My paintings come from half-remembered dreams, from the thick mud of childhood memories, and from the uninvited yet welcome mental images that appear sometimes during the relaxed state we enter right before sleep, as if the colorful, unexplained visions carried urgent but cryptic messages from somewhere deep within me, and needed to be brought out into the world, I the inarticulate interpreter of their mute poetry.
Prompted by subconscious images, symbols and free association,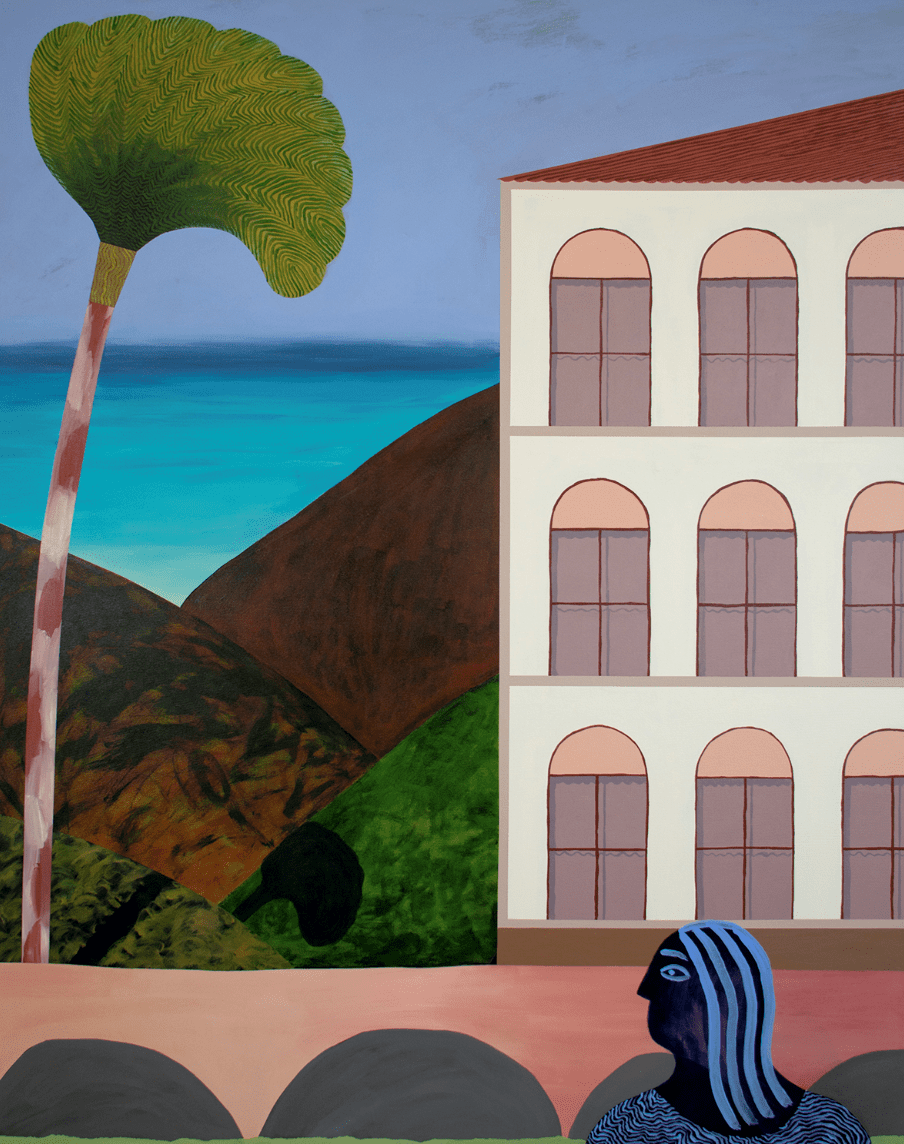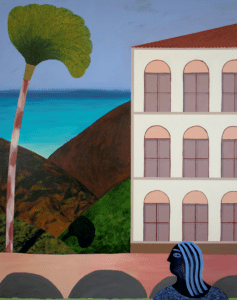 I attempt to give shape and color to these inner visual landscapes, looking for meaning, however flawed or fleeting, in the margins. There is always a gap between the abstract image in my head and its visual translation, its material actualization on paper or canvas, pigment and water pushed around and left to dry. But this gap is where meaning is made — for the viewer and for myself. Through the loose back and forth of making these pictures, one eye on the inside, one eye on the outside, something more is conjured up.
Faced with the certainty of grief, loneliness and mortality, we trudge on, finding solace in our universal need for connection and sense-making. The outer, visible world must be conceptualized,  and the inner, invisible self must be exhibited. The paintings are where the two can collide."  — Amelie Mancini, Brooklyn, 2023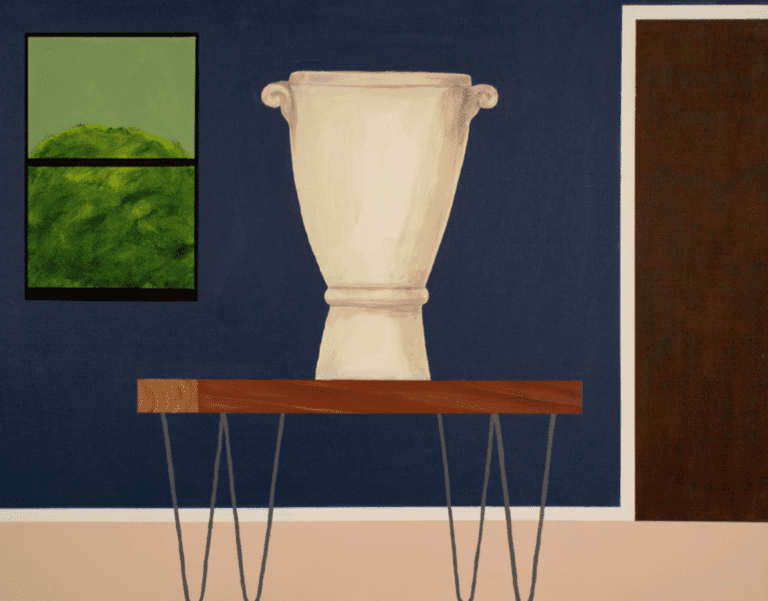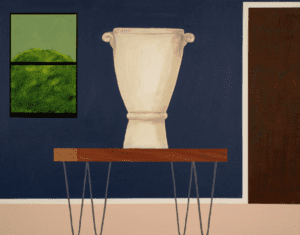 Artist Bio
Amelie Mancini's artistic practice ranges from painting to drawing, printmaking and textile design. In her paintings and drawings, she uses angular geometric shapes, fluid line work, busy textures and patterns, and silhouetted figures to create imaginary spaces where the abstract and the representational come together to create new narratives.
Born and raised in Lyon, France, Amelie Mancini moved to Brooklyn, N.Y. in 2006. She received a Master's Degree in Design and Fine Arts at the Sorbonne University in Paris. Her work is part of the permanent collection of the National Baseball Hall of Fame in Cooperstown, N.Y.
In 2022, she received the Royal Watercolour Society Award, curated by Brit Pruiksma (on Instagram as @mothflower). Her work was featured in Works On Paper 4 and 5 at Blue Shop Gallery in London. She had recent exhibitions with Hashimoto Contemporary (New York, N.Y.), Maake Projects (State College, Penn.) and Mepaintsme (online).
She lives in Brooklyn, N.Y., with her husband and their two children. She divides her time between her painting practice and her role as creative director for Biquette, a textile company specializing in artist collaborations.
 Event Details
81 presents "Out There And In Here" – The Mute Poetry and Inner Landscapes of Amelie Mancini. The exhibition opening party will be held from 5 p.m. to midnight, Saturday, July 22, at 81C, historic Charlotte Amalie on Strand Gade between Waterfront and Main St., near Market Square and Moe's. Please park on Waterfront. Complimentary beverages will be offered at the opening with proof of age; please drink responsibly.