With the 2023 Atlantic hurricane season currently upon us, preparing for severe weather is critical. Regardless of whether a cyclone directly impacts the Virgin Islands, flash floods are one example of extreme weather that deserves a review.  
Flooding, specifically flash floods, can occur throughout the year, and rising water can become extremely dangerous. Understanding what to do and what not to do during a flash flood could be life-saving information.  
What Is a Flash Flood?  
"Flash floods occur suddenly and usually within hours of excessive heavy rainfall," according to a definition from the National Weather Service.  
"Flash floods become raging torrents of water, ripping through neighborhoods, streets, valleys, etc., sweeping away whatever is in their path," the NWS description continues.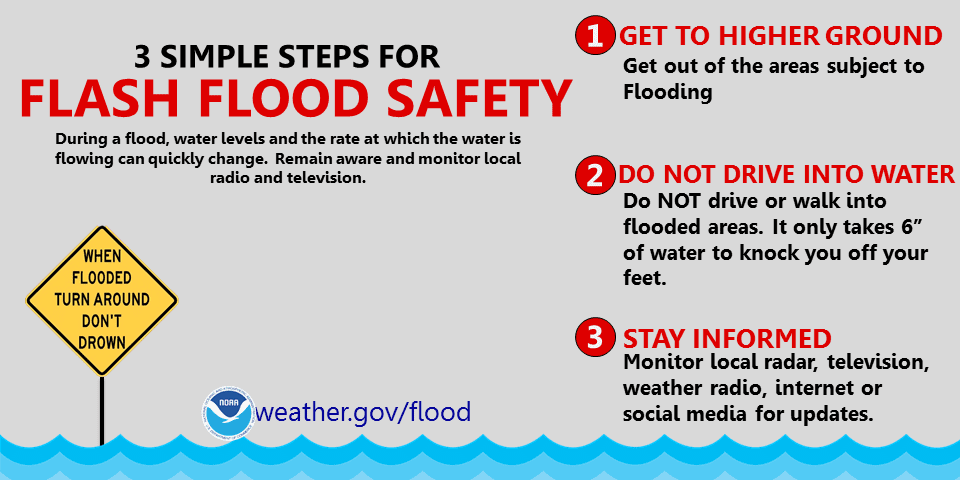 As many Virgin Islanders are aware, it does not require a hurricane for a flood to occur. As recently as a couple of weeks ago, the territory received significant rain due to a disorganized tropical wave. Substantial precipitation over a short period can result in a flash flood. 
The NWS notes that heavy, intense rainfall in a short time can indicate that a flash flood could be imminent. Individuals can easily be caught off guard when a deluge starts, including while driving in a vehicle. If flooding happens while driving, the NWS offers the following tips to stay safe.  
"Never drive your car into water of unknown depth. Most flash flood deaths occur when people drive their vehicles into flood waters. Remember: Turn Around, Don't Drown," the NWS warns.  
"If your vehicle stalls, abandon it immediately and seek higher ground. Flood water may rise quickly, cover the vehicle and sweep it away. Stay out of flooded areas. The water may still be rising and very swift. A rapidly flowing stream can sweep you off your feet and sweep your vehicle downstream."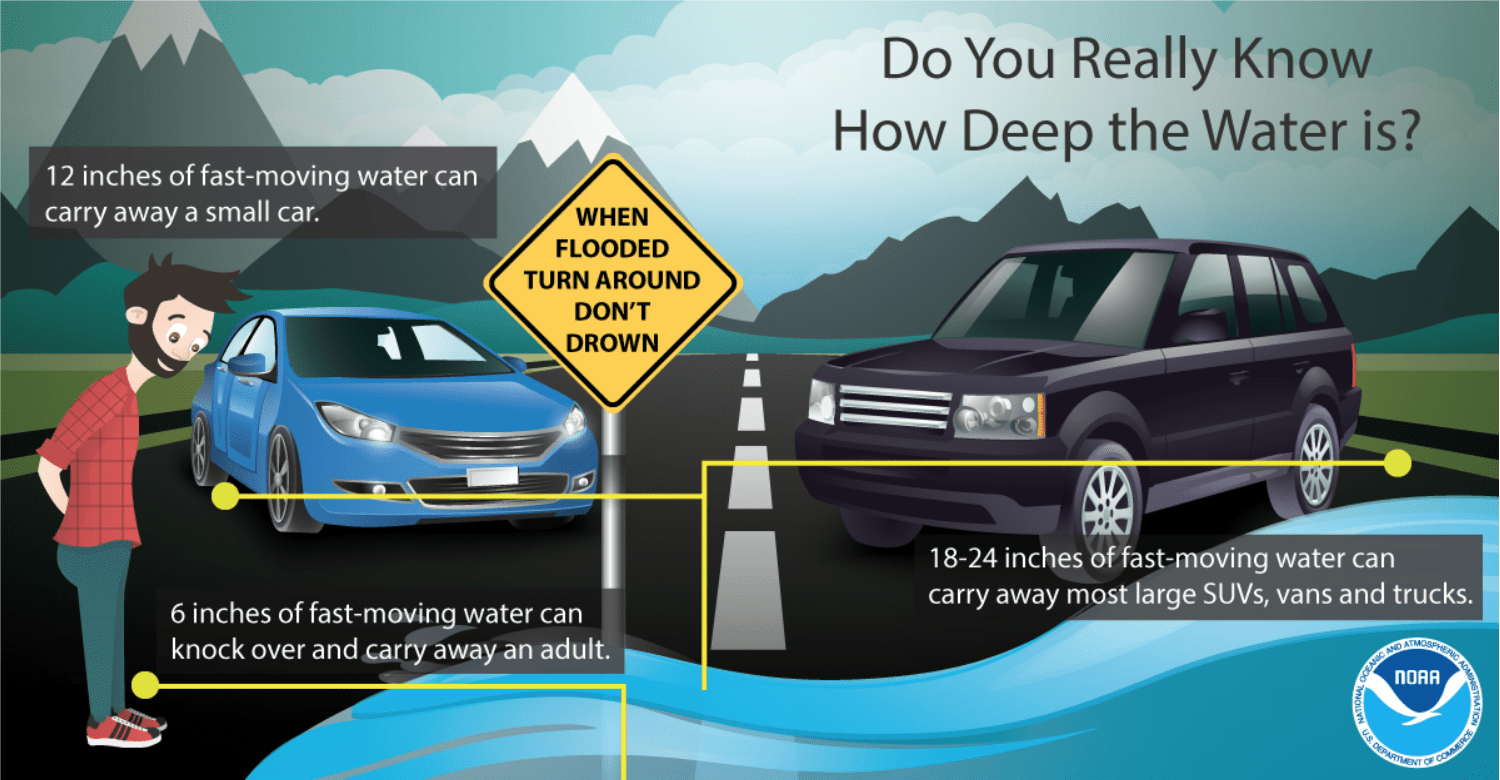 A shocking statistic from the National Oceanic and Atmospheric Administration (NOAA) describes how deadly flash floods can be. 
"More deaths occur from flooding than any other weather hazard except heat. Why? Because most people fail to realize the power of water. Just six inches of fast-moving flood water can knock you off your feet, 12 inches can carry away a car, and 24 inches can pick up an SUV or truck," an article from NOAA cautions.  
Landslides and Mudslides Due to Flooding 
Mudslides and landslides may also occur due to flash floods. Rain isn't the only cause of landslides and mudslides. A flash flood can be a catalyst.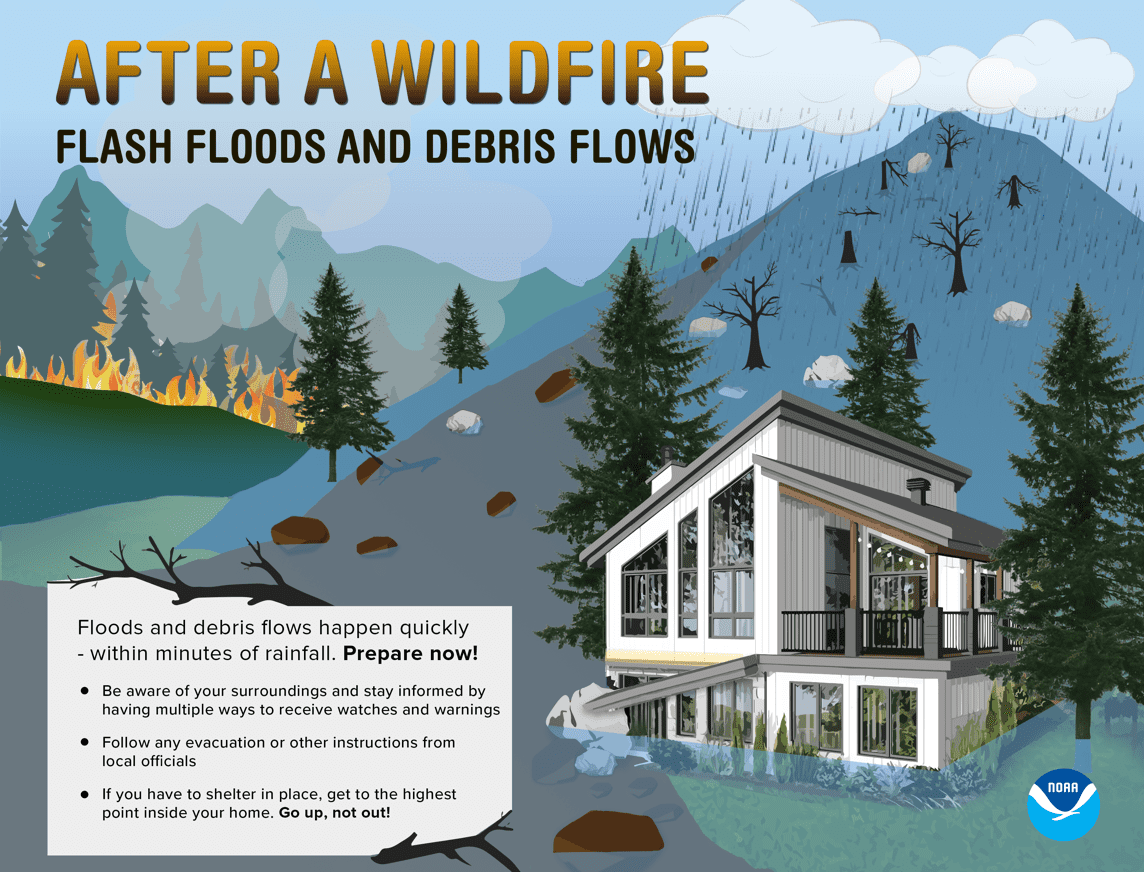 The Centers for Disease Control and Prevention explains the difference between landslides and mudslides. 
"Landslides are caused by disturbances in the natural stability of a slope. They can accompany heavy rains or follow droughts, earthquakes, or volcanic eruptions," the CDC says. 
"Mudslides develop when water rapidly accumulates in the ground and results in a surge of water-saturated rock, earth, and debris. Mudslides usually start on steep slopes and can be activated by natural disasters. Areas where wildfires or human modification of the land have destroyed vegetation on slopes are particularly vulnerable to landslides during and after heavy rains," according to the CDC. 
The National Weather Service echoes this sentiment and describes the damage that these events can cause, depending on where the weather occurs.  
"Flash floods can roll boulders, tear out trees, destroy buildings and bridges, and scour out new channels. Rapidly rising water can reach heights of 30 feet or more. Furthermore, flash flood-producing rains can also trigger catastrophic mudslides," according to the National Weather Service. 
Be Prepared  
Awareness is key to being prepared in the event of a flash flood. For example, recognize areas that are prone to flooding, and take note of burn-area locations where wildfires that could trigger a mudslide have recently occurred across the islands. Staying up to date with the current weather conditions is another important way to be prepared in the event of a flash flood. 
Weather alerts, including information about potential flooding, will continually be updated on the Source Weather Page. USVI residents and visitors can also sign up for emergency alerts from the Virgin Islands Territorial Emergency Management Agency and the National Weather Service.