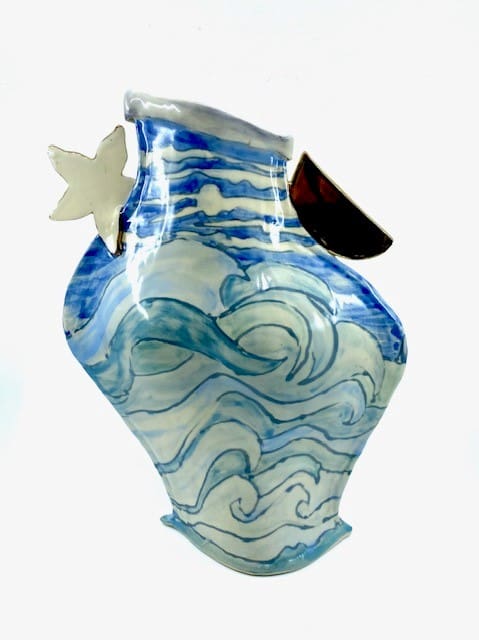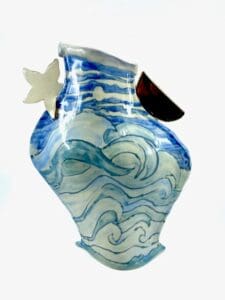 Mango Tango Art Gallery will unveil the dynamic Jess Rosenberg show Saturday, April 29 from 5:30-8:30 p.m. "The Elements: Earth, Wind, Fire and Water Exhibition" presents new sculptural works in ceramics or glass or both.
The soulful music of Island Forte Ensemble will celebrate her creativity. Spirits and appetizers add to the festivities.
Gallery owner Jane Coombes notes the pleasure all the gallery's artists give her and the viewers as they use their annual exhibition to showcase different stages of their artistic journey. "Each of Jess's shows has had a strong theme and different applications of ceramic techniques. This show has an organic feel as she adds glass to her ceramic oeuvre."
Rosenberg offers a commentary on her early glassworks and her thoughts in creating the current show:
"As a child, I traveled with my family numerous times to Mexico where I witnessed the magic of glassblowing.  I knew, from age 7, that I was destined to become a visual artist, and the glass dance enthralled me.  When the opportunity to help build a glass lab and learn the art presented itself at St. Cloud State University in Minnesota, I jumped at the chance.  Our professor, Erik Rudans, was one of Harvey Littleton's first students when he started the studio glass movement at the University of Wisconsin-Madison in the '60s.
"I graduated with a BA, with a double concentration in glass and printmaking. After graduation, I worked at Dalhousie University in Halifax, Nova Scotia, managing the student TV network.  Then the travel bug hit, and I took my glass pipes and moved to Grenoble, France, where I partnered with two Frenchmen in building two off-hand glass-blowing studios.
"After nearly three years there, I left France and began a career in art direction and illustration in Mexico, Milwaukee and New York City.  We moved to St. Thomas in July of 1985.  My next gig was as the artist for the largest t-shirt company in the Caribbean, which was a big switch from corporate design, but it was fabulous!  After having three kids and raising them here, we sent them off to university in the States, and I moved into my studio full-time.  I have a black and white darkroom and a ceramics studio at home where I spend most of my waking hours.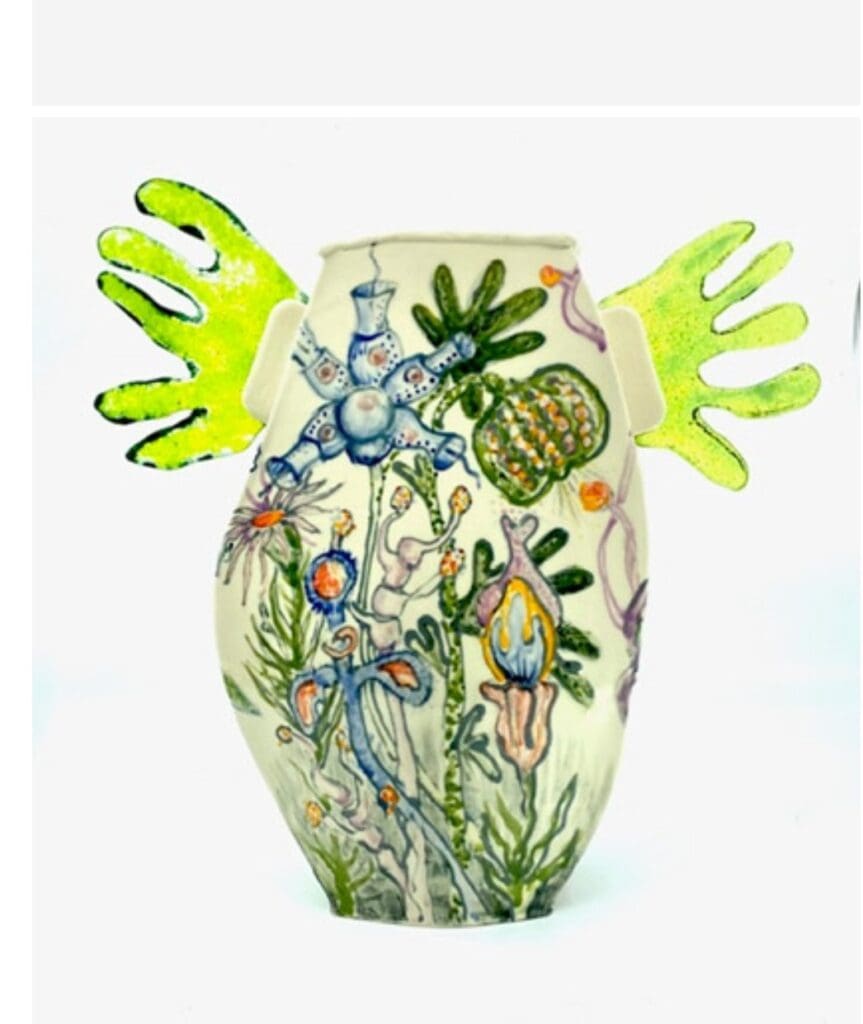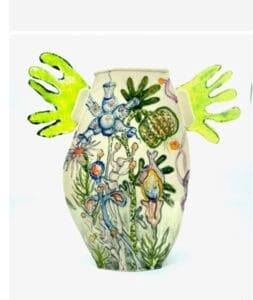 "In the past 10 months, I added kiln glass (a technique of putting cold glass in or over a form in the kiln; heating, melting, fusing it and then annealing it (or reducing the temperature gradually) to my ceramics practice.  Starting with stoneware slabs, I make vessels in shapes that are conducive to reflecting the environment around me: the sensuous lines of the cays and islands, the ever-changing sky and clouds, the fabulous colors in the sea throughout the day and the jungle surrounding my studio. I make glass additions for some of the vessels because the glass seems consistent with the sparkle of the light around me.
"The pieces in this show range from solid glass pieces to ceramic and glass vessels.  Imaginary plants, classical vessels, female forms, the sea and sky have always been fun to use in my designs and they feature here… I've begun to use the vessels as a canvas.
"The glass pieces are also a response to my environment.  I use several forms of glass: sheet, frit and powder.  Some pieces are cast, some fused, some slumped.  Similar to ceramics, the kiln glass is very time-consuming.  Glass fires (and anneals) at very different rates, temperatures and cooling rates; so, though I am using the same kilns, they are never fired at the same time.  A single firing of a glass piece stays in the kiln for over 24 hours, as opposed to a 16-hour ceramic firing.  Obviously, process is very important in both mediums, just a bit trickier with glass.
"I feel I have started on an interesting path by combining the two materials and intend to continue exploring this concept."
The show will continue for one month.
For more information, visit www.mangotangoart.com or call 777-3060.