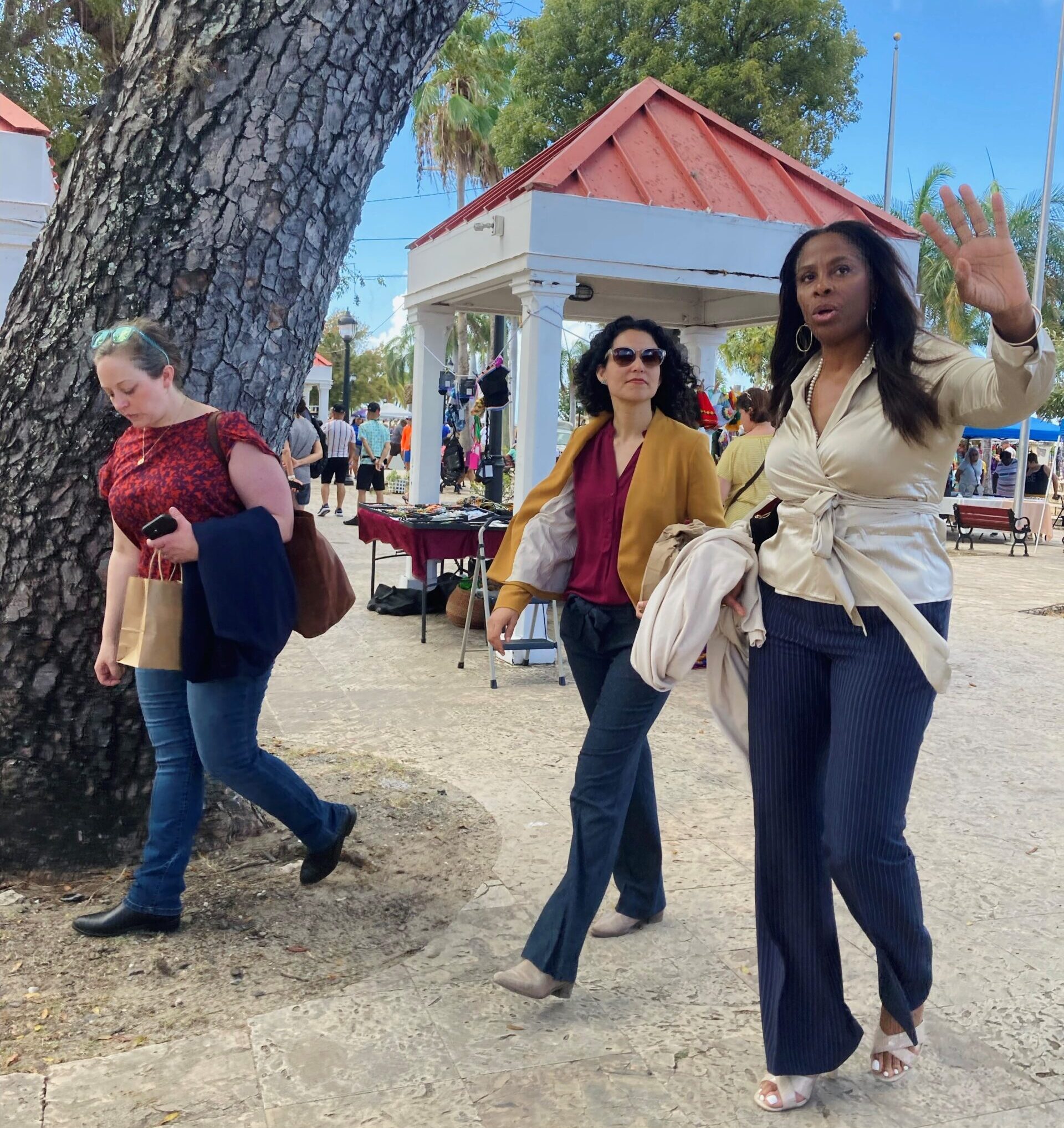 The U.S. Agriculture Department's undersecretary for Rural Development met with local agencies and stakeholders and toured a solar farm during a visit to St. Croix on Tuesday, hosted by V.I. Delegate to Congress Stacey Plaskett.
"We discussed the programs available to build and improve housing, funding challenges and opportunities, provide renewable energy development assistance and make energy efficiency improvements, and financing for telephone and broadband services," Plaskett said in a news release detailing the visit by Under Secretary Xochitl Torres Small.
USDA Rural Development has invested millions in the U.S. Virgin Islands — more than $15 million in just the last fiscal year — with an investment of over $5 million in single family housing, $5.7 million in multifamily housing, as well as more than $100,000 in water and environmental programs, according to Plaskett's office.
Following the roundtable, the officials toured BMR Energy's Solar Farm, which previously received $3.2 million through the Rural Energy for America Program, said Plaskett. The facility contains 16,000 solar panels and nine inverters, which has reduced carbon emissions by 7,200 tons of carbon dioxide per year and increased energy stability for St. Croix, she said.
"Additionally, Torres Small and I met with local entities involved in the economic development and broadband resiliency of the Virgin Islands," said Plaskett.
"The Biden-Harris Administration and USDA are committed to ensuring that people from all backgrounds have every opportunity to succeed — and that they can find those opportunities close to home," Torres Small said. "We're proud to partner with leaders like Congresswoman Plaskett to provide access to affordable housing, clean energy and critical telecommunications infrastructure to create those opportunities across the Virgin Islands."
"I thank Under Secretary Torres Small for visiting St. Croix to see firsthand the opportunities — and challenges — facing the U.S. Virgin Islands. I look forward to continuing our collaboration to promote a better future and a better Virgin Islands," said Plaskett.
Regarding internet access in the U.S. Virgin Islands, Plaskett on Wednesday announced $66 million in Federal Communications Commission funding for the Affordable Connectivity Program, which the Virgin Islands will have the opportunity to vie for.
"The Infrastructure Investment and Jobs Act, that I was in strong support of, appropriated $14.2 billion for the FCC's Affordable Connectivity Grant Program," said Plaskett in a press release announcing the initiative. "The Affordable Connectivity Program will provide subsidies to help underserved areas and rural areas expand broadband connectivity, helping 16 million American households save $500 million per month on high-speed internet."
According to Plaskett, the program benefit provides a discount of up to $30 per month toward internet service for eligible households. Eligible households can also receive a one-time discount of up to $100 to purchase a laptop, desktop computer, or tablet from participating providers, she said.
And on Tuesday, Plaskett announced that the territory also will be able to vie for some $6 billion in funding through the U.S. Department of Energy Office "to accelerate decarbonization projects in energy-intensive industries."
The program seeks to demonstrate the technical and commercial viability of industrial decarbonization approaches that will help the U.S. lead in low- and net-zero carbon manufacturing, according to Plaskett.
Eligible applicants include for-profit organizations and owners or operators of a domestic, non-federal, non-power industrial or manufacturing facility engaged in energy intensive industrial processes, as stated in the Inflation Reduction Act, the delegate said.
Funding could be used for industrial energy efficiency technologies; equipment to electrify industrial processes; equipment to utilize low- or zero-carbon fuels and energy sources; low- or zero-carbon process heat systems; or carbon capture, transport, utilization and storage systems.
Assistance may be provided as grants, rebates, direct loans, or cooperative agreements, and the Virgin Islands is eligible to receive equal funding as the mainland, said Plaskett.
"This funding opportunity will create space for projects that will decarbonize the highest-emitting industries that can have the greatest impact on our planet, make the United States a leader in clean manufacturing, and help meet our climate goals," she said.