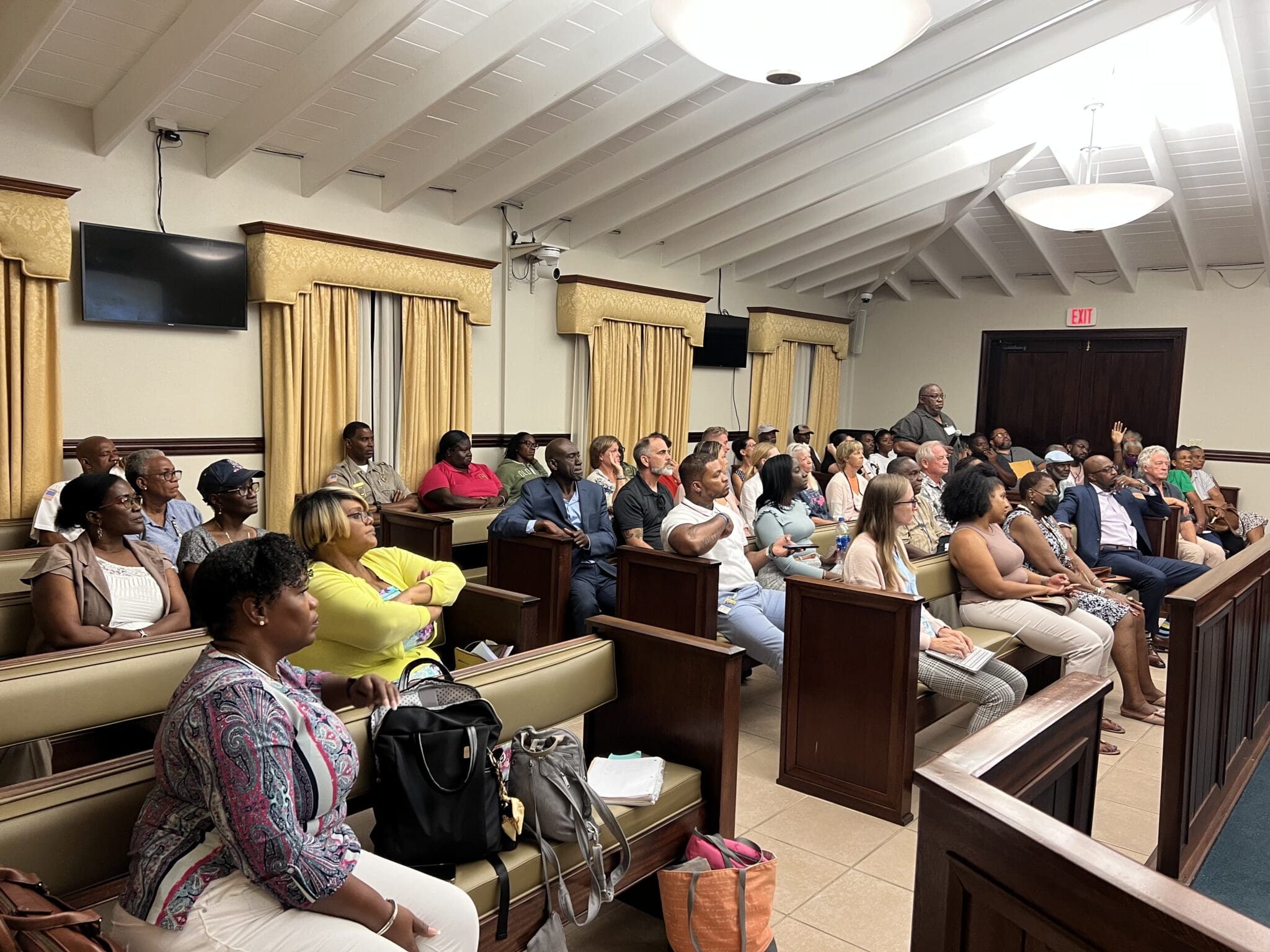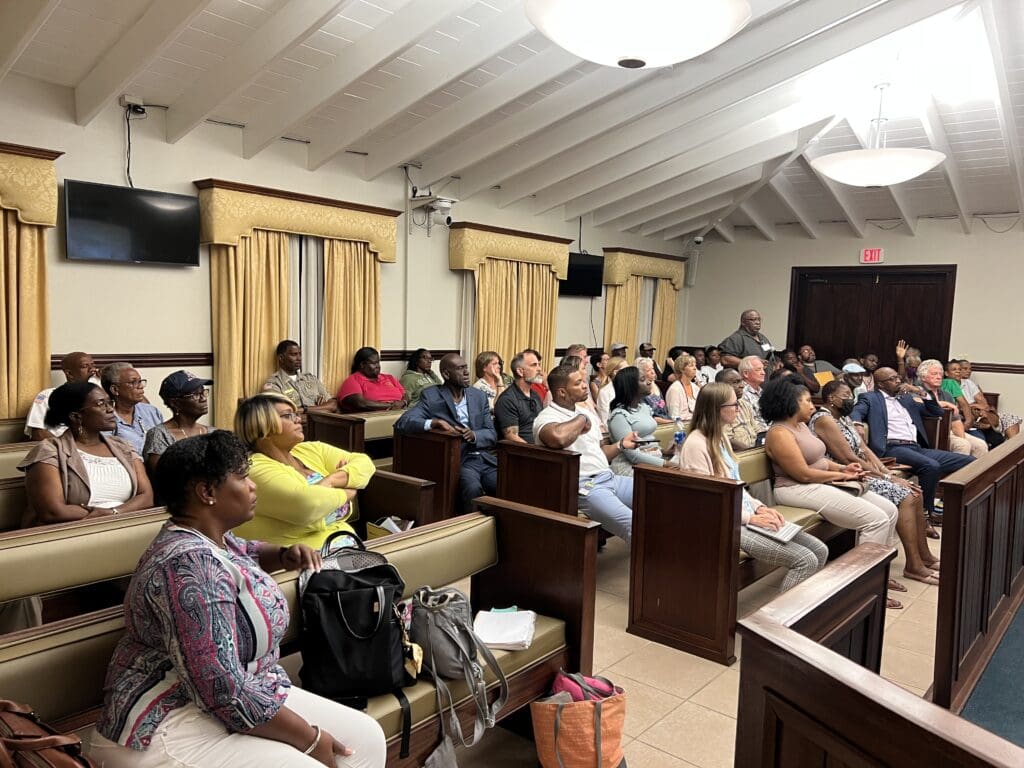 The majority of features requested by the St. John community have been incorporated into the initial design of a park being planned for Cruz Bay, according to Carlton Dowe, executive director of the Virgin Islands Port Authority.
Dowe presented the plan for the as-yet-unnamed park near Enighed Pond at a town hall meeting held Thursday at the V.I. Legislature's Annex in Cruz Bay.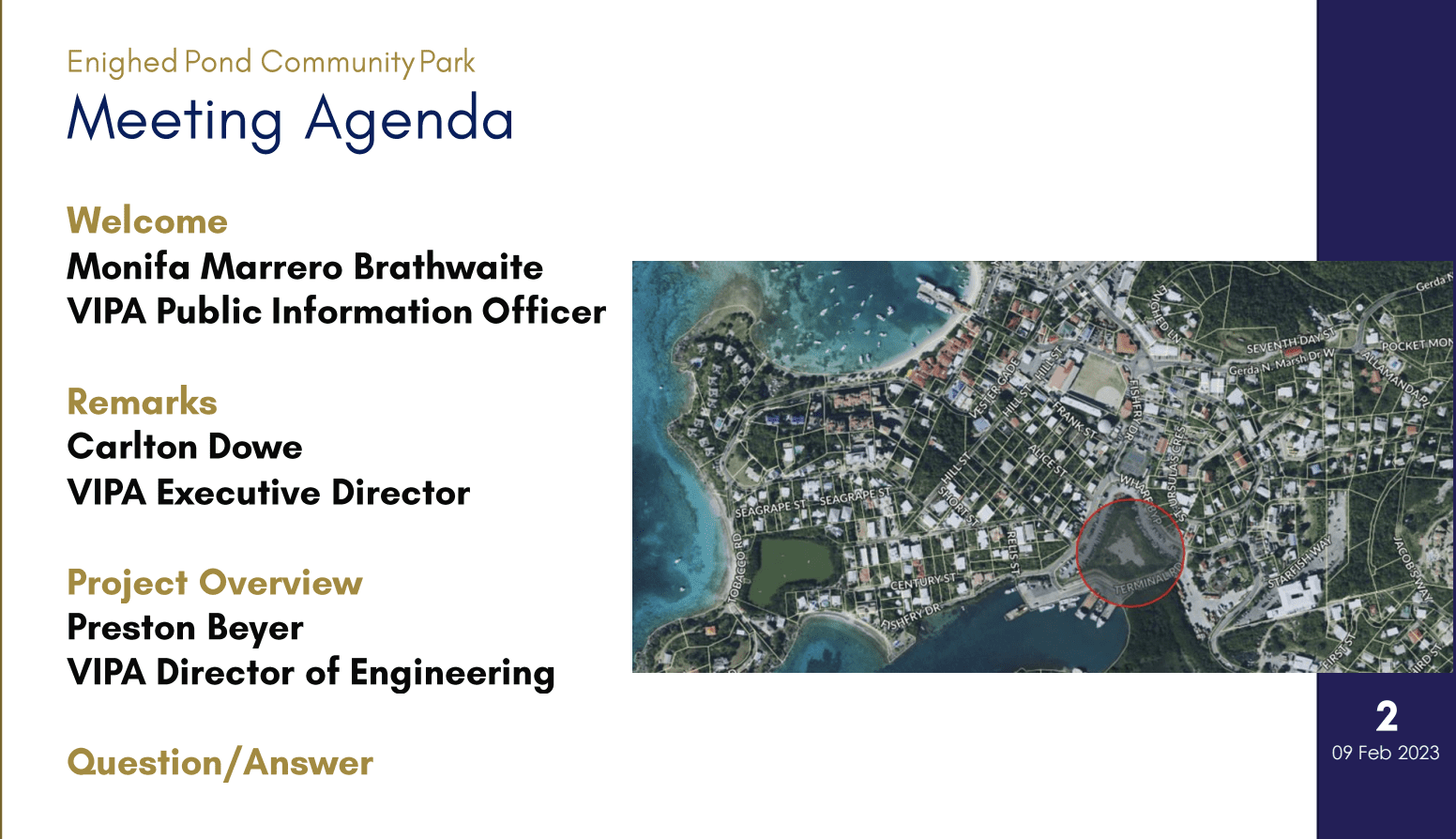 Preston Beyer, VIPA's director of engineering, walked the audience through a PowerPoint illustrating the various features of the design, which can be seen here.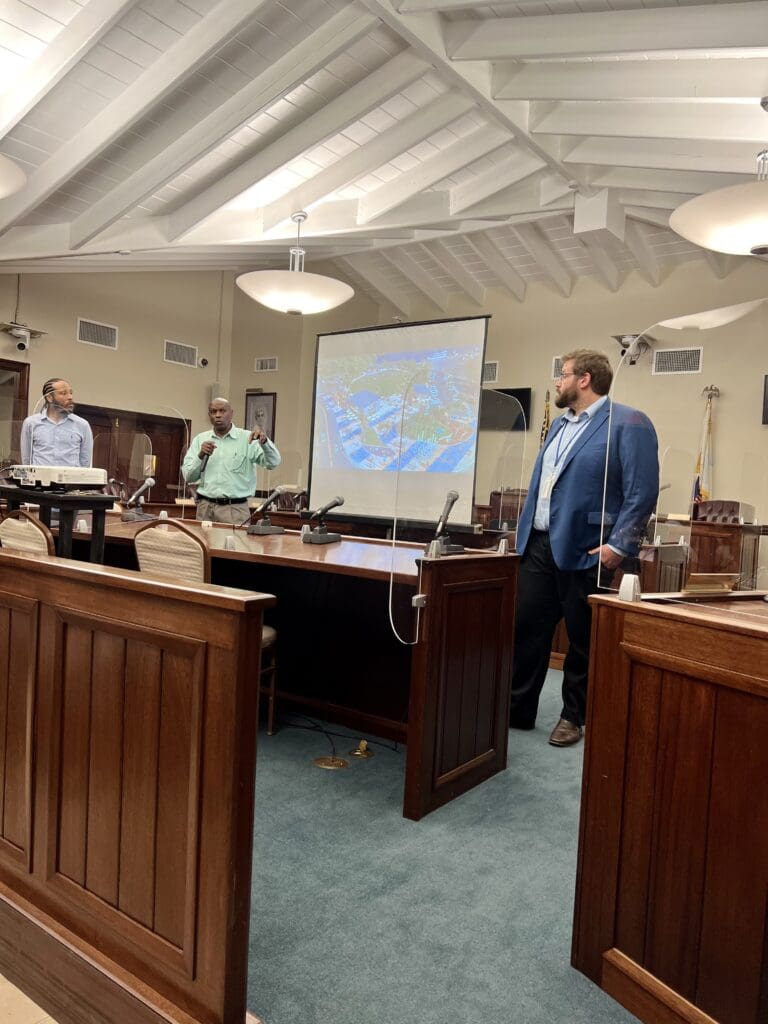 When the plan to build a park was first made public in September, Dowe asked the community to meet to develop a wish list of features.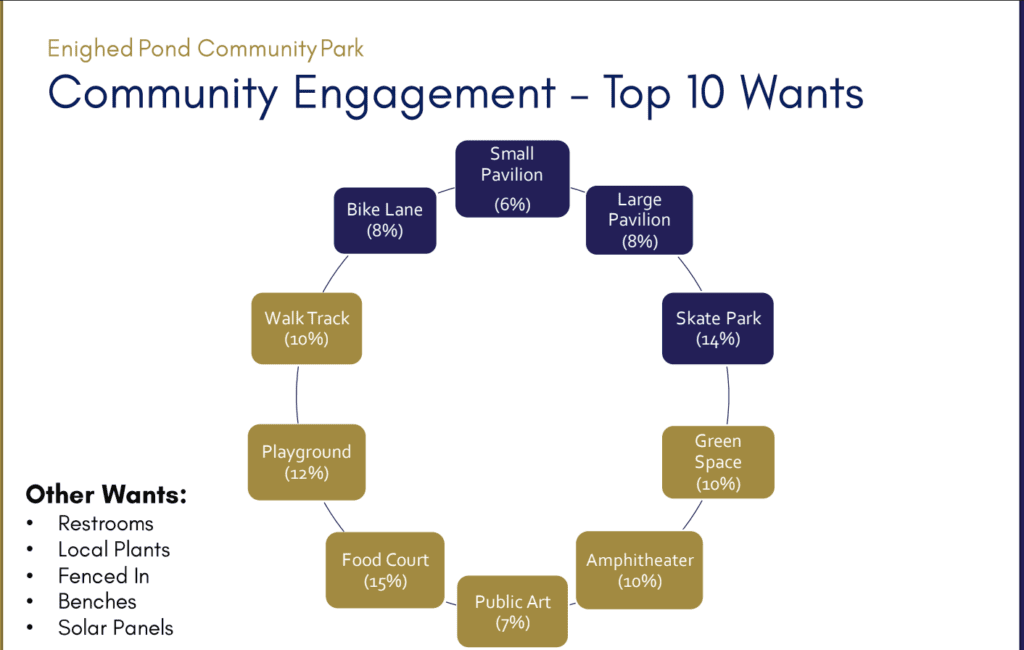 Over the next four months, a committee of residents met multiple times to discuss the project. The committee was chaired by Stephen Black, who originated the concept for a park decades ago, and Carmen Wesselhoft-Hedrington, a former senator-at-large.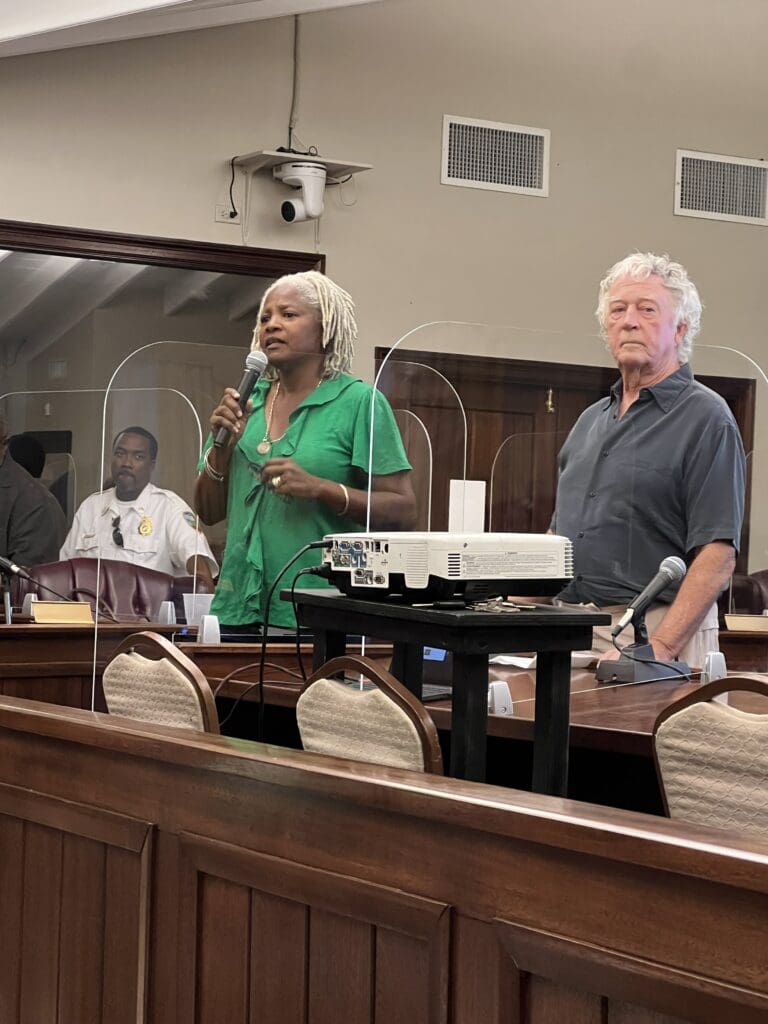 After surveying the community, the committee produced a list of 20 desired features. Of these, the following elements are now included in the design: green space, an amphitheater, a space for public arts, a food court, a mini playground, a track for walking and running, restrooms, and local plants.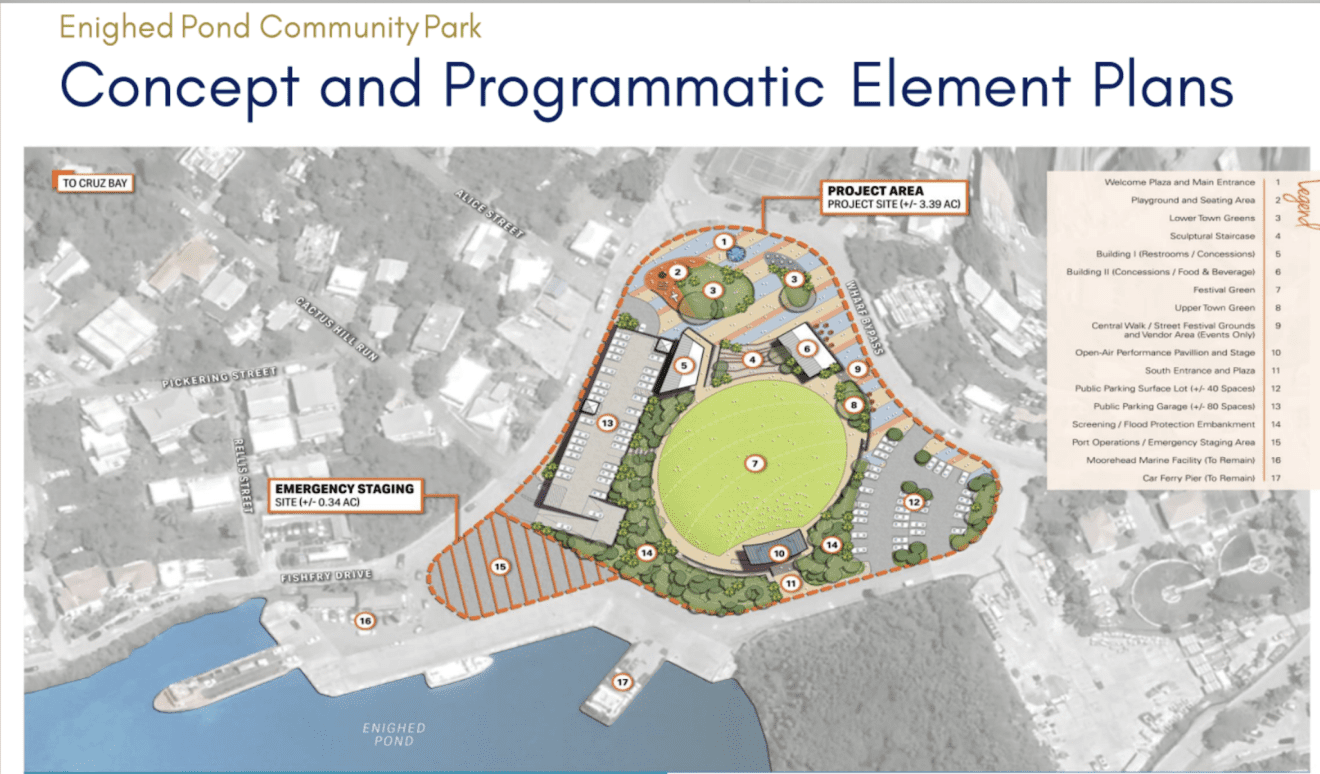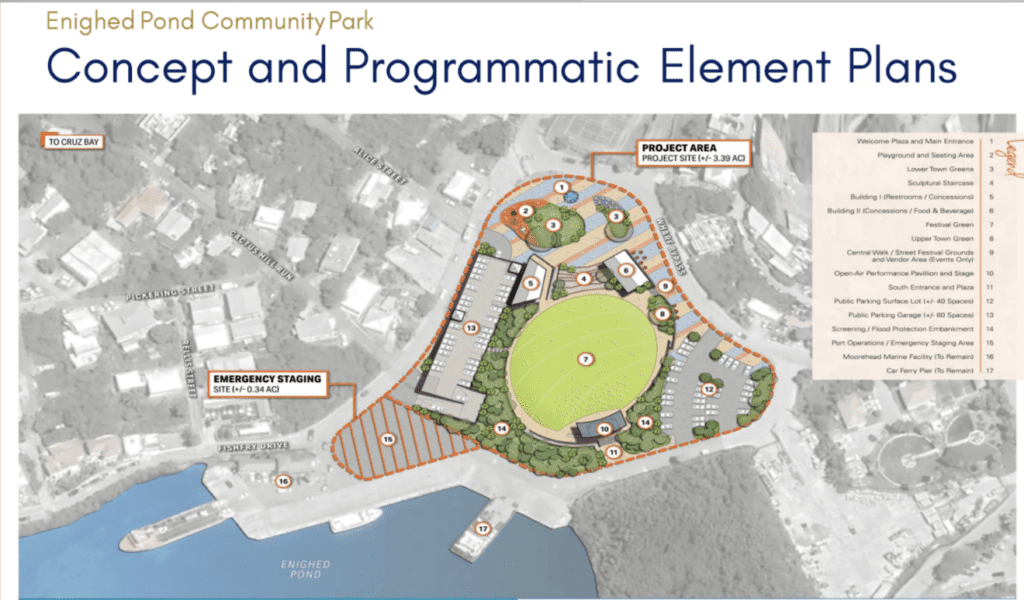 Requests to include several other features are still under consideration. For example, a bike track or skating track might be incorporated alongside the walking track around the perimeter, and a movie screen can be incorporated into the amphitheater.
Although small or large pavilions are not part of the plan, a covered area where groups can meet could be included within a food court structure.
However, two frequently requested features – a skate park and a dog park – are not included in the design.
The park is planned for a 3.75-acre site formed from the material dredged from Enighed Pond when the Theodore E. Moorehead Marine Terminal was built. The plan is designed to provide a facility that can hold up to 5,000 people for public events, including St. John's July 4th Celebration.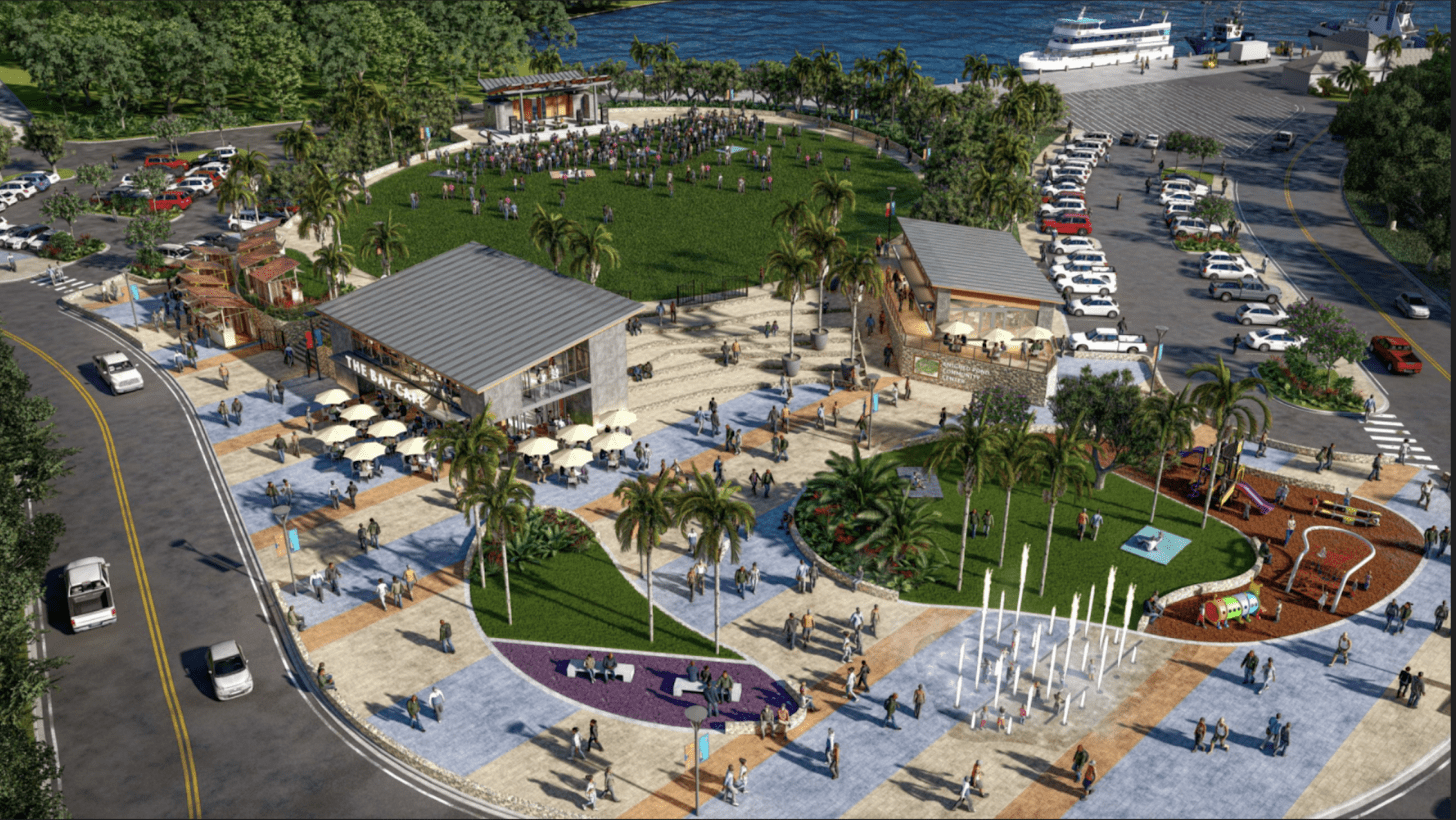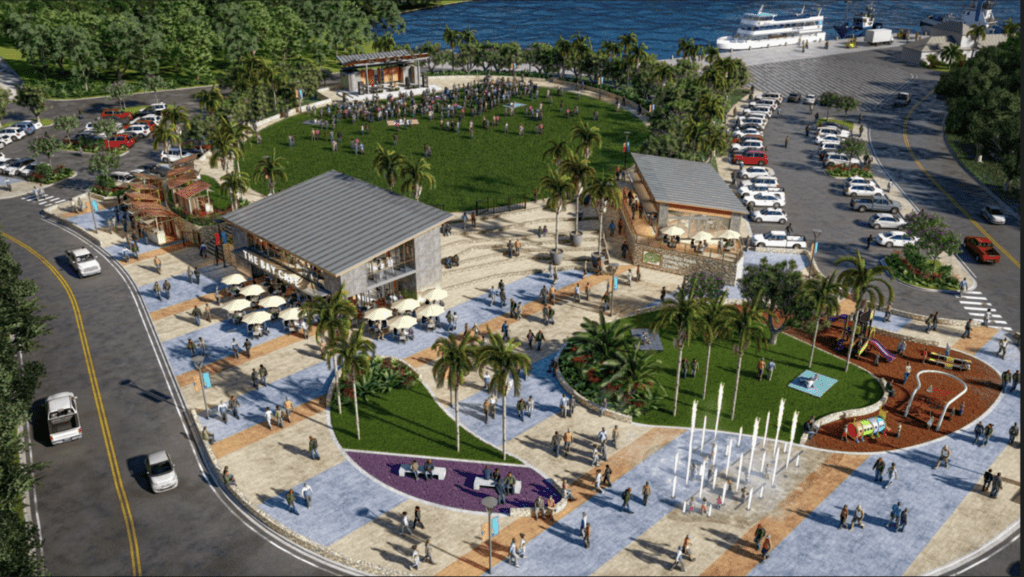 The site is now surrounded on two sides by VIPA 's controversial gravel parking lot.
At Thursday's meeting, VIPA officials showed two possible designs for parking for the facility. One includes two separate parking lots (for a total of 90 vehicles), while the other includes a parking lot and a two-story parking facility (for a total of 120 vehicles. )
But Dowe made it clear that whichever option is chosen, parking will not be free. "I'm a blunt individual. We have to keep staff for maintenance and security. Parking can't be free; that conversation has to end tonight." He added that parking could be free if the Legislature allocates funds through a perpetual source, perhaps through the St. John Capital Fund. That fund ranges from $1.3 million to $1.5 million annually.
When asked about a timeline for completing the project, Dowe answered, "My time is Dowe Now!" and deferred the question to the engineers.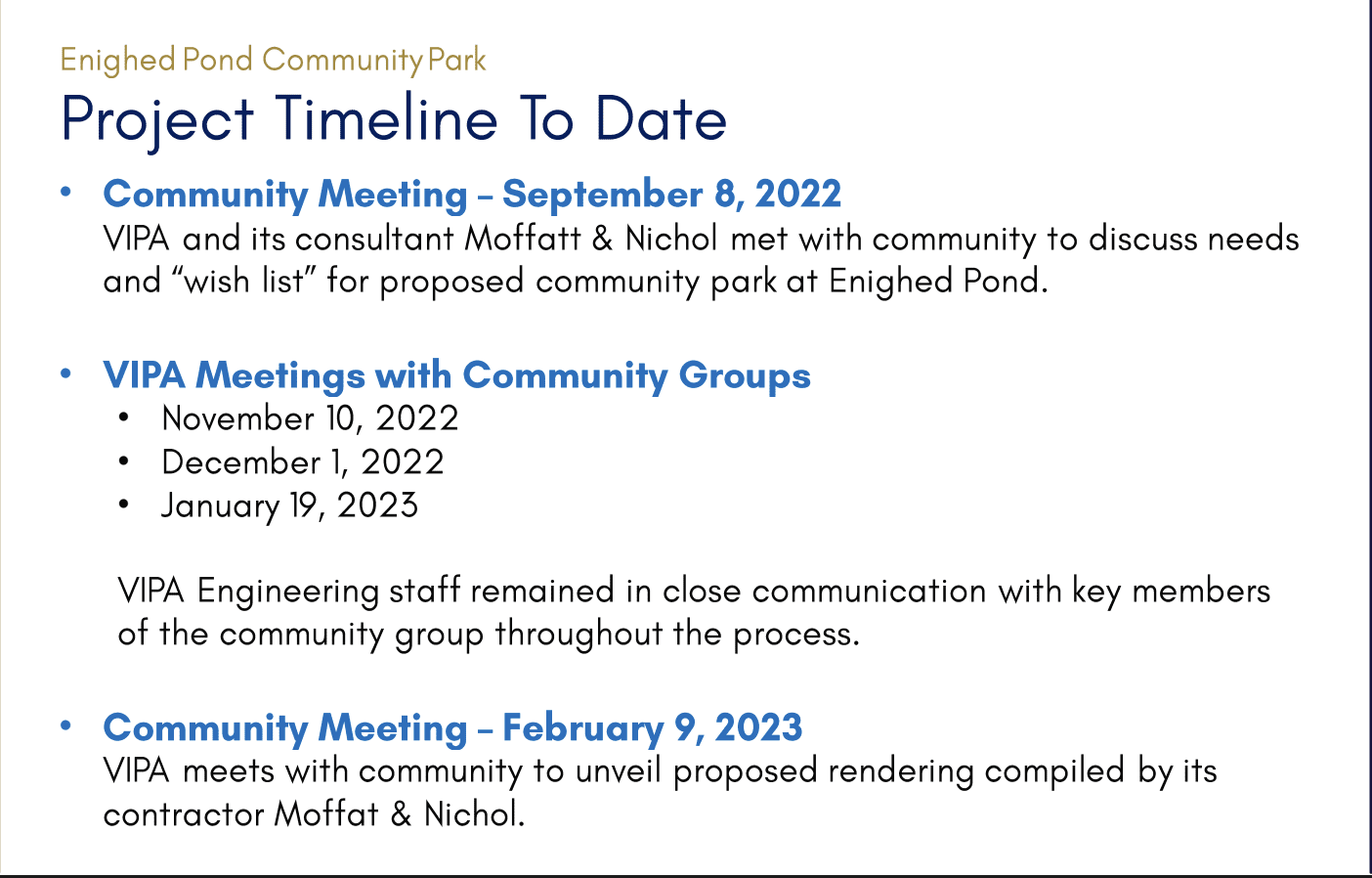 Preston Beyer said, "It will not happen overnight. The design process, which will continue in a couple of months, could take nine months. Permitting will take another two to three months, and procurement another two to three months." If all goes as planned, VIPA is expecting to have much of the facility ready in time for St. John's carnival in 2025.
Beyer said VIPA is budgeting $4 million for design to construction and $4 million on the site itself. Asked how the project will be funded, Dowe said, "We'll figure that out between us and the (VIPA) board."
Residents had numerous questions for the VIPA staff, including whether the "green space" area will be covered in natural grass or synthetic material, whether regularly scheduled activities like youth soccer can be held on the green space, and what kind of fencing will be used on the perimeter. Dowe said these details have not been decided, but plans were being made to prevent flooding.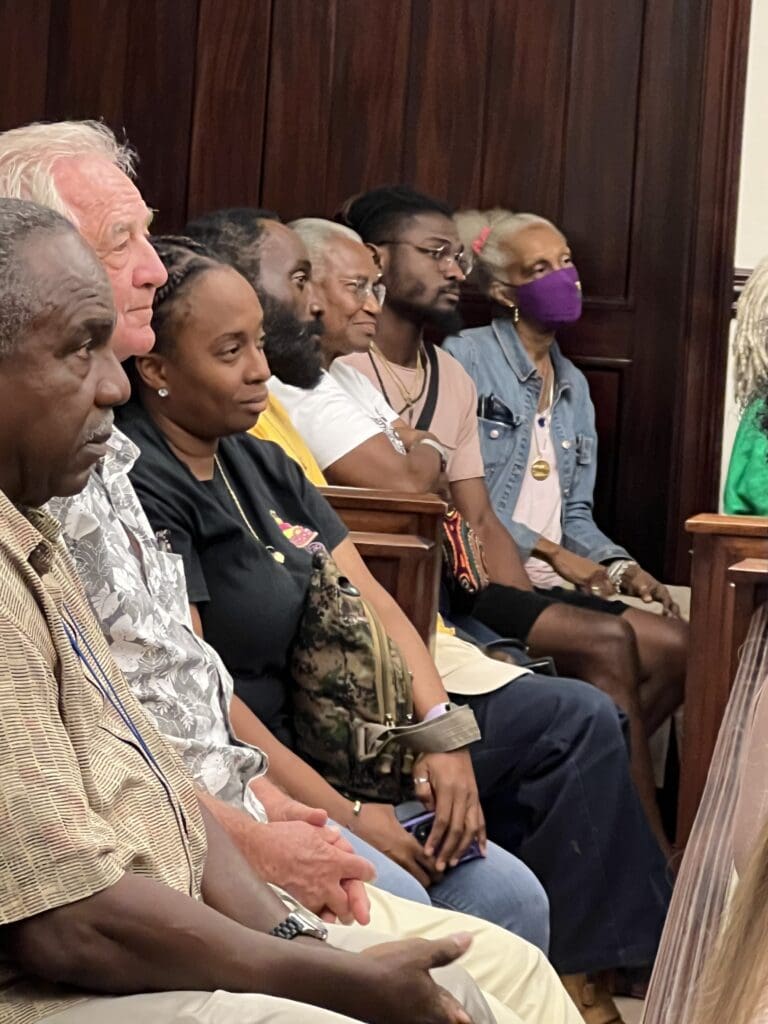 During some of the earlier meetings about the project, Dowe had some heated moments with St. John residents, so at the beginning of Thursday's meeting, he asked the audience to voice their questions and opinions but warned them not to disrespect him or his staff.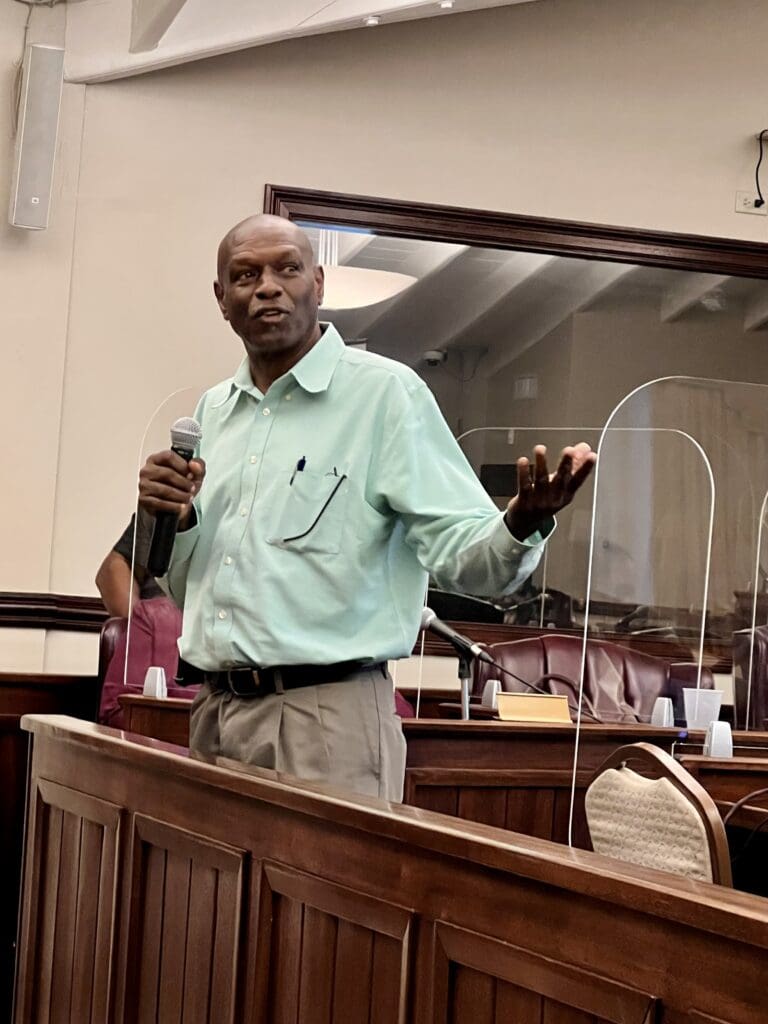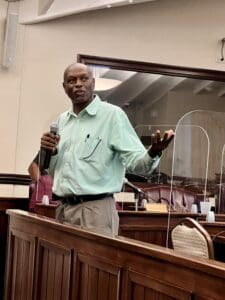 His warning seemed unnecessary. Pam Richards, who said she once served as chair of the VIPA board, said, "This kind of input (from the community) is completely unprecedented. I am completely satisfied." Her comment brought a round of applause for the VIPA staff and the committee of residents who met with them and other government officials.
St. John Administrator Shikima Jones-Sprauve said, "I love this project. It comes with security, it's open, and it's beautiful. My granddaughter will love playing in the playground, especially the water feature."
To ask questions or provide comments, contact VIPA public relations by phone at (340) 774-1629 ext. 6639 or 6640 or via email at info@viport.com.