Coast Guard crews and the crew of the chemical tanker ship Silver Dover assisted an 80-year-old sailor in distress Saturday morning in the Caribbean Sea, approximately 57 nautical miles southeast of Puerto Rico.
The man was the sole passenger aboard the 44-foot sailboat Tao when it lost steering and he lost the ability to simultaneously access the vessel's compass and emergency tiller, according to a Coast Guard report on the incident.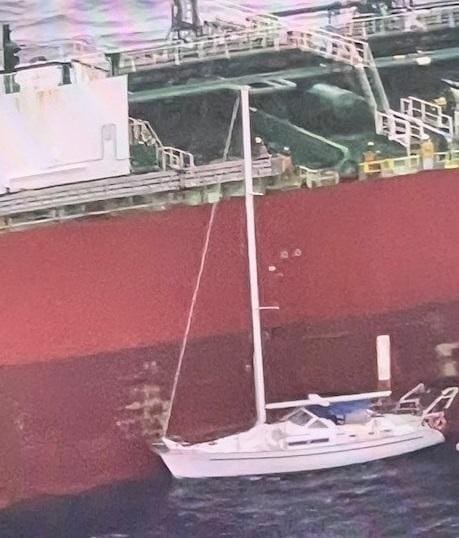 Coast Guard watchstanders in Sector San Juan received a VHF-Channel 16 communication from the Tao at 1:45 a.m. Saturday reporting the distress and requesting assistance, according to the report.
The watchstanders established a communication schedule with the boater and issued a Marine Assistance Request Broadcast for any marine traffic in the area that could render assistance. However, they later experienced broken communications followed by a complete loss of communication with the vessel. With expected sea state conditions deteriorating by the hour, the watchstanders proceeded to transmit an Urgent Marine Information Broadcast to advise nearby vessels of a possible distress and directed the launch of a Coast Guard Air Station Borinquen MH-60T Jayhawk helicopter to locate the Tao.
As search and rescue coordination efforts continued, the 600-foot Marshall Islands-flagged Silver Dover responded to the broadcast and diverted to render assistance. As the Coast Guard helicopter arrived on scene, the Silver Dover came alongside the Tao and embarked the boater. The Coast Guard aircrew then deployed their rescue swimmer aboard the sailboat to activate a Self-Locating Datum Marker Buoy to maintain awareness of the vessel's position and advise marine traffic to be on the lookout for the unmanned boat.
The Silver Dover reported the boater to be in good health and that he would remain aboard the ship until it reached its destination in Houston, Texas, according to the Coast Guard report.
"This case highlights the well-known willingness of commercial shipping vessels such as the tank ship Silver Dover to divert from their regular routes to aid a fellow mariner," said Lt. Cmdr. Kimberly Shadwick, U.S. Coast Guard Sector San Juan Search and Rescue mission coordinator for the case.
"We appreciate the coordination and response efforts of all the Coast Guard personnel and units who participated in this case and wish this boater a safe journey and reunification with his family and loved ones," she said.