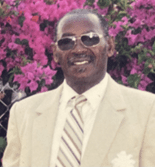 Vincent Lionel Benjamin, better known as "Sonny" or "Benji" or "572," died on Dec. 12.
Sonny was preceded in death by his grandfather, John Benjamin; grandmother, Laura Mills; Egbert George Williams; mother, Freda Eugenie Benjamin Barnes and brother, Vernon F. Williams.
He is survived by his life partner/caretaker, Cecile Stuart; sons: Terrance Maynard, Vincent A. Benjamin, Lemuel Benjamin, Winston Benjamin, Jevon Benjamin and Vincent E. Benjamin; daughters: Carol Frett and husband Reole Frett, Sandra M. Benjamin and husband Sylvester Stout; adopted daughters: Shirlene Industrious, Valdivia Blyden and Ellen Blyden-Van Beverhoudt; sisters: Merlise Henry, Egberta Williams McSween, Barbara Williams, Rita Williams, Bernice Williams and Daphne Williams; and brothers: Lancelot Williams, Arnold Williams, Franklyn Williams and Ewart Williams.
He is also survived by grandchildren: Rashida Glasgow and husband Drexel Glasgow, Rhonda and Rochelle Frett, Terelle Thomas, Brant Douglas, Terran Harris, Zakari Williams, Yvonnjia Benjamin, Breanna Benjamin, Latavia Benjamin, Lazhane Benjamin, Omar Benjamin, Winston Benjamin Jr., Vaniah Benjamin and Vincent E. Benjamin Jr.; great-grandchildren: Kaielle Thomas, Kadia Glasgow and Rayshaun Lavacia; and nieces and nephews: Linda Benjamin, Hazel Benjamin, Sandra E. Benjamin Hodge, Rhonda Benjamin, Jason R. Jean Pierre "Boy" Blue, Terra Henry Benjamin, Kevin Henry, Heather Buckley, Tracey Williams, Lancelot Williams Jr., Sherma Williams, Adrianne Williams, Sharee Williams, Velonya Williams, Ajid Williams and Omar Williams.
Other survivors include cousins: the Stevens, Bradshaw, Douglas, Buchanan, Fletcher-Lambert, Mills, Fough, Esdaille, Laplace, Tyson, Dore, Gillard, Francis, Williams and Benjamin families; godchild, Kishanni Guishard; as well as friends from VI Taxi Association members Cyril King Airport, and other taxi drivers in downtown Charlotte Amalie, Red Hook, Magens Bay and the West Indian Company Dock.
A viewing will be held from 4-6 p.m., Thursday, Jan. 12, at Turnbull's Funeral Home.
The second viewing will be held at 9 a.m. followed by a funeral service at 10 a.m. on Friday, Jan. 13, at St. Andrew's Church.